Inlagt 2011-10-12 - 22 Kommentarer
Har ni sett den här reklampostern Make Up For Ever släppte i våras?
Reklam för smink är som ni vet oftast helt ihjälretuscherad, men Make Up For Ever vände på klacken och satsade på oretuscherat. Modellen må vara vald för sin ovanligt bra hy och vackra drag, men helloo, hon ser ju mänsklig ut. Och snygg! Go MUFE!
Have you seen this ad by Make Up For Ever from last spring?
Makeup ads are mostly retouched to death as you know, but Make Up For Ever went the opposite way and went unretouched. The model is probably picked because of her extremely good skin and beautiful features, but helloo, she looks human. And hot! Go MUFE!
22 kommentarer
Annons:
Inlagt 2011-10-11 - 15 Kommentarer
Här är mina catches från månadens MAC-releaser, den jättestora höstkollektionen Fall Colour samt Posh Paradise. En massa fina läppstift var det, så jag fick hålla mig i kragen lite.. Dessa produkter går att hitta på Kicks.se eller MACs diskar i Stockholm, Göteborg eller Malmö såvida de inte sålt slut.
Here are my catches from this months MAC releases, the huge fall collection Fall Colour plus Posh Paradise. There were loads of pretty lipsticks, so I had to keep myself together to not turn my wallet upside down and go crazy. Heh.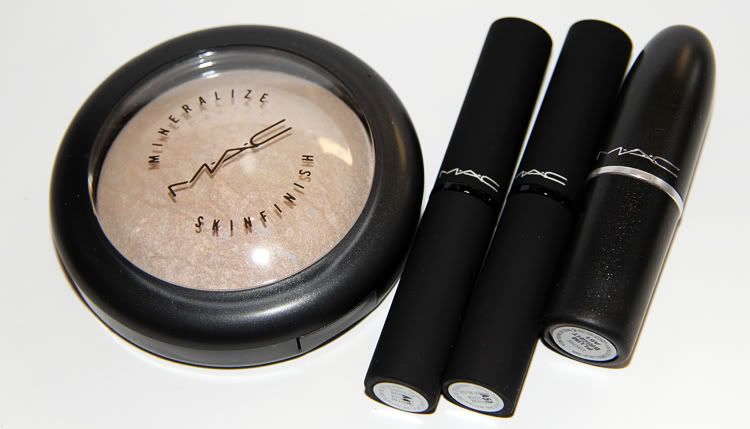 Fall Colour Collection
Med Fall Colour-kollektionen var det väldigt många produkter som redan finns i sortiment. Det plommonlila läppstiftet Plum Bright (195 kr) var däremot nytt och himla lockande, det är ju lila! Utöver läppstiftet blev det också Mineralize Skinfinish i färgen Lightscapade (290 kr). En highlighter som är ljus nog för min hy, jippi!
There were many permanent/pro products released in this collection, but the plum purple lipstick Plum Bright was new and of course very tempting, it's purple! Apart from the lipstick I got Mineralize Skinfinish in Lightscapade, a highlighter that's light enough for my skin. Weee!
Plum Bright, Lightscapade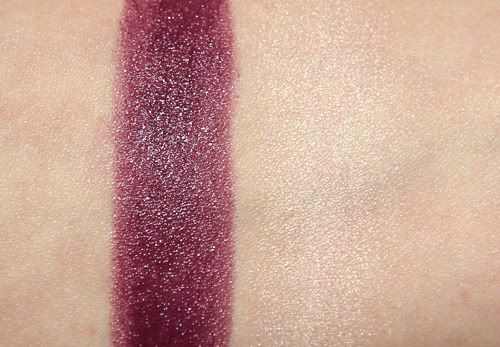 Posh Paradise Collection
Med denna kollektion släpptes en handfull läppstift i Mattene-formula, en krämig halvmatt variant med hög täckning, jättesköna på läpparna! De jag köpte var nudefärgen Naked Bliss och mörkröda Unknown Pleasures (195 kr).
With this collection a handful of Mattene lipsticks was released, a creamy semi matte type of lipstick with high opacity, feels very nice on the lips! The ones I got was the nude shade Naked Bliss and dark red Unknown Pleasures.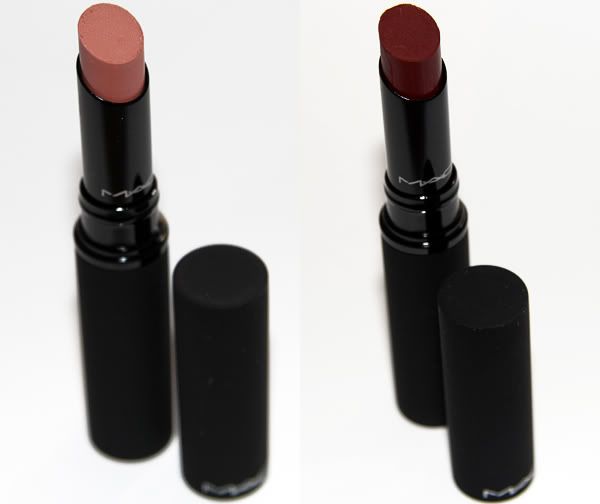 Naked Bliss, Unknown Pleasures

15 kommentarer
Känner ni till Veggie Beauty? En söt veganbrud som bloggar och gör YouTube-videos om skönhet. Jag har följt hennes YT-kanal ett bra tag nu, och när hon för ett litet tag sedan drog igång sin egen linje mineralsmink vid namn Pumpkin & Poppy kändes det självklart att testa produkterna. Så här är en liten snabbgenomgång om två produkter ur hennes sortiment.
Först ut kan vi ju nämna looken i helhet. Foundation och ögonskugga är från P&P vilka jag går igenom längre ner i inlägget, medan läppglanset är Viola från Make Up Store (snyggt namn va?) och mascaran Lotus Organic. Basånivet.
Do you know about Veggie Beauty? A sweet vegan chick who blogs and makes YouTube videos about beauty. I've followed her YT channel for a while now, and when she recently started her own line of mineral makeup called Pumpkin & Poppy I didn't think twice before deciding to try her products out. So here's a quick breakdown of two of her products.
First off I can mention the look as a whole. Foundation and eyeshadow are from P&P and will be discussed later in this post, while the lipgloss is Viola from Make Up Store (nice name, huh?) and the mascara is Lotus Organic. Just so you know.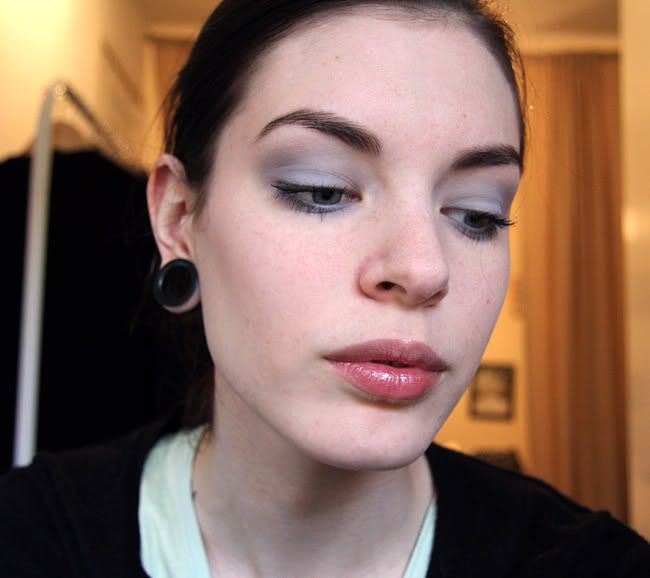 En skugga från årets halloweenkollektion vid namn Dastardly Deeds, inspirerad av skurkar ur diverse sagor och historier. Dorian Gray är en fantastisk blågrå skugga som gör sig jääättebra ensam på ögonlocket (se bild nedan), den drar väldigt mycket mer åt ljusblått än vad den ser ut att göra i burken, men det var bara till min glädje. Kolla vad fin den är! Du kan köpa den här för ca 30 kr.
A shadow from this years halloween collection called Dastardly Deeds, inspired by villains from different stories. Dorian Gray is a fantastic blue grey shadow that looks amaaaazing worn alone on the lid (look at the pic below), it pulls much more light blue on the skin than in the jar, but it was a happy surprise to me. Just look at it, soo pretty! You can buy it here for $4.75.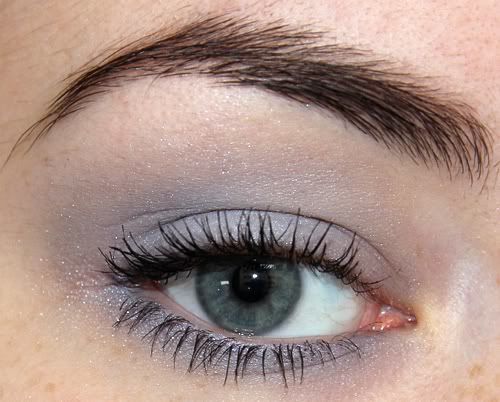 Och så förstås - hennes foundation som finns i en ljus neutral nyans. Självklart testar jag den! Jag hade däremot tyvärr inte så tur med den som jag hade hoppats. Den är nämnd som "full coverage" men vill ändå inte riktigt fästa på min torra hy utan går på lite ojämnt och blir lite för torr i vissa områden, trots att jag applicerade den över en fetare ansiktskräm än vanligt. Jag tror att den är betydligt bättre på fetare hy helt enkelt, där mer olja finns att absorbera. Jag ska nog ge mig på att använda den som puder ovanpå flytande foundations istället, då kommer de mattande egenskaperna mer till hands. Är din hy min motsats så kan denna däremot helt klart vara värd ett ögonkast! Den finns i sju olika nyanser. Köpes här för ca 75 kr.
And of course - her foundation that's available in a light neutral shade. Of course I'm testing it! I'm sorry to say that I didn't have as much luck with it as I had hoped. It's mentioned as a "full coverage" foundation but it still won't really attach to my try skin. It went on a bit uneven and got a bit too dry in some areas, even though I applied it over a richer moisturizer than usual. I think that this one suits oilier skin better, where there actually are more oils to absorb. I think I'm gonna give this a chance as a face powder on top of liquid foundations instead, that's where the mattifying effect would be useful for me. If your skin is the opposite to mine I guess this would be worth checking out though! It's available in seven different shades. You can buy it here for $11.25
Före och efter foundation, inga andra produkter applicerade. Den ville som sagt inte fästa riktigt i mitt ansikte, typ näsan var en kritisk punkt, det ville liksom bara inte se bra ut. Om jag bara hade applicerat en concealer innan (vilket jag i testsyfte förstås inte gjorde) så hade slutresultatet kanske sett lite cleanare ut och inte lika flammigt.
Before and after foundation, no other products applied. As I said earlier it didn't really want to stick to my face, my nose was a critical point for example, it just didn't want to look good. If I only had applied a concealer before (which I didn't do because of this test, of course) the end result might have looked a tad cleaner and less blotchy.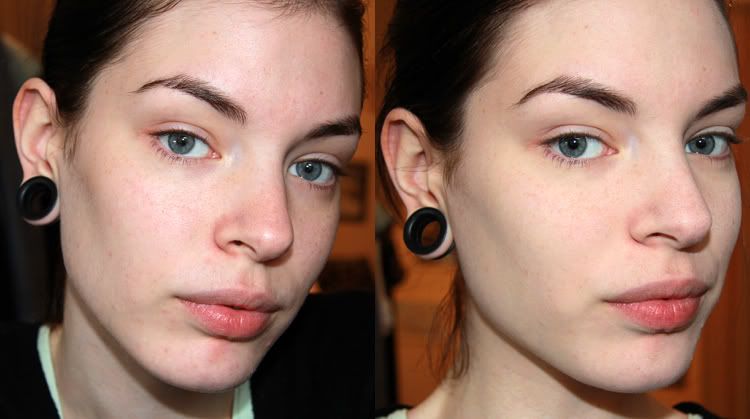 11 kommentarer
Annons:
Inlagt 2011-10-09 - 22 Kommentarer
Mer Sugarpill! Idag blev det klassiska eldfärger.
More Sugarpill! Today I did a classic fire look.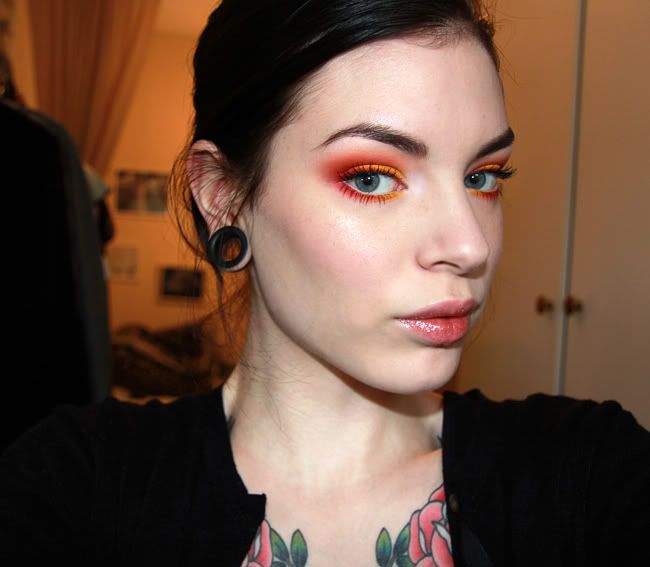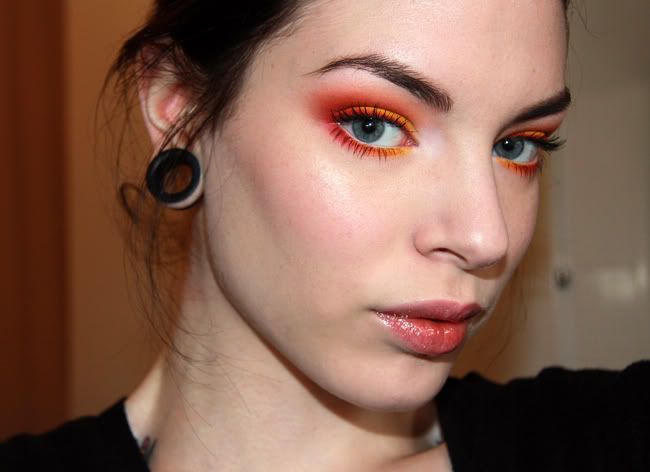 Face:
Elf Cosmetics Studio Under Eye Concealer & Highlighter - Glow/Fair
Too Faced Absolutely Flawless Concealer - Vanilla
GloMinerals GloProtective Liquid Foundation Satin II - Natural-fair
MAD Minerals Translucent Veil Mineral Finishing Powder
NARS Blush - Orgasm
MAC Eyeshadow - Nylon (for highlight)
MAC Eyeshadow - Coquette (for eyebrows)
Eyes:
Too Faced Eye Shadow Insurance
NYX Jumbo Eyeshadow Pencil - Milk
Sugarpill Pressed Eyeshadow - Buttercupcake, Flamepoint, Love +, Tako
NYX Slide On Pencil - Pure White
Lotus Organic Mascara - Black
Lips:
PURE Stockholm Liquid Lustre - Euphoric
22 kommentarer