Inlagt 2011-10-18 - 30 Kommentarer
Idag blev det en klassisk makeup ni troligen sett en mille gånger redan, bombshell, retro, pin-up, 50tal, ja vad ni nu vill kalla den. Här är den i alla fall, i sin regelrätta tappning!
Today I went for a classic makeup look that you've probably seen a billion times before, bombshell, retro, pinup, 50's, yeah. Whatever you want to call it. Here it is in its full glory!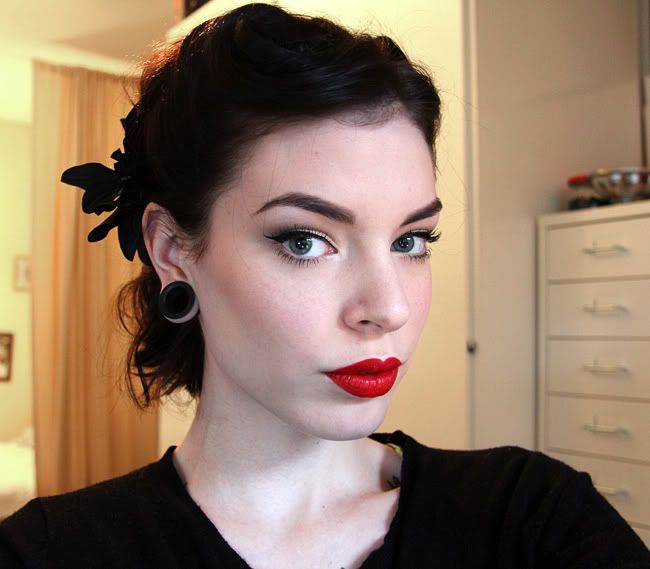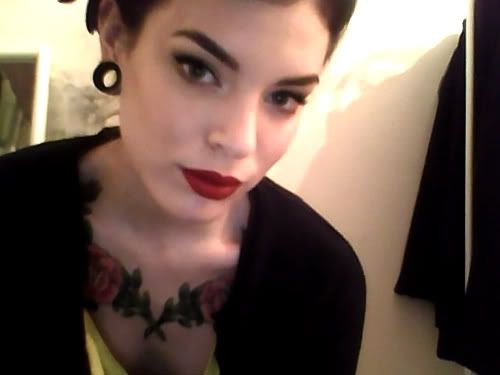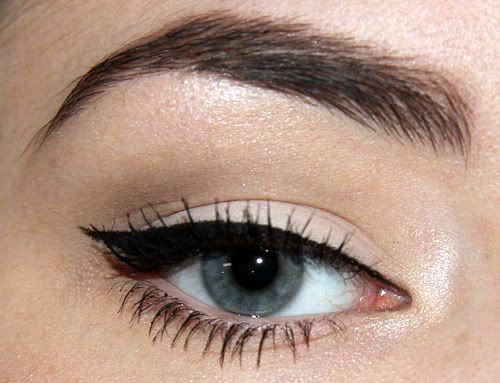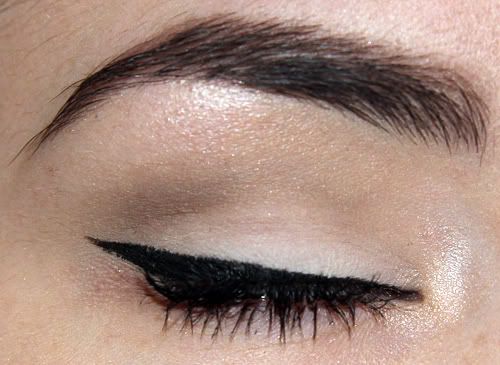 Face:
Elf Cosmetics Studio Under Eye Concealer & Highlighter - Glow/Fair
Too Faced Absolutely Flawless Concealer - Vanilla
GloMinerals GloProtective Liquid Foundation Satin II - Natural-fair
Silk Naturals Vegan Perfection Powder
Too Faced Chocolate Soleil Matte Bronzing Powder
Illamasqua Cream Blusher - Sob

MAC Eyeshadow - Nylon (for highlight)
MAC Eyeshadow - Mystery (for eyebrows)
Eyes:
Urban Decay Eyeshadow Primer Potion
Lily Lolo Foundation - Porcelain (matte lid colour)
MAC Eyeshadow - Coquette, Shroom
IsaDora Flex Tip Eyeliner - Carbon Black
IsaDora Big Bold Volume Mascara
Lips:
Illamasqua Lipstick - Box
30 kommentarer
Annons:
Inlagt 2011-10-16 - 16 Kommentarer
Hanna är en söt tjej som är fantastiskt duktig på smink, hon trollar med färger så jag blir alldeles lycklig! Har ni inte spanat in bloggen redan så tycker jag att ni ska göra det på direkten, den här tjejen förtjänar skitstor läsarskara, no joke. Hon har sån himla talang. Och så är hon ju norrlänning som jag, och det gillar jag.
Hanna is a super pretty girl who's amazingly good at makeup, she goes crazy with colours in a way that makes me uber happy! If you haven't checked her blog out already I think that you should do so, 'cause this girl deserves loooads of readers, no joke. She's so talented. And of course, she comes from northern Sweden like me, and I love that.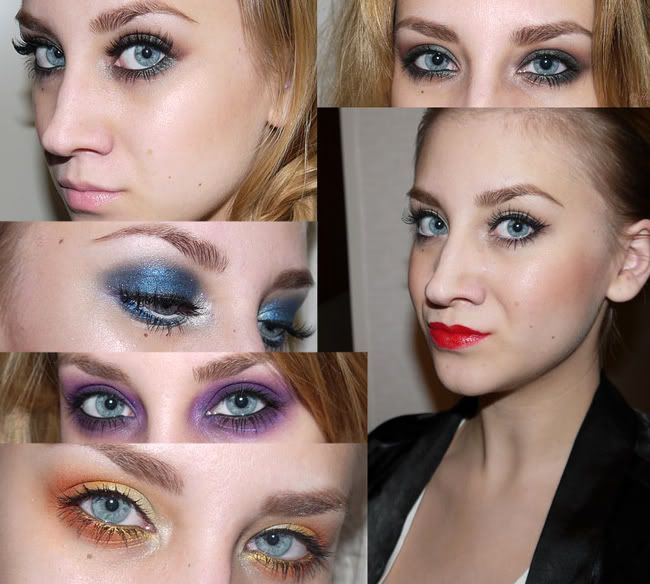 Pictures from http://hannaogren.blogg.se/
16 kommentarer
Inlagt 2011-10-16 - 10 Kommentarer
Ännu ett lack ur China Glazes julkollektion Let it Snow, här är Tinsel Town! Ett kompakt silverglitter i grå bas. Fantastiskt fint och täcker på två lager, lättmålat är det också. En riktig blickfångare utan att vara färgglad, den gnistrar verkligen som diamanter. Kolla videon nedan, så fascinerande!
Köpt på Transdesign.com för några dollar.
Another polish from the China Glaze holiday collection called Let it Snow, here is Tinsel Town! A compact silver glitter in a grey base. Extremely beautiful and it's opaque in two coats, easy to apply too. It really catches your eye even though it isn't bright colour wise, it really sparkles like diamonds. Check the video below, so fascinating!
Bought mine on Transdesign.com for a couple of dollars.
10 kommentarer
Annons:
Inlagt 2011-10-14 - 5 Kommentarer
Hur bör jag förvara min parfym?
Vad är det korrekta sättet att testa en parfym?
Hur kan jag förbättra mitt doftsinne?
Hur många ingredienser innehåller en parfym vanligtvis?
Jag ramlade just över en hemsida där parfymexperten Michael Edwards har listat de 100 frågor folk ofta ställer honom om parfym, och svaren på dem. Det är väldigt intressant läsning, klicka här eller på bilden nedan för att hitta sidan!
How should I store my perfume?
What is the correct way to try a fragrance?
How can I improve my sense of smell?
How many ingredients does a perfume usually contain?
I just stumbled upon a website where the perfume expert Michael Edwards lists the top 100 questions people always ask about perfume, and the answers to them. It's very interesting to read, click here or the picture below to find the site!
5 kommentarer