1 november, 2011, 0:01 i About me, Accessoires, Answering your questions, Are you following.., Ask anything!, Black/grey, Bright lips, Brown/beige, Celebrities, Clothes, Contests/giveaways, Crazy stuff, Everyday, Everything and nothing, Hair care, Important info, Inspiration, Jewellery, Less important info, Make up looks, Make up products, Make up tools, Matte, Metallics, Nail art, Nail care, Nail polish, Neutral looks, Night time, Nude/white, Perfumes & scents, Purple/blue, Quick tips, Rainbow, Red/pink, Reviews, Shimmer, Skin care, Swatches, Tags, Turquoise/green, Tutorials, Video, What do you think?, Yellow/orange, YouTube tips
Som jag nämnde här så är det nu dags för mig att lämna SOLO. Tack och bock för denna tiden! Jag håller tummarna för att ni följer med mig vidare till nya bloggen, för det vill ni va? Ni som följer mig med Bloglovin kommer inte behöva göra någonting, ni kommer automatiskt börja följa nya bloggen. Ni hittar mig nu på..
As I mentioned here it's time for me to leave SOLO. Thank you so much for this time! I hope that you still want to follow me to the new blog, right? Those of you who follow me through Bloglovin won't need to do anything, you will automatically start following the new blog. You can now find me on the site linked above!
25 oktober, 2011, 21:08 i Make up products, Swatches
Efter makeupen med Teacher's Pet var det många av er som ville se resten av skuggorna från Silk Naturals, så här är de! Vilka är era favoriter? Teacher's Pet, Scout och Kingfisher är helt klart mina.
De går att köpa via Silk Naturals hemsida och kostar $4 (ca 30 kr) styck.
After showing you the makeup with Teacher's Pet many of you wanted to see the rest of my Silk Naturals shadows, so here they are! Which are your favourites? Teacher's Pet, Scout and Kingfisher are definitely mine.
They're available at the Silk Naturals website and they cost $4 a piece.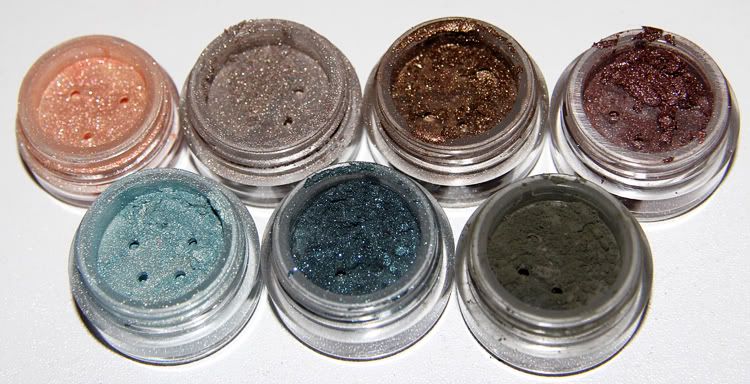 Social, Teacher's Pet, Scout, Prowl, Magpie, Kingfisher, Moss


11 oktober, 2011, 15:17 i Make up products, Swatches
Här är mina catches från månadens MAC-releaser, den jättestora höstkollektionen Fall Colour samt Posh Paradise. En massa fina läppstift var det, så jag fick hålla mig i kragen lite.. Dessa produkter går att hitta på Kicks.se eller MACs diskar i Stockholm, Göteborg eller Malmö såvida de inte sålt slut.
Here are my catches from this months MAC releases, the huge fall collection Fall Colour plus Posh Paradise. There were loads of pretty lipsticks, so I had to keep myself together to not turn my wallet upside down and go crazy. Heh.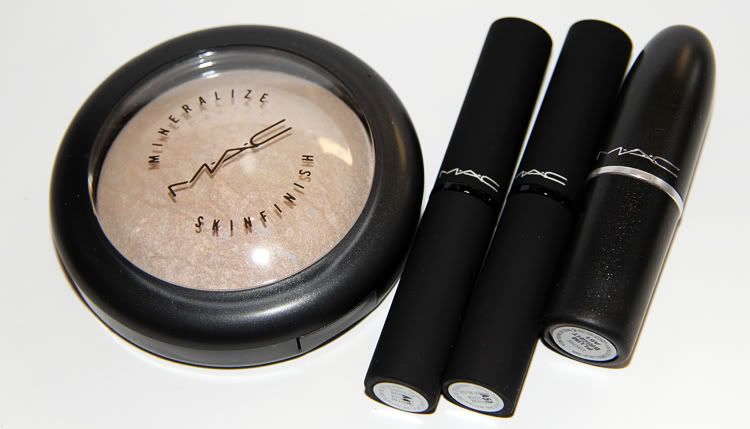 Fall Colour Collection
Med Fall Colour-kollektionen var det väldigt många produkter som redan finns i sortiment. Det plommonlila läppstiftet Plum Bright (195 kr) var däremot nytt och himla lockande, det är ju lila! Utöver läppstiftet blev det också Mineralize Skinfinish i färgen Lightscapade (290 kr). En highlighter som är ljus nog för min hy, jippi!
There were many permanent/pro products released in this collection, but the plum purple lipstick Plum Bright was new and of course very tempting, it's purple! Apart from the lipstick I got Mineralize Skinfinish in Lightscapade, a highlighter that's light enough for my skin. Weee!
Plum Bright, Lightscapade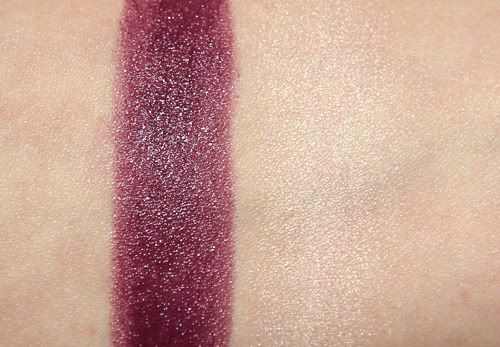 Posh Paradise Collection
Med denna kollektion släpptes en handfull läppstift i Mattene-formula, en krämig halvmatt variant med hög täckning, jättesköna på läpparna! De jag köpte var nudefärgen Naked Bliss och mörkröda Unknown Pleasures (195 kr).
With this collection a handful of Mattene lipsticks was released, a creamy semi matte type of lipstick with high opacity, feels very nice on the lips! The ones I got was the nude shade Naked Bliss and dark red Unknown Pleasures.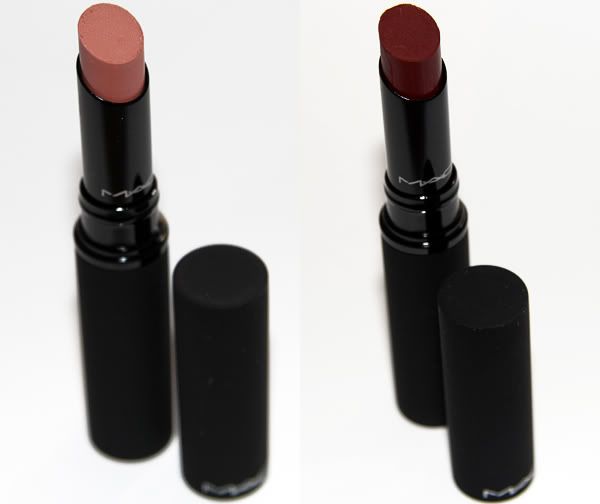 Naked Bliss, Unknown Pleasures

5 oktober, 2011, 20:02 i Make up products, Reviews, Swatches
Nyhet från NYX! Krämiga pennor med superbra glid, fantastisk pigmentering och skitbra hållbarhet. Det är vad som utlovas och det är vad som fås (bortsett från en, läs vidare). De är vattenresistenta, gnuggsäkra och sitter som berget när de torkat, perfekta att använda innanför fransraderna med andra ord. Jag har fyra nyanser i nuläget, men jag kan nästan lova att jag köper på mig fler, så fantastiska är de. Kolla in dem på Cherryculture.com, där kostar de just nu $6.99/st.
News from NYX! Creamy pencils with a great slip, fantastic pigmentation and hella good staying power. That's what NYX promises and that's what you get (except one, keep reading). They're water resistant, smudge proof and won't go anywhere when they've dried. Perfect for the waterline in other words! I've got four shades at the moment, but I can almost promise you I'll get some more, that's how fantastic they are. Check them out at Cherryculture.com where they right now cost $6.99 a piece.
Jet Black
Kolsvart bortom kolsvart, ingen brun underton i denna. Glider på med full färgstyrka i ett svep. Fungerar utmärkt innanför fransraderna och den är krämig nog för att lätt kunna suddas ut i sotningar. En fantastisk penna att välkomna i basnecessären!
Pitch black beyond pitch black, no brown undertone in this one. Glides on with full colour force in one sweep. Works perfectly on the waterline and it's creamy enough to easily blend out in smokey looks. A fantastic pencil to welcome into your basic makeup stash!
Tropical Green & Golden Bronze
Dessa två beter sig väldigt lika, så jag drar dem i samma veva. En turkosgrön och en bronsig med vackert skimmer, lika fantastiska dessa två. Bra pigmenterade, de ger också full färgstyrka i ett svep med pennan.
These two act very similar, so I take them both at the same time. A turquoise green and a bronze with beautiful shimmer, these are just as amazing. Pigmentation is great, they also give 100% colour in one sweep.
Pure White
Det platta fallet, tyvärr. Eller kanske inte ett platt fall, men inte mätbar med de andra tre jag testat. En matt vit som kräver lite gnuggande för att gå på bra, svår att få jämn. Men samma mjuka glid som de andra har den i alla fall. Tror däremot att den beter sig bättre innanför fransraden där inte lika stor yta behöver målas jämn.
The odd sheep, sorry to say it. Maybe not a complete fail, but not just as good as the other three I tried. A matte white that needs some rubbing to go on well, hard to get even. But it's got the same soft glide as the other ones, so no tugging. I believe it'll act better on the waterline though, where there's not as much space that needs to be painted evenly.
Jet Black, Tropical Green, Golden Bronze, Pure White
För er som sitter på ett exemplar av den svarta pennan Zero från Urban Decay kommer här en jämförelse, ett drag med varje. Kommentar överflödig känner jag, NYX spöar UD med hästlängder här.
For those of you who own the black eyeliner pencil called Zero from Urban Decay, here's a comparison. One sweep of each. I feel that words are unneccesary, NYX kicks UD's butt here.
Urban Decay Zero, NYX Jet Black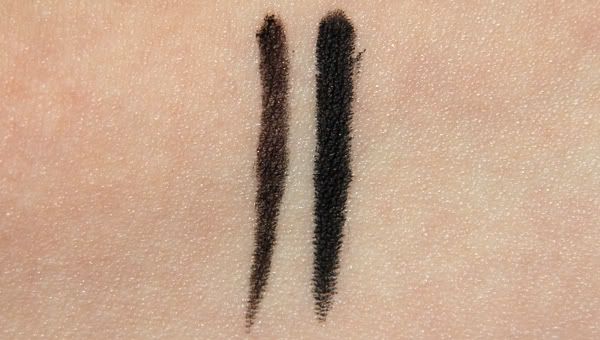 5 oktober, 2011, 15:39 i Make up products, Swatches
Att mineralsminkmärket Glamour Doll Eyes är fantastiska har jag blivit matad med länge, men jag har aldrig kommit mig för att testa dem. Nu var det dags, och här har jag åtta pigmentprover att visa er! Lättarbetade, välpigmenterade och speciella hela högen. Särskilt Lovers Lane ser jag fram emot att använda, den är helt fantastisk på alla sätt. Likaså Martini Olive.
Glamour Doll Eyes ögonskuggor kostar $6 för en full 5gramsburk, $2.50 för dessa provburkar eller $1.25 för en liten provpåse. Alla går att köpa på Glamourdolleyes.com. (Sidan ligger nere just nu men lär vara uppe i dagarna!)
I've been told that the mineral makeup brand Glamour Doll Eyes is amazing for a long time, but I've never tried them until now. So here I've got 8 pigment samples to show you! The whole bunch is easy tor work with, very pigmented and has a personal feel. I especially look forward to using Lovers Lane, it's fantastic in every way possible. Martini Olive too.
Glamour Doll Eyes eyeshadows are $6 for a full 5g jar, $2.50 for these sample jars or $1.25 for a sample baggie. They're available at Glamourdolleyes.com. (The site is down at the moment, but it will probably be up in a couple of days!)
Row 1: Martini Olive, Dirty Jeans, Graves in May, Picture Whore
Row 2: Grease Lightning, Girlfriend sweater, Lovers Lane, Undead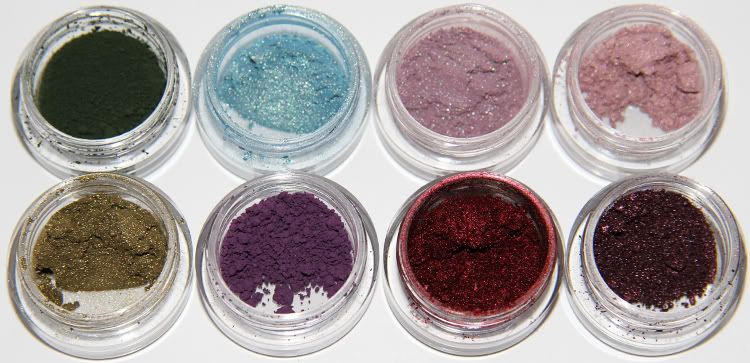 Martini Olive, Dirty Jeans, Graves in May, Picture Whore, Grease Lightning, Girlfriend sweater, Lovers Lane, Undead

3 oktober, 2011, 16:14 i Make up products, Rainbow, Reviews, Swatches
Ni som följer mig på Facebook läste kanske min lilla hint om produkter från Sugarpill för ett tag sedan, och här är de! Deras nio pressade ögonskuggor. Alla dessa går att köpa som singelskuggor, men eftersom jag inte var ute efter enstaka nyanser fick det bli de två paletterna som tillsammans innehåller åtta av de nio skuggorna plus en singelskugga för att komplettera. Och så fick jag med ett litet prov på en fin lösskugga i nyansen Goldilux!
Vill ni shoppa Sugarpill kan ni göra det från Sugarpillshop.com (singelskuggor $12, paletter $34)  eller så dyker ni in på Nelly.com där de också finns fast lite dyrare.
Those of you who follow me on Facebook might have seen my small hint about Sugarpill products a while ago, and here they are! Their  nine pressed eyeshadows. All of these are available as single shadows, but because I weren't going for a couple of separate shades I got the two palettes that together contain 8 of the 9 shadows plus one single shadow to complete the collection. I also got a small sample of a pretty loose eyeshadow called Goldilux!
If you feel like shopping for Sugarpill, go to Sugarpillshop.com! The single shadows are $12 and the palettes are $34.
Pressed Eyeshadow Bulletproof, Loose Eyeshadow Goldilux
Burning Heart palette: Flamepoint, Buttercupcake, Love +, Poison Plum
Sweet Heart palette: Dollipop, Afterparty, Midori, Tako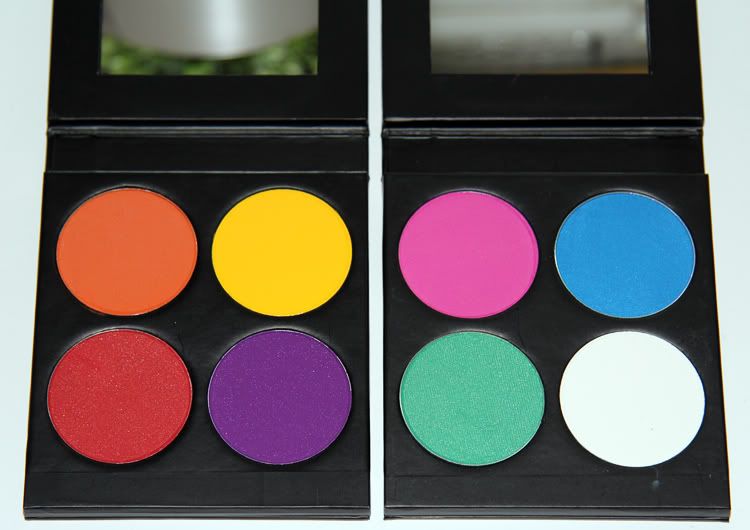 Bulletproof, Tako, Buttercupcake, Flamepoint, Love +, Dollipop, Poison Plum, Afterparty, Midori, Goldilux
Och vad tycker jag då?
Ja, de är förstås fantastiska. De allra flesta är en dröm att jobba med för att de är så pigmenterade och mjuka, medan typ Buttercupcake och Tako kräver lite mer jobb, men som ni ser är det ju värt det. Det är dessutom himla trevligt att de har en färgskala som är så basic, även om jag hade kunnat önska typ en grön och en blå som var mindre skimriga och mätte sig med de andra nyanserna i intensitet och primärfärgskänsla. Men då är jag bara petig, de är toppenfina och värda vartenda öre. En sak jag funderar över däremot - är Bulletproof verkligen såhär skimrig? Jag trodde att den var mer matt. Skumt. Pigmentprovet jag fick var förstås lite mer svårjobbat och flygigt eftersom det är löst, men denna ska visst bli alldeles fenomenal applicerad våt, så det är väl det jag får förlita mig på.
And what do I think about them?
Well, of course they're fantastic. Most of them apply like a dream because their pigmentation and softness, while Buttercupcake and Tako need a bit more work, but as you can see it's worth it. It's also really nice how their colour scale is so basic, even though I could have wished for a green and a blue that were less shimmery and in the same kind of intensity and primary colour feeling as the other ones. But that's just me being picky, they're really nice and worth every penny. I'm wondering one thing though - is Bulletproof really this shimmery? I thought it would be more matte. Strange. The pigment sample I got was of course a bit harder to work with as it is a loose shadow, but this one is said to be amazing applied wet, so that's what I'll have to trust.
22 september, 2011, 20:13 i Nail polish, Swatches
Taggad på crackle-lack fortfarande? IsaDora släpper fyra nya i slutet av oktober, eeey!
Dessa crackles är skimriga/glittriga, och för att vara helt ärlig så har vi ju sett sådana från China Glaze, OPI m.fl. redan. Men det gör ju inte att ett riktigt lättillgängligt alternativ känns fel. Och hallå, kolla den rosa med multiglitter i! Varför har inte alla i kollektionen det där fina hologlittret? Som crackles ofta gör så torkar dessa ganska matt, så för att få fram det stiliga skimret/glittret krävs ett överlack.
Lacken kostar 69 kr/st och släpps vecka 43.
Do you still feel like crackle polishes? IsaDora are releasing four new ones at the end of october, eeey!
These crackles are shimmery/glittery, and to be completely honest that's nothing new as we've seen it from for example China Glaze and OPI already. But that doesn't make an easy access alternative for us Swedes completely useless. And seriously, look at that pink with multi glitter! Why can't all of these polishes have that pretto holo? Just like crackles often do they dry matte, so to make the pretty shimmer/glitter pop you need a top coat.
Don't know where to find these outside of Sweden, sorry.
Gold Bomb (811), Silver Flicks (812), Mad Blue (814), Pink Fame (813)
Over black, without top coat.
Gold Bomb (811), Silver Flicks (812), Mad Blue (814), Pink Fame (813)


Over black, with top coat.
 


22 september, 2011, 17:59 i Make up products, Purple/blue, Red/pink, Swatches
Shimmer Cubes har vi sett i flera utföranden från The Body Shop, nu i höst lanseras några nya varianter, däribland denna vid namn Bunch of Violets. En lite meckig förpackning (varje liten kub har en egen ask med lock) som är klok på sitt sätt, men lite väl krånglig för min smak. Skuggorna är fina däremot! Går både att använda våta och torra. Har hört sägas att de behöver en ganska klistrig bas för att fästa på ögonen eftersom de är ganska pudriga, jag ska ge dem ett försök senare så får vi se hur jag känner.
295 kr på The Body Shop.
We've seen Shimmer Cubes from The Body Shop in a bunch of combinations, this fall a bunch of new ones are released, for example Bunch of Violets. The packaging is a bit tricky (every cube has its own little box with a lid) which is smart in its way, but a bit too complicated for my taste. The shadows are pretty though! They can be used both dry and wet. I've heard people say that these need a sticky base to look good on the eyes because they are a bit powdery, I'll give them a try later and let you know what I think.
Check your local The Body Shop to find an accurate price.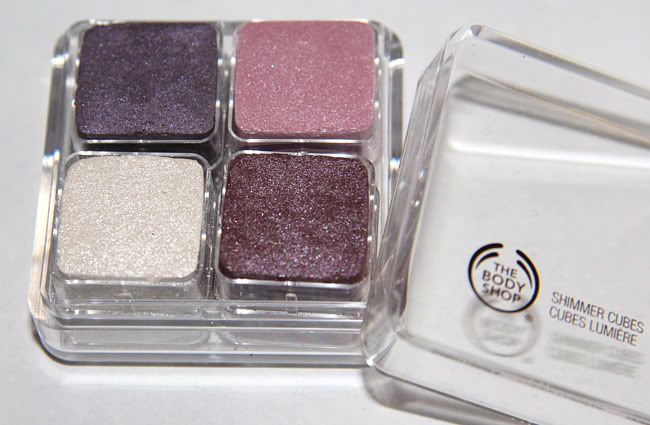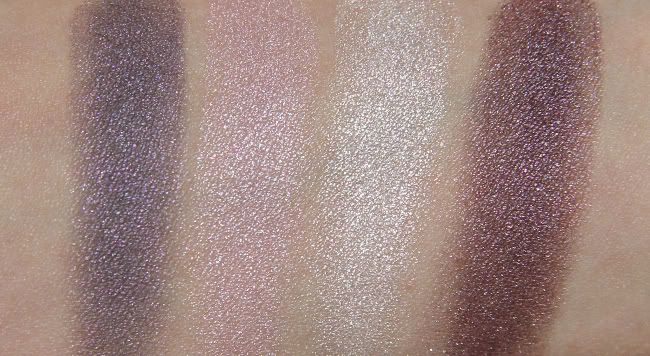 22 september, 2011, 9:06 i Black/grey, Make up products, Swatches
Den här ögonskuggan är den roligaste produkten jag vet just nu. Tycker egentligen inte att den är märkvärdig på något särskilt sätt, liksom, det är en svart-ish mörkgrå matt skugga, glider på rätt fint och fungerar väl bra överlag. Men det som gör den så slående rolig är namnet. Den som döper en skugga till The Darkness of Lapland är min idol. Så metal.
95 kr på KICKS, lanseras nu i september.
This eyeshadow is the funniest product I know at the moment. I don't really think that it's surprising in any way, I mean, it's a blackish dark grey matte shadow, it glides on quite nicely and well, it works quite good. What is so extremely funny with it is the name. The person who calls a shadow The Darkness of Lapland is my idol. So metal.
Released in September here in Sweden, don't know if it's available internationally.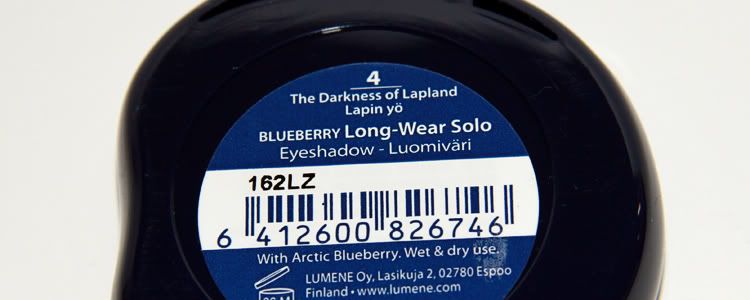 21 september, 2011, 17:56 i Bright lips, Crazy stuff, Make up looks, Make up products, Purple/blue, Swatches
Illamasquas höstkollektion Theatre of the Nameless har jag tjatat mer än nog om, men jag måste bara göra det en gång till.. Jag har redan visat er den oxblodsröda eyelinern Havoc (även om bilderna sög), men här är det absoluta guldkornet, läppstiftet Kontrol. Kostar £15.50 (ca 170 kr) på Illamasqua.com.
Det glider som smör på läpparna utan att vara kladdigt, och likt Illamasquas läppstift i övrigt är pigmenteringen top notch. Inget gnuggande fram och tillbaka eller bråk med flammigt resultat vilket ofta hör ihop med mörka stift. Nej, applicera med pensel så ser det alldeles perfekt ut. Jag själv applicerade direkt från stiftet, och även om jag uppenbarligen klarade mig såhär så hade det helt klart varit snyggare. Jag har inte heller burit det länge nog för att kunna avgöra om det blöder ut i läppkonturen eller inte, så för att vara helt safe skulle jag nog tipsa om att använda en läppenna under, även om jag själv inte lär orka. Illamasqua brukar vara bra på det där med läppstift, så jag är inte särskilt orolig.
Nyansen är åt det kallare hållet med en askig ton över det hela. "blå-violett" som Illamasqua själva säger. Nedtonat men en riktig attention whore, bästa mixen! Än fast den är helt knäpp så skulle jag inte ha något som helst problem med att gå ut såhär till vardags. Nyansen känns faktiskt förvånansvärt lättburen.
I've been talking loads about the Illamasqua fall collection called Theatre of the Nameless lately, but I just have to do it one more time.. I already showed you the oxblood-red eyeliner called Havoc (even though the pictures sucked), but here's the pearl of the collection, the lipstick called Kontrol. Costs £15.50 at Illamasqua.com.
It glides like butter in the lips without being greasy, and like Illamasquas lipsticks overall the pigmentation is top notch. No rubbing back and forth or uneven applications which dark lipsticks often go hand in hand with. No, apply it with a brush and it'll look awesome. I applied it directly from the tube, and even though I obviously made it through it definitely would have looked better that way. I haven't worn it long enough to tell if it bleeds into the fine lines around the lips during the day or not, so to be completely safe I would advice you to wear it with a lip liner. Even though I probably won't do it myself. Illamasqua are awesome at lipsticks, so I'm not too worried.
The shade leans toward a cool purple, with an ashy tone over it. "blue violet" as the Illamasqua site says. Toned down but a true attention whore, the best mix ever! Even though it looks nuts in a way I would have no problem at all going out with this on as an everyday look. A comfortable shade, believe it or not!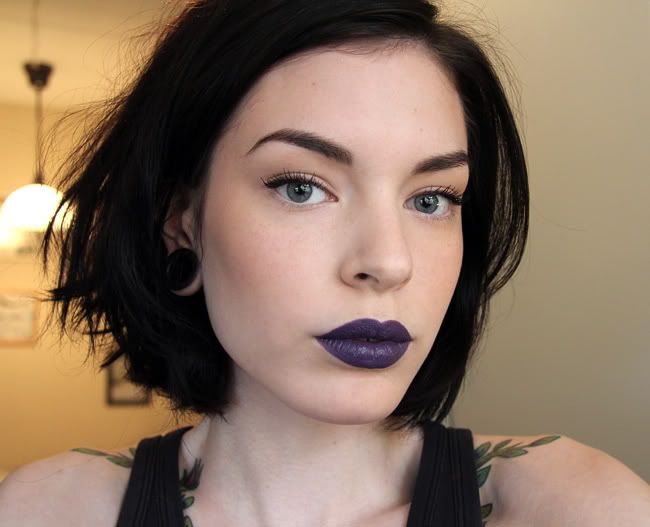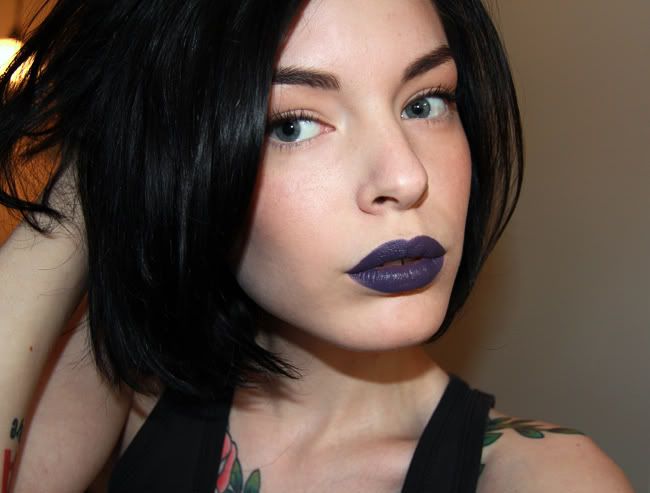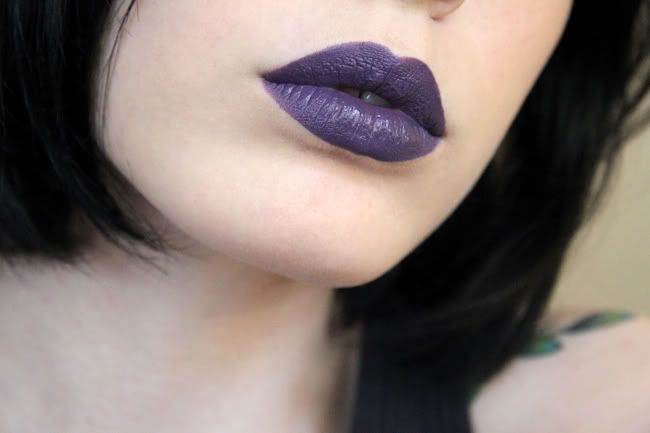 Face:
Elf Cosmetics Studio Under Eye Concealer & Highlighter - Glow/Fair
Too Faced Absolutely Flawless Concealer - Vanilla
GloMinerals GloProtective Liquid Foundation Satin II - Natural-fair
Idun Minerals Bronzer - Midsommar
MAC Eyeshadow - Nylon (for highlight)
MAC Eyeshadow - Mystery, Handwritten (for eyebrows)
Eyes:
MAC Eyeshadow - Handwritten (as eyeliner)
Illamasqua Medium Pencil - Vow
Lotus Organic Mascara - Black
Lips:
Illamasqua Lipstick - Kontrol
2 september, 2011, 18:10 i Make up products, Swatches
Här är två produkter ur kollektionen Styledriven som släpps den åttonde om jag minns rätt, se så fint! Som vanligt går MACkollektionerna att köpa på Kicks.se om man inte bor nära en disk (Stockholm, Göteborg, Malmö).
Here are two products from the Styledriven collection from MAC that is released this month, so pretty!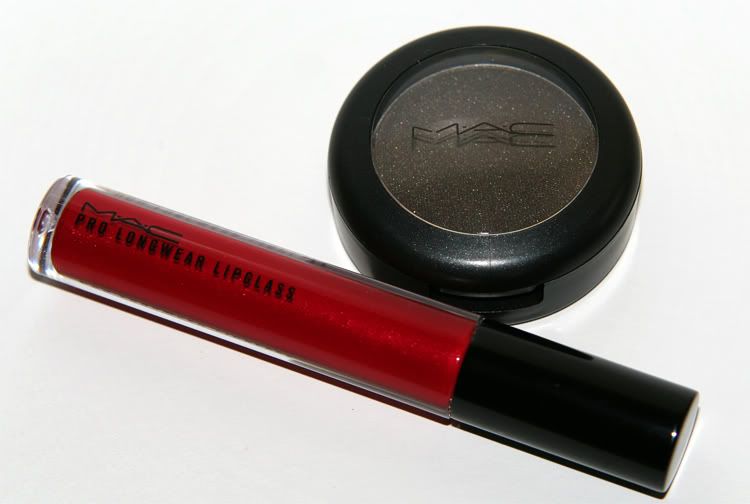 Pro Longwear Eye Shadow ($20 / 230 SEK)
"Legendary Black"

En krämig brunsvart skugga med multifärgat skimmer. Kanske inget som får mig att gå i taket, men det är onekligen en fin skugga. Välpigmenterad och trevlig att jobba med. Synd bara att Pro Longwear-skuggorna är större än de vanliga, det hade varit trevligt om de rymdes i de vanliga paletterna.
A creamy blackened brown shadow with multi coloured shimmer. Maybe not a shade that drives me crazy, but it definitely is a nice shadow. Pigmentation is good and it's nice to work with. Too bad the Pro Longwear shadows are bigger than the regular ones, it would have been nice if they could fit in the regular eyeshadow palettes.
Pro Longwear Lipglass ($18.50 / 205 SEK)
"Driven by Love"
Ett riktigt lackigt, klarrött gloss. Ganska svårarbetat, men när det väl sitter på plats är det underbart. Äkta Hollywood-glamour, tänk Jessica Rabbit! Det är riktigt tjockt och klistrigt (därav "longwear") och därför inget man vill att håret ska fastna i. Tro mig, jag har testat.
A bright red gloss with an extremely lacquered finish. A bit hard to work with, but when it's in place it's wonderful. True Hollywood glamour, think Jessica Rabbit! It's really thick and sticky (that's why it's "longwear") so you don't want to get your hair stuck in it. Believe me, I've tried it.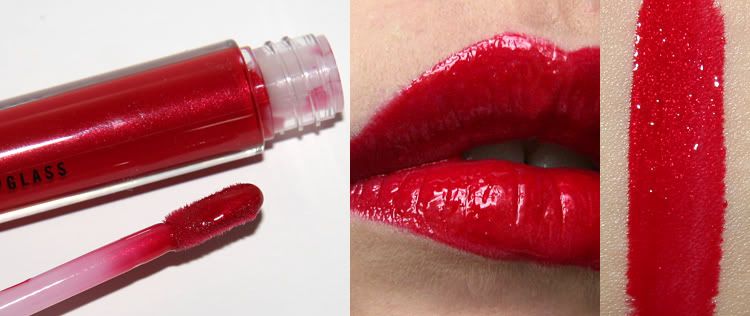 31 augusti, 2011, 15:59 i Make up products, Swatches
Senaste tillskottet i sminksamlingen är denna Aqua Cream från Make Up For Ever. En krämskugga med silkeslent glid som är lätt att sudda ut i kanterna medan den är fuktig, särskilt om man applicerar med en fluffig borste. När den torkar biter den tag och blir kladdsäker och vattenfast och sitter på plats hela dagen. Nyansen är som namnet antyder stålgrå, men med en varm underton vilket i mitt fall gör den mer lättburen. På den högra bilden framgår inte den gyllene undertonen till fullo, men i burken ser ni en liten antydan. Visst är den snygg? Som bas under ögonskuggor är den alldeles toppen.
Jag köpte den under Riga-resan, men vill ni få tag på den här i Sverige får ni bege er till Gurumakeupemporium.com där den kostar £16.95, alltså ca 185 SEK.
The latest addition to my makeup collection is this Aqua Cream from Make Up For Ever. A cream shadow with a silky smooth glide that's very easy to blend. Especially if you apply with a fluffy brush. When it dries it becomes smudge- and waterproof and stays on all day. The shade is - as the name says - steel grey, but with a warm undertone which makes it a lot easier to wear for me personally. On the swatch the golden undertone doesn't show up too well, but in the pot you can see it better. Isn't it beautiful? It works wonders as an eyeshadow base.
I bought mine during our trip to Riga, but if you want to order it online you can do so over at Gurumakeupemporium.com where it costs £16.95.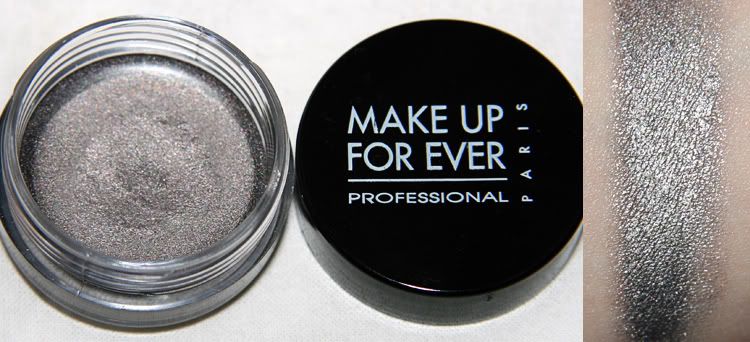 17 augusti, 2011, 18:15 i Make up products, Swatches
De som följer mig på Facebook kanske minns att jag frågade om tips på ett cruelty free genomskinligt gloss med mycket guldskimmer, nu föll det sig så att gulliga IaMia's skickade mig ett överraskningspaket med precis vad jag letade efter. Hallå! Hur rart var inte det? Nu har jag något att toppa mina mörka bärfärgade stift med i höst!
Glosset är cruelty free + veganskt, känns väldigt mjukt på läpparna (jag ogillar verkligen klistriga gloss, så detta kanske är för mjukt för vissa), pigmenteringen är tipptopp och det är doft- och smakfritt. Dessa kommer vad jag förstått ut i webshopen framöver, men jag har tyvärr inga prisuppgifter att ge er än.
Those of you who follow me on Facebook might remember that I asked for tips on a cruelty free clear gloss with a lot of gold shimmer, and now the sweeties at IaMia's sent me a surprise package with exactly what I was looking for. Helloo! How nice is that? Now I've got something to top my dark berry coloured lipsticks with this fall!
The gloss is cruelty free + vegan, feels very soft on the lips (I really dislike sticky go´losses, so this one might be too soft for some), pigmentation is great and it's scent- and taste free. At the moment IaMia's only ship within Sweden.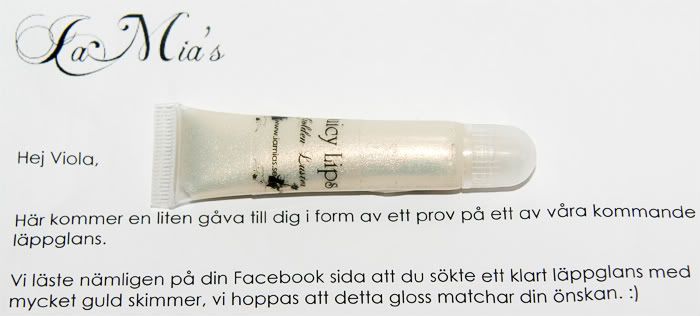 Flash/natural light
On top of Peggy Sage Lipstick "Lady Plum"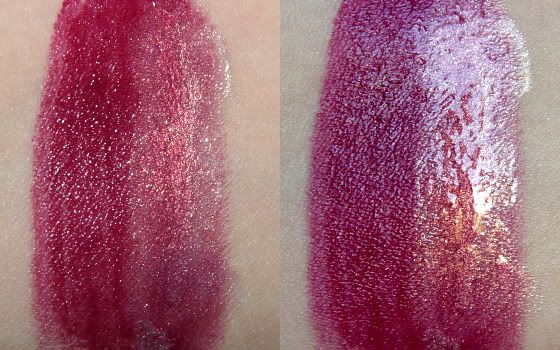 13 augusti, 2011, 23:12 i Make up products, Swatches
Jag får ofta höra önskemål om att visa upp och tipsa om produkter från Elf Cosmetics, så jag passade på att beställa en del under deras 50%-rea för ett tag sedan. Här har ni bilder!
I often get asked to show you products from Elf Cosmetics, so I ordered some during their 50% off sale a while ago. Here's some pictures!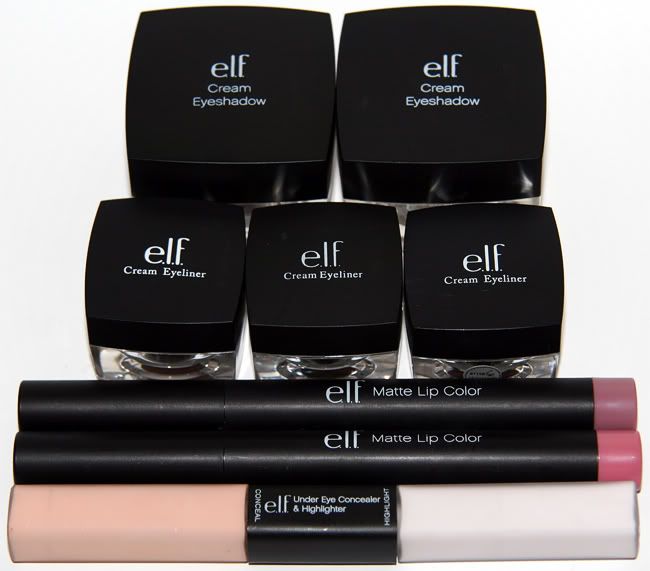 En eyeliner i cremeform som man applicerar med pensel, medföljer en liten snedskuren som är helt okej. En rik chokladbrun färg som kommer fungera toppen både som bas för ögonskuggor och längs fransraden. Riktigt krämig konsistens! Bästa konsistensen av de tre jag köpte hem.
A cream eyeliner that you apply with a brush, a small angled brush comes with the product and it's actually quite okay. A rich chocolate brown shade that will work great both as a base for eyeshadows and along the lashline. The consistency is so creamy and nice! The best one of the three I ordered.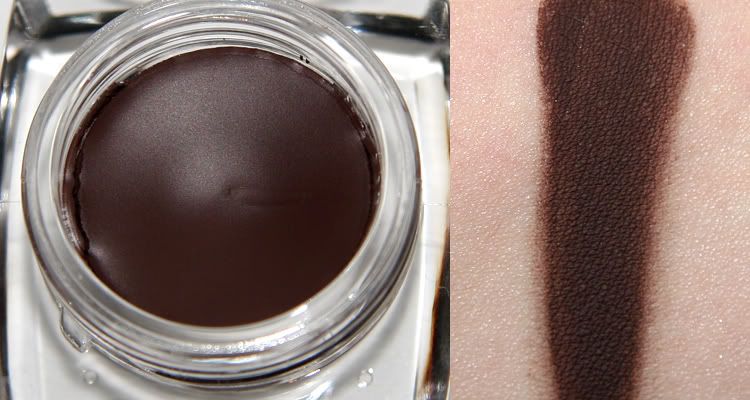 Samma eyeliner i skimrigt utförande, här i olivgrönt. Kollaaaaaa, så jäkla snygg. Denna lär jag nog mest använda över hela ögonlocken.
The same eyeliner in a shimmery version, here in olive green. Check it oooout, so damn beautiful. This one I guess I'll mostly use all over the lid.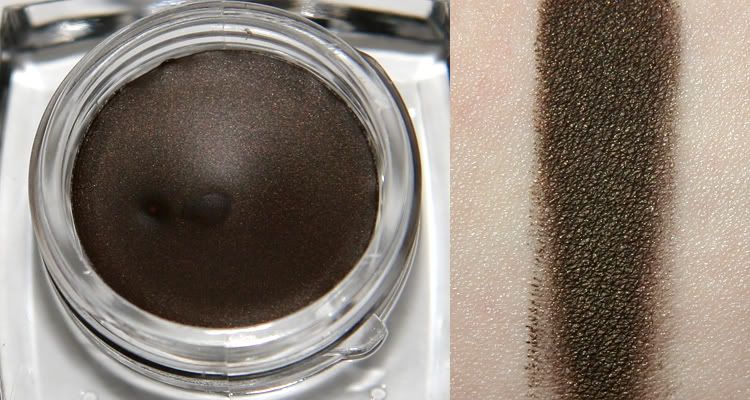 En mörklila liner, plommonröd i basen och blåare skimmer. Den sämsta formulan av dessa tre, men inte så att jag skulle kalla den dålig. Lite flammig är den, men applicerar man bara lite extra noggrant går det troligen bra.
A dark purple liner, a reddish plum base with a more blueish shimmer. The worst formula of these three, but I wouldn't call it bad. A bit uneven, but with a more precise application I guess it'll be just fine.

Elfs nya krämskuggor! Den här applicerar lite krångligt, men om man bara jobbar lite med den så jämnar den ut sig. Så vacker nyans, denna blev jag kär i direkt! Ska testa den som highlighter i ansiktet också.
Elfs new cream shadows! This one applies a bit blotchy, but if you work with it for a while it evens out. Such a beautiful shade, I fell in love with this one in a second! I'll try it as a highlighter on my face too.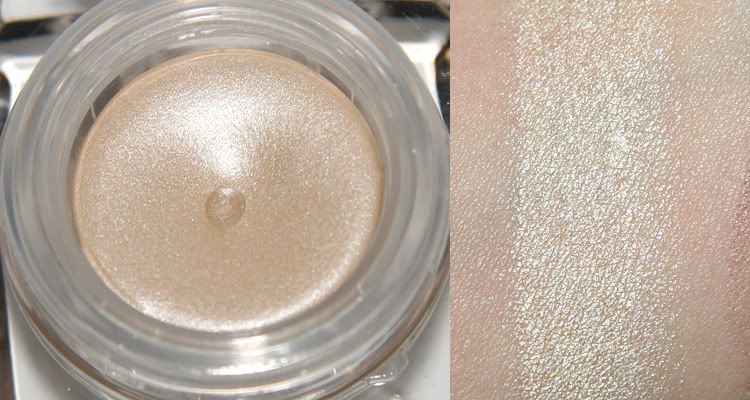 En till krämskugga, i en nyans som inte riktigt passar sitt namn. Tänker jag på aubergines så tänker jag lilasvart, men okejrå Elf. Fin är den ju i alla fall! Denna applicerade bättre än den guldiga ovan.
Another cream shadow, in a shade that I don't really find suitable for the name. If I think of eggplants I imagine a purply black, but awright Elf. It IS pretty! This one applied better than the golden one above.

Dessa läppfärger har jag varit nyfiken på! Matta stift i pennform. Här i en naturlig rosa. Satt ganska bra genom en handtvätt, förhoppningsvis sitter de alltså bra på läpparna också.
I've been curious about these lip colours! Matte lipstick in pencil form. Here in a natural pink shade. It stayed on quite well through a handwash, so probably it stays on the lips quite well too.
Samma som förra, här i en klassisk tea rose-nyans.
The same as last one, here in a classic tea rose shade.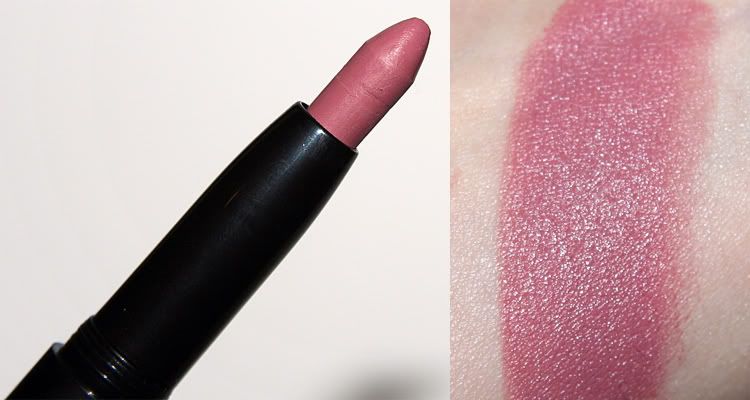 Highlighter och concealer i ett. Den här köpte jag mest för concealern, highlightern gissade jag skulle vara ganska glittrig och ja, den var väl inte sådär skitbra kanske. Men concealern verkar lovande att applicera under ögonen!
Highlighter and concealer in one. I bought this one mainly for the concealer, I guessed that the highlighter would be quite glittery and yeah, It wasn't that good to be honest. But the concealer seems promising to wear underneath the eyes!

13 augusti, 2011, 3:19 i Make up products, Swatches, Turquoise/green
Jag visade er nyss en alldeles underbar turkos ögonpenna vid namn Perfect Peacock från Too Faced, och som ni kan läsa så är den vattenfast. Ja, verkligen verkligen vattenfast, och här har ni mitt bevis på saken. På bilden är ett streck jag drog med pennan på min handrygg för ganska precis 12 timmar sedan, och sedan dess har jag åtminstone tvättat händerna fem gånger, smörjt in dem, tvättat en buttload sminkborstar med diskmedel samt duschat. Ändå ser den ut såhär, och då är jag en noggrann handtvättare också. Alla tummar upp för Perfect Eyes Waterproof Eyeliner!
I recently showed you a beautiful turquoise eyeliner pencil by the name Perfect Peacock from Too Faced, and as you can read it's waterproof. Yeah, really really waterproof, and here's my evidence for it. In the picture you see a line I drew on the back of my hand almost exactly 12 hours ago, and since then I've washed my hands atleast five times, moisturized them, washed a buttload of makeup brushes with detergent plus I've showered. Still it looks like this, and I'm not a sloppy handwasher by any means. All thumbs up for the Perfect Eyes Waterproof Eyeliner!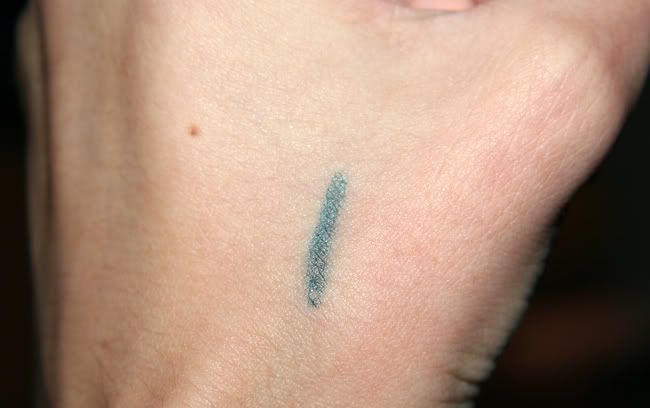 12 augusti, 2011, 19:52 i Make up products, Swatches
Höstkollektionen från Too Faced vid namn Midnight in the Garden of Glamour måste nog vara min favorithöstkollektion för 2011 i nuläget. Promobilden är toppensnygg, produkt/nyansutbudet är ace och jag gillar helheten. Så himla bra kollektion bara! Här är några produkter jag fått hem + swatches. Produkterna kan ni köpa på Eleven.se/Nelly.com.
The fall collection from Too Faced called Midnight in the Garden of Glamour must be my favourite fall collection of 2011 this far. The promo pic is beautiful, product/shade range is ace and I like it all in total. Just a great collection! Here's some products + swatches.
Perfect Eyes Waterproof Eyeliner (195 SEK / $18)
"Perfect Peacock"
Ey, turkosa lirare! På allvar, denna ska ni inte missa. Den här pennan glider på som smör och i en intensiv metallisk turkosblå nyans i ett svep, väldigt likt 24/7-pennorna från Urban Decay. När den torkat på plats så SITTER DEN. Knappt removers rubbar den, kan typ lova att om du applicerar denna och bär makeupen en månad så ser du likadan ut under hela tiden. Haha. Här kan ni se bilder på den efter 12 timmar. Det finns 6 nyanser av dessa pennor.
Ey, turquoise lovers! Seriously, don't miss out on this one. This pencil glides on like butter and in an intense metallic turquoise blue shade in one sweep, very similar to the 24/7 pencils from Urban Decay. When it sets it SETS. Even with a remover it's hard to get off, I can almost promise that if you applied this and then skipped to wash it off for a month you'd look basically the same. Haha. Here's a picture of it after 12 hours. These pencils are released in 6 different shades.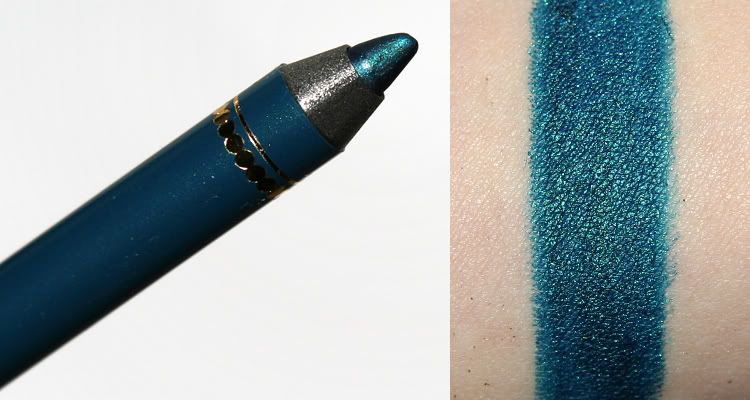 Exotic Color Intense Eye Shadow (195 SEK / $18)
"Petals to the Metal"
En väldigt snygg skugga, en brunröd med intensivt aquafärgat skimmer. Så galen! Applicerar jättefint och förlorar inte skimret det minsta väl på huden. Mums. Namnet är underbart också! Skuggorna i den här serien kommer i 12 olika nyanser.
A beautiful eyeshadow, a brownish red with an intense aqua shimmer. So wild! Applies nicely and doesn't lose it shimmer at all when it's on the skin. Yum. The name is wonderful too! The shadows in this line come in 12 different shades.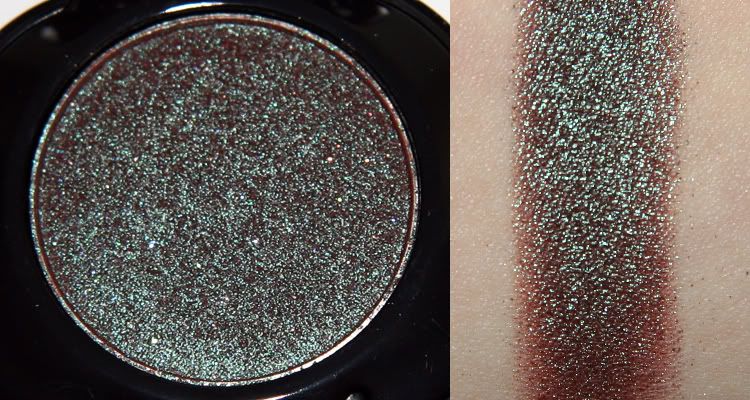 Exotic Color Intense Eye Shadow (195 SEK / $18)
"Poison Orchid"
Och så lite magiskt lila. En dammig gråaktig bas med violett skimmer, denna är verkligen fascinerande att titta på. Lite torrare i konsistensen men inga problem. Väldigt vacker skugga men inte alls lik promobilderna, bara så ni vet.
And now a magic purple. A dusty, greyish base with violet shimmer, this one is really fascinating to look at. A bit dryer in the consistency but no problems. A very beautiful eyeshadow but not like the promo pics at all, just so you know.

Exotic Color Intense Eye Shadow (195 SEK / $18)
"Night Nymph"
Glittrig mattsvart som.. *trumvirvel*.. faktiskt blir glittrig på huden! Glittriga skuggor har en tendens att bara tappa glittret och bli tråkigt matta, men denna kommer jag helt klart överens med. Kanske inte så revolutionerande i utseende, har du redan en glittrig svart skugga så kan du nog passa på denna. Så var inte fallet för min del, så jag är mycket nöjd!
A glittery matte black that.. *drumroll*.. actually applies glittery on the skin! Glitter shadows often tend to drop the glitter and get boringly matte, but this one I really get along with. Maybe not such a visual revolution, if you've got a glittery black already you might be able to skip this. That wasn't the case for me, so I'm really pleased!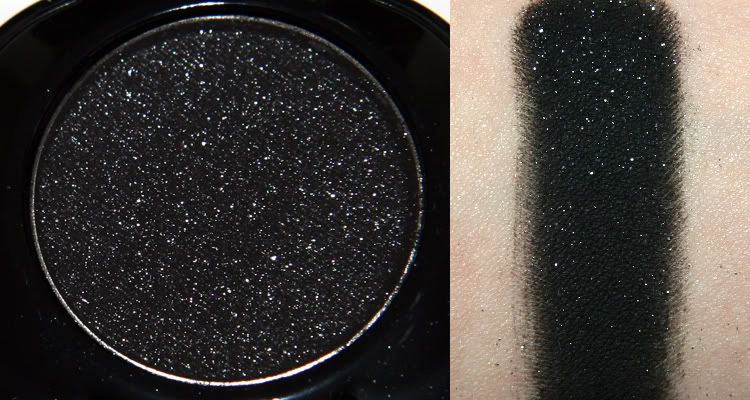 Shadow Brushes Essential 3-Piece Set (420 SEK / $39)
En set med syntetiska ögonborstar framtagna av makeupartisten Jerrod Blandino! Dessa ska bli kul att bekanta mig närmre med. Från ovan heter borstarna Crease/Blender, Lid/Smoker och Liner/Smudger, alla har handtag av det lite kortare slaget. De är tillverkade i mjukaste teddybjörnshår som så vitt jag känner beter sig riktigt bra. Gillar särskilt den översta borsten.
A set of synthetic eye brushes developed by a makeup artist called Jerrod Blandino! This one will be fun to make friends with. From the top the brushes are called Crease/Blender, Lid/Smoker and Liner/Smudger, all of them have quite short handles. They are made out of the softest teddy bear hair that as far as I can feel acts really well. I especially like the top brush.
The promo pic, beautiful huh?
11 augusti, 2011, 22:14 i Make up products, Swatches
Lotta på L8nyberg.se ville skicka mig lite saker ur sin makeupserie att testa, givetvis ville jag det! Hennes foundation har jag exempelvis läst goda ord om, så det var ett nöje. Här får ni en liten kortis om produkterna!
Lotta at L8nyberg.se wanted to send me some products from her make up line to try, of course I wanted to! I've read some good words about her foundation for example, so it's a pleasure. Here's a short talk about the products! L8 Nyberg delivers to Sweden, Norway, Denmark and Finland.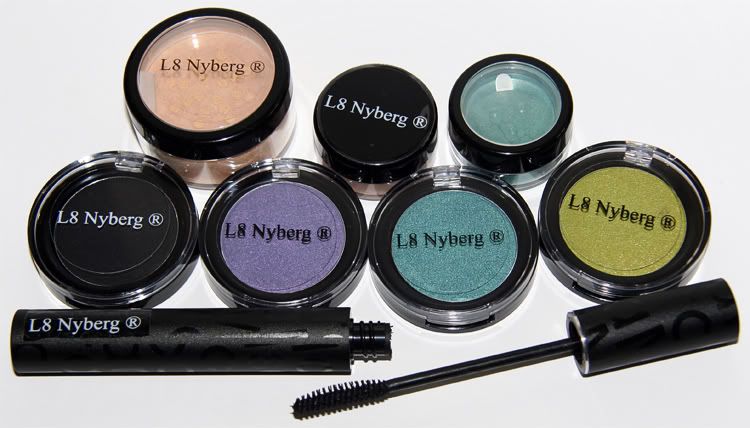 En välpigmenterad och krämig skugga som glider jättefint på huden, den här gillar jag starkt. Visst är färgen spännande? Den här måste jag testa på ögonen snarast möjligt.
A pigmented and creamy eyeshadow that glides on the skin so nicely, I really like this one. The colour is so intriguing! I must use it on my eyes as soon as possible.
Och här har vi en inte lika medgörlig skugga. Det är egentligen inget fel på vare sig pigmenteringen eller appliceringen, men skuggan är alldeles alldeles för hårt pressad, den är superkompakt. Jag fick skrapa med borstskaftet på skuggkakan för att få loss skugga att applicera. Aj! Men fin är den ju.
And here's a shadow that didn't work just as well. There is no actual problem with pigmentation or application, but the eyeshadow is faaar faaar too densely pressed, it's super compact. I had to scrape the surface with my brush handle to get something off the cake. Ouch! But it IS a nice eyeshadow.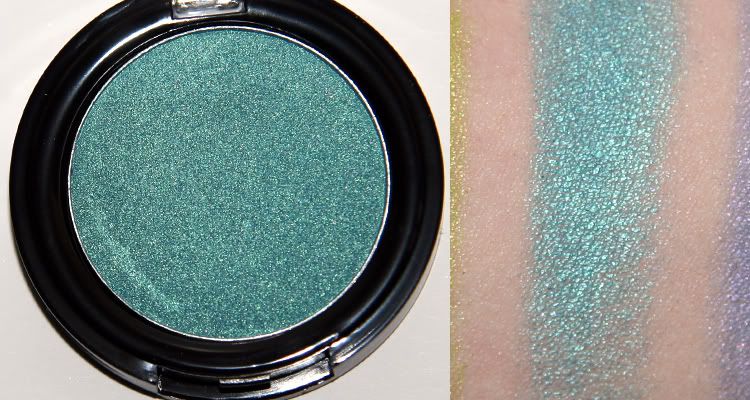 Den här var också ganska hård, men inte lika illa som den ovan. Även här inget fel på pigmenteringen i sig. Färgen är däremot sååå oemotståndlig, kan knappt slita ögonen från den. I det här fallet skiter jag faktiskt i att den är lite svårhanterad. Önskar att jag hade fotat den med Parfait Amour från MAC, de lär gå jättebra ihop.
This one was quite hard too, but not as bad as the one above. The shade is soooo lovely on the other hand, I can't take my eyes off it. In this case I just don't care about it being a bit hard to handle. I wish I had taken photos of it together with Parfait Amour from MAC, I bet they would look awesome together.
En svart med pyttelite skimmerpartiklar i. Den här var också av det hårdare slaget men verkade dessutom inte allt för pigmenterad heller.
A black with a few specks of shimmer in it. This one was a bit hard too but it also seemed less pigmented.
Och den lösa mineralskuggan fungerar som mineralskuggor oftast fungerar, glider på intensivt och med metallisk glans, en given vinnare!
And this loose mineral eyeshadow works just as mineral eyeshadows often do, it glides on intensively and has a beautiful metallic sheen, definitely a winner!
En vaxig tjock skuggbas i hudtonad nyans. Denna har jag inte testat på ögonen än, men jag ser fram emot saken. Denna torkar inte på huden, så man får applicera tunt.
A waxy thick skin toned eyeshadow base. I haven't tried this one on the eyes yet, but I'm looking forward to it. This one doesn't dry on the skin, so you'll have to apply in a thin layer.
Och så denna omtalade foundation, här i ljusaste färgen möjlig. Redan när jag såg burken tänkte jag "Oj, mörk! Hoppas att den ser ljusare ut på", men som ni ser blev jag ganska oompa loompa-färgad. Ett uns för mörk och aaalldeles för gul. Inget för oss lakan alltså! Sedan så kom jag inte allt för bra överens med formulan heller, som ni ser på bilden kakade den upp sig lite och såg uppenbart sminkad ut, smälte inte bra ihop med min hy alls. Den är åt det "kritigare" hållet i formulan, så inget för torra plyten som mitt.
And now to the foundation people have been talking about, here shown in the lightest shade available. When I saw the jar I thought "Ouch, dark! I hope it applies lighter", but as you can see I look quite oompa loompa coloured. A tad too dark and faaar too yellow. Nothing for us sheets in other words! I also didn't get along with the formula, as you can see in the picture it caked up and you could obviously see that I'm wearing makeup, it didn't blend into my skin good at all. It's a bit chalky in formula, so nothing for dry faces like mine.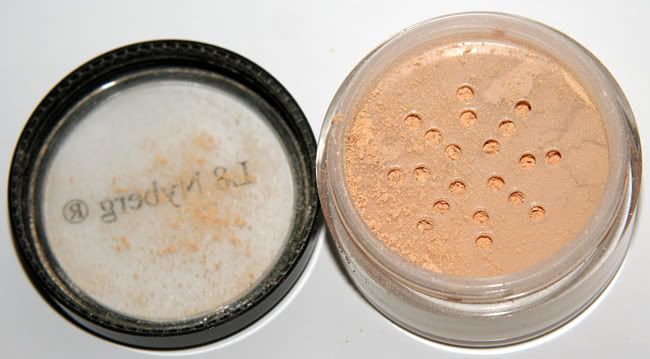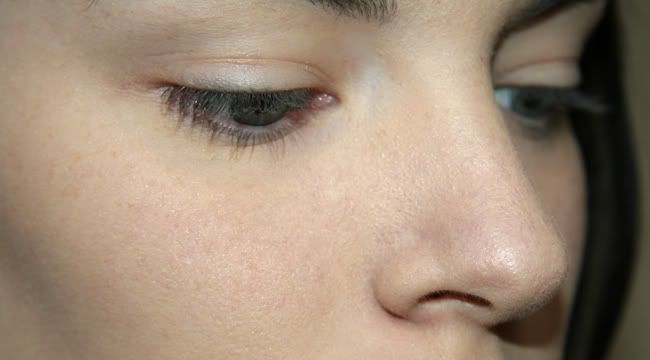 Här är en gyllene mascara för vardagsbruk! Inget dramatiskt resultat, men väldigt väldigt vackert sådant ändå. Underbart separerade fransar som ser naturliga, liksom "fjädriga" ut. Man hade näästan kunnat lura någon att man inte har något på fransarna. Så fint.
Here's a wonderful everyday mascara! Not a dramatic result, but very very beautiful. The lashes are soo separated and looks natural, feathery in a way. You could aaalmost trick people you're not wearing anything at all on your lashes. So pretty.



10 augusti, 2011, 17:32 i Nail polish, Swatches, Turquoise/green
Idag fick jag ett toppenvackert mörkgrönt lack i posten som Bonvisage.se skickat mig, jag kastade det på naglarna direkt och.. fasen alltså, det påminner verkligen om något annat jag äger. Efter att ha rotat runt bland lacken ett tag inser jag att Shiny Ivy helt klart är China Glaze Jolly Holly och Nars Zulu's kärleksbarn. Liksom kolla bara. Ett lack jag avgudar och en lacklegend. Vilka föräldrar..
Today I got a beautiful dark green polish in the mail sent to me by Bonvisage.se, I threw it on my nails and thought damn, it really reminds me of something I already own.. After scrambling through my polishes for a while I realised that Shiny Ivy is the lovechild of China Glaze Jolly Holly and Nars Zulu. I mean look at them. A polish that I adore and a polish legend. The perfect parents!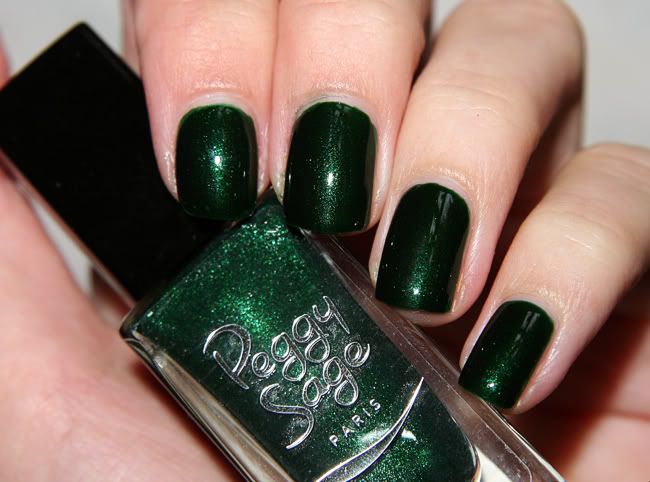 NARS 'Zulu', Peggy Sage 'Shiny Ivy', China Glaze 'Jolly Holly'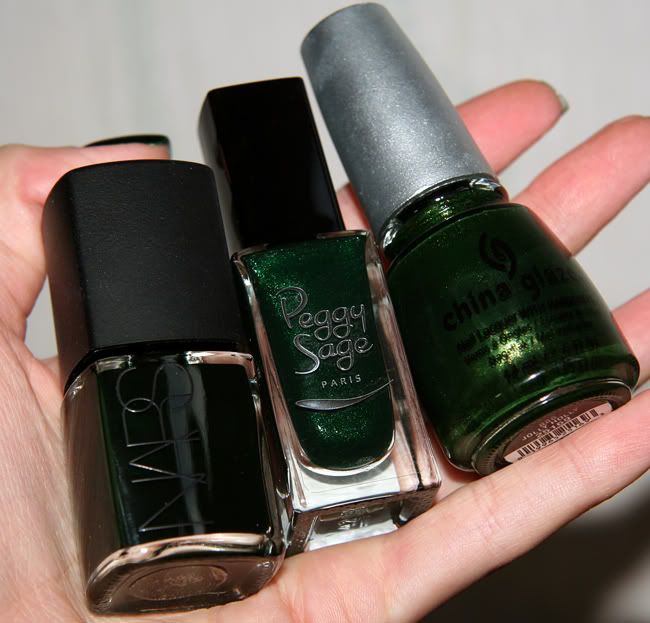 Zulu, Shiny Ivy, Jolly Holly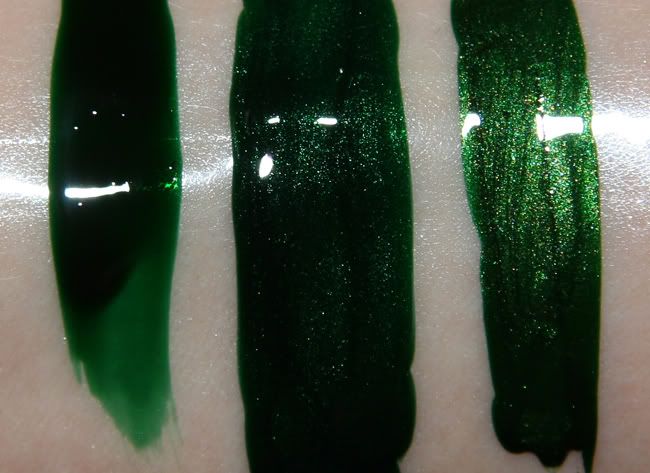 9 augusti, 2011, 16:00 i Make up products, Swatches
Här är en skuggpalett från Make-Up Studio jag plockat ihop! Jag köpte den på Hetcosmeticahuis.nl och hela principen går ut på att man väljer en palett och sedan refillskuggor i de nyanser man vill ha. Både paletterna och refillsen finns i olika storlekar, så det är bara att välja något som passar dig. Paletterna går på dryga €10 och skuggorna typ €6. Helt ålrajt alltså.
Here's a Make-Up Studio palette I picked together! I bought it from Hetcosmeticahuis.nl and the whole concept with these is to choose a palette and fill it up with refill eyeshadows that you like. Both the palettes and refills come in different sizes, so just choose the ones you like. The palettes are about €10 and the shadows about €6. Quite allright!
Eyeshadows from the top: 205, 11, 15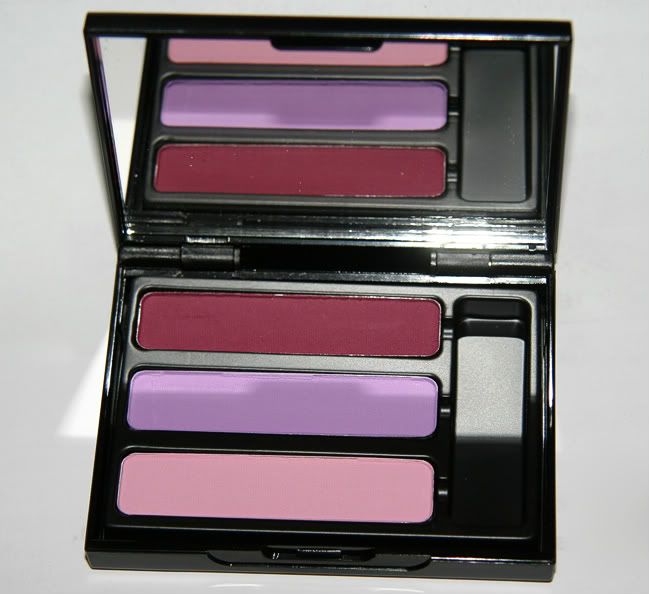 15, 11, 205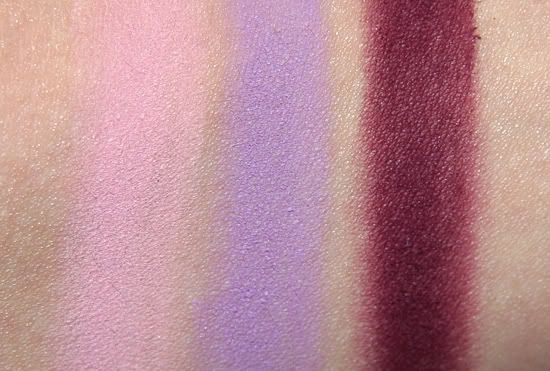 4 augusti, 2011, 16:08 i Make up products, Swatches
Svar ja, nu är den i min ägo. Urban Decays legendariska skuggpalett vid namn Naked. En samling skimriga och matta neutrala nyanser som är i stort sett allt du behöver i den aspekten, särskilt om du som jag föredrar skimmer framför matt. Skuggorna är högpigmenterade och mjuka som Urban Decay-skuggor brukar vara, och alla nyanser har sin egen lilla personlighet liksom. Som vanligt - väl genomtänkt. Med paletten följer också deras klassiska ögonskuggeprimer Primer Potion i miniformat.
Den här paletten är ganska svår att få tag på eftersom den är slutsåld överallt mest hela tiden, så jag köpte min över Ebay från en trovärdig säljare istället. Vågar du inte Ebay så kan du hålla koll på till exempel Lookfantastic.com där kommer den in med jämna mellanrum.
Finally I have it in my possession. The legendary Urban Decay eyeshadow palette called Naked. A collection of shimmery and matte neutral shades that are kind of all you need in that aspect, especially if you prefer shimmer like me. The shadows are highly pigmented and soft like Urban Decay shadows usually are, and all shades has got their own little personality in a way. As usual - much though behind. With the palette comes their classic eyeshadow primer called Primer Potion in a mini size.
This palette is quite hard to find because it's often sold out everywhere, so I got mine through a trustworthy Ebay seller instead. If you don't dare to use Ebay you can check Lookfantastic.com now and then (and urbandecay.com if you're american).
Good Karma Shadow Brush
Denna följer med paletten om man köper en av de senare releaserna. Första paletterna släpptes med en kajalpenna.
This one comes with the palette if you get one of tha later releases. The first palettes were released with an eye pencil.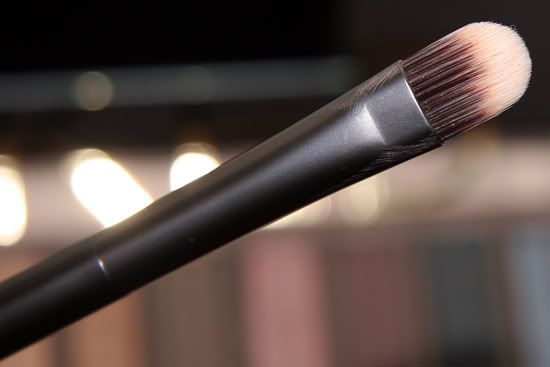 Och såhär fin är den. Åh. Vilka nyanser gillar ni bäst? Darkhorse och Hustle har mig i ett järngrepp.
And this is how the palette looks. Aahh. Which shades do you like the best? Darkhorse and Hustle are my favourites.
Och nu tar vi en närmre titt på skuggorna..
And now let's take a closer look at the shadows..
Virgin, Sin, Naked, Sidecar
Buck, Half Baked, Smog, Darkhorse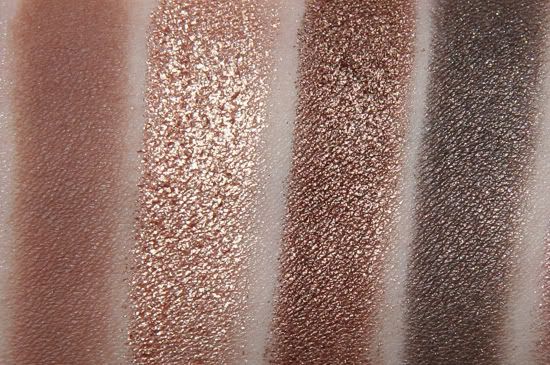 Toasted, Hustle, Creep, Gunmetal
And just for fun..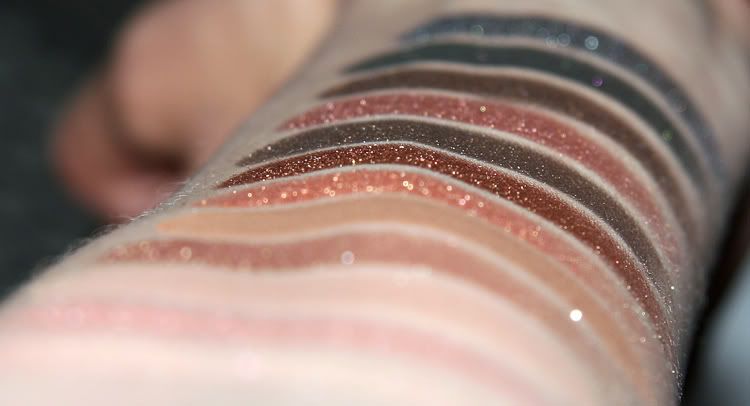 18 juli, 2011, 16:56 i Make up products, Swatches
Just nu säljer Pashion ut en massa Too Faced-produkter svinbilligt, och jag passade på att köpa den här paletten vid namn Eye Shadow Insurance Policy. Sex skuggor och en medföljande fullstor Shadow Insurance, deras bästsäljande ögonskuggeprimer. Detta set gick loss för jämna hundralappen på rean, men kostar i vanliga fall runt 300. Så jag nöp den direkt eftersom den Shadow Insurance jag har sedan tidigare sjunger på sista versen. Jippi! Paletten finns tyvärr inte kvar i reasektionen längre, tror att fler än jag såg vilket kap det var. Paletten kan man säkert annars hitta på Nelly.com eller Eleven.se till fullpris.
I recently bought this Too Faced set called Eye Shadow Insurance Policy, six eyeshadows and a full size of  Shadow Insurance, their bestselling eyeshadow primer. I got this with a great discount, paid a third of the full price here in Sweden. I immediately ordered it because the Shadow Insurance I'm using at the moment is starting to give up on me. Wohoo!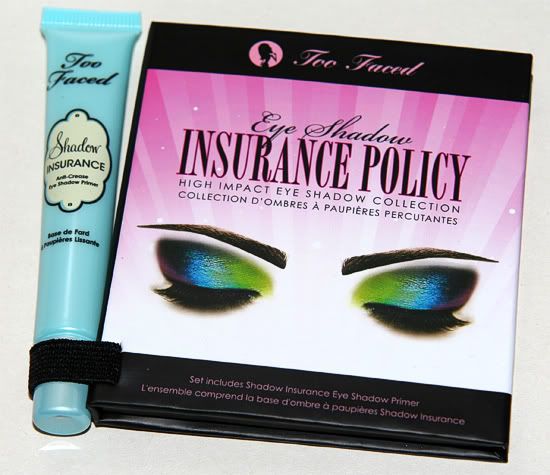 Och idag blev min swatch lite konstig, ni får låtsas att paletten är tippad åt höger. Som ni kanske ser är den blå skuggan bottennappet i paletten, helt klart sämst pigmenterad. Tråkigt!
And today my swatch looks a bit strange, you'll have to pretend that I tipped the palette over to the right. As you might see the blue shadow is the rock bottom of this palette, absolutely the least pigmented one. So sad!

14 juli, 2011, 16:59 i Make up products, Swatches
Snart släpper Lumene nya läppstift! Wild Rose är en serie som funnits hos Lumene sedan 1970, men nu kommer den i en helt ny SPF-variant. Jag har skickats en stor del av dessa stift, så jag tänkte visa er dem!
Läppstiften i serien pendlar mellan låg och mellan/hög täckning, men inga sådana där tjocka krämiga stift som täcker i ett endaste drag. Lagom för vardagsbruk alltså. Fin glans har de, och de känns sköna på läpparna. Stiften har en söt, lite fruktig smak och doft. Jag har något äldre läppstift från Lumene som luktar och smakar precis likadant, så det kanske är deras standard? Jag vet faktiskt inte. Stiften är indelade i tre kategorier, rosa, röd och nude. Här nedan ser ni de stift jag har ur varje serie.
Dessa kommer kosta ca 105 SEK och finnas på Åhléns och KICKS i augusti.
Soon Lumene will be releasing new lipsticks! Wild Rose is a line of lipsticks that Lumene has had since 1970, but now it comes in a new SPF version. I've been sent a large amount of these lipsticks, so I thought I should show them to you!
The lipsticks in this line goes from low to mid/high coverage, but there aren't any of those thick and creamy lipsticks that are opaque in one swipe. So they're perfect for everyday wear. They've got a pretty shine and they feel nice on the lips. There's a sweet, fruity scent and taste to these, I've got an older lipstick from Lumene that smells and tastes the same way, so it might be their standard? I'm not sure. The lipsticks are divided into three categories, pink, red and nude. Here are the lipsticks I've got from each category.
I don't know if/where your able to get these outside of Sweden, sorry!
Pink
Nights (10), Midwinter (11), Wild Rose (12), Petals (14), Clouds (15), So Frozen (16), Iceberry (17)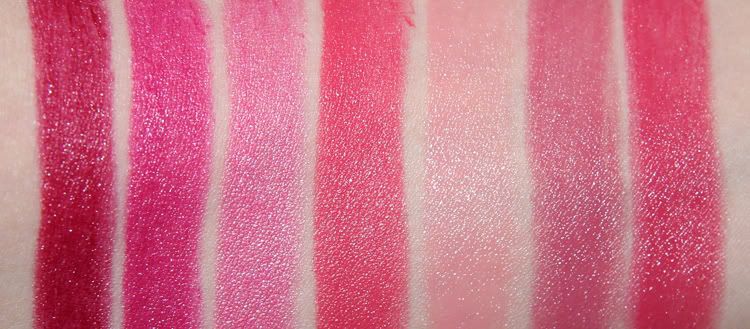 Red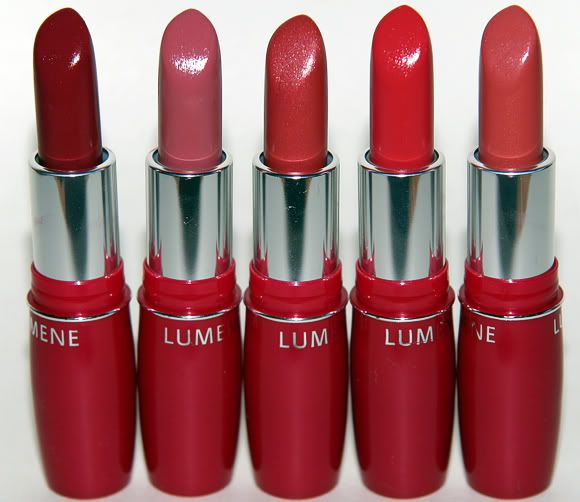 Berries (61), Sunshine (63), Daylight (64), Flowers (65), Fall Red (67)
Nude
Icy Brook (83), Missing You (84), Silence (85), It's Winter (87)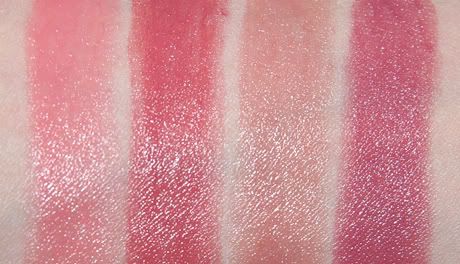 Vilket av alla dessa läppstift ser du allra helst i nästa makeup jag gör? Hjälp mig peka ut ett! Jag vet att ni har bra smak!
Which one of all of these lipsticks do you want to see the most in my next make up look? Help me pick one! I know you've got taste!
13 juli, 2011, 12:36 i Make up products, Swatches
Ni har inte missat att senaste kollektionen från MAC vid namn Semi-Precious släpptes på Kicks.se igår? Här har ni lite bilder!
I hope you haven't missed the new MAC collection called Semi-Precious? Here's some pictures!
Mineralize Skinfinsh "Rose Quartz", Cremesheen Glass "Afternude"
Rose Quartz outer ring, middle, mixed, Afternude
11 juli, 2011, 16:29 i Make up products, Purple/blue, Swatches
Idag gjorde jag en spännande upptäckt! Jag köpte för ett tag sedan läppstiftet Violetta från MAC, ett PRO-läppstift som därför är ganska svårt att få tag i här. Än en gång har jag Ebay att tacka. Hur som haver så började jag fundera, jag har ju faktiskt ett stift som är snarlikt! Ett jag faktiskt använde väldigt nyss också, för visst minns ni detta? Stiften är inte identiska, men NYX Orchid är lätt att få tag på och betydligt billigare (dryga 50 kronor motför Violetta som går upp mot 200), så det kanske kan stilla suget för någon i alla fall.
Tittar man på stiften i hylsan så ser man tydligt den stora skillnaden - Orchid har en betydligt rödare basfärg. I stora drag skulle jag säga att Orchid passar en varmare hudton bättre och Violetta en kallare. Jag personligen föredrar Violetta för min neutrala hudton.
Today I discovered something interesting! I bought Violetta lipstick from MAC a while ago, a PRO product that's quite hard to get your hands on here in Sweden. Once again I'm thankful for Ebay. However, I started thinking.. I've got a lipstick that's similar to this! A lipstick that I used just a while ago, you remember this, don't you? The lipsticks are not really dupes, but NYX Orchid is easier to find and it's a lot cheaper, so I guess it can be an alternative for some people.
If you're looking at the lipsticks in the tube you directly see the big difference, Orchid has got a much more reddish base colour. Overall I would say that Orchid best suits a warmer skin tone while Violetta suits a cooler. I personally prefer Violetta for my neutral skin.
NYX Orchid, MAC Violetta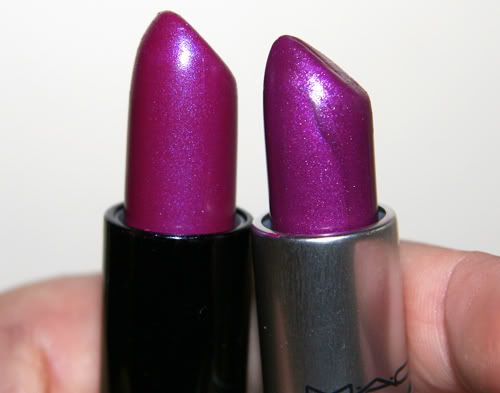 Väl på huden jämnar de ut sig lite. Violetta blir varmare, men man ser fortfarande att Orchid är rödare. Samma skimmer däremot, fast lite skirare i Orchid.
On the skin they even out a bit. Violetta gets warmer, but you still see that Orchid is more reddish. Same shimmer though, but a bit more sheer in Orchid.
With flash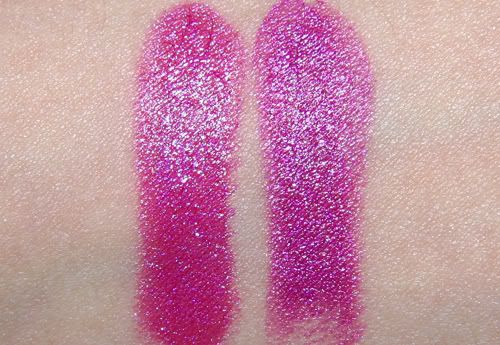 Natural light
NYX Orchid, MAC Violetta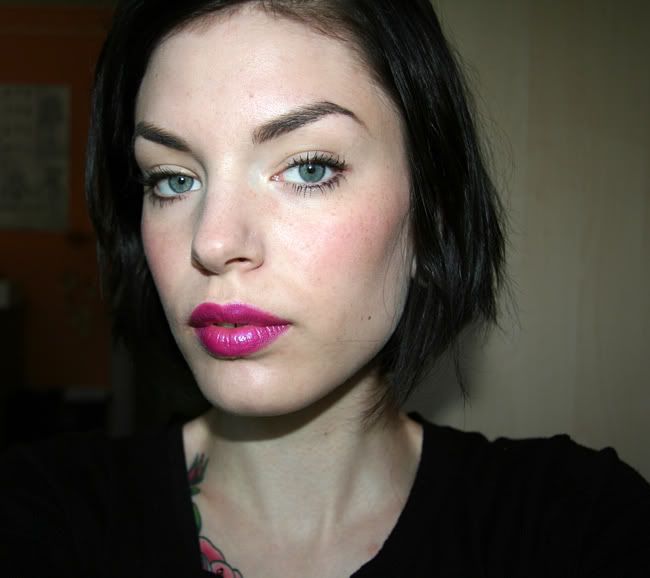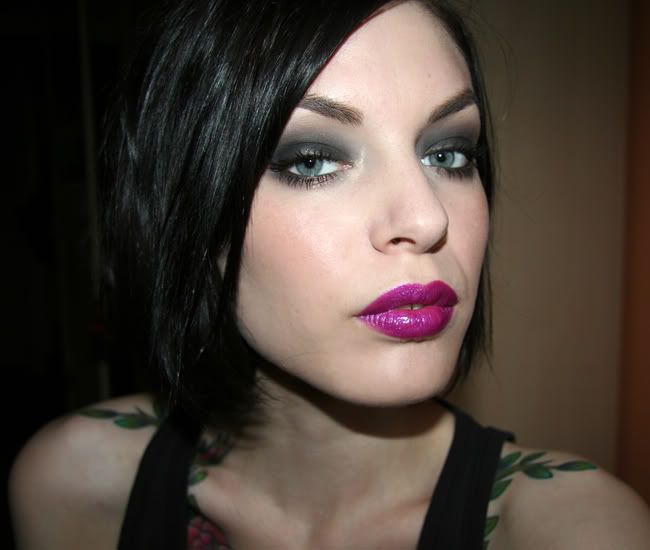 9 juli, 2011, 0:18 i Make up products, Rainbow, Swatches
Här har ni ännu en skön kollektion från Sleek MakeUp, denna vid namn Caribbean Collection. En laddning tropiska, fruktiga färger som inte är för den blyge. Produkterna är limiterade och finns därför inte för evigt, in och shoppa om du är sugen! Allt går att köpa på sleekmakeup.com.
Here's another nice collection from Sleek MakeUp, this one called Caribbean Collection. A collection filled with tropical, fruity colours for the non shy person. These products are limited edition so if you're interested in them you should shop away immediately! You can buy them at sleekmakeup.com.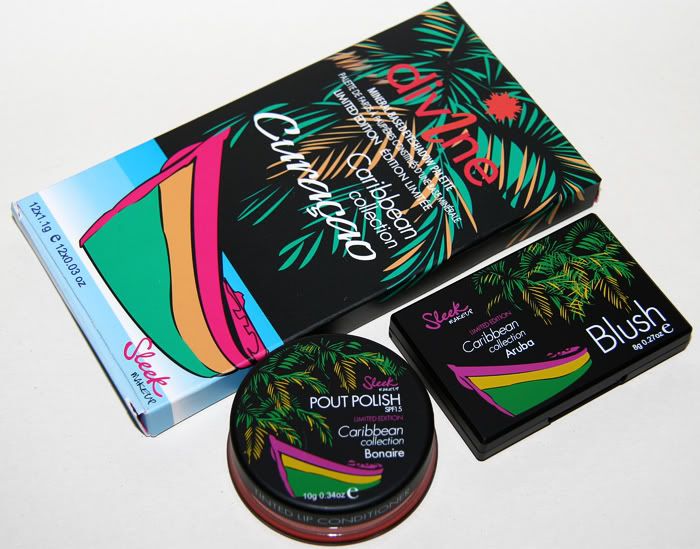 Pout Polish (£4.29 / ca 45 SEK)
"Bonaire"
Ett orange läppbalsam, ser alldeles galet ut i förpackningen men går på mjukare. Om denna säger jag faktiskt exakt samma sak som tidigare Pout Polish jag recenserat, så jag använder följande ord igen: SPF 15 och berikad med jojoba-, avocado- och mandelolja. Snällt mot läpparna på sommaren helt enkelt! Jag gillar produkten i sig, men smaken och doften är en syntetisk stark vanilj som är alldeles för överväldigande för mig. Och jag är inte ens den som brukar klaga på sådant.. Lite synd faktiskt, för fin är den ju.
An orange lip balm, looks completely crazy in the packaging but goes on smoother. I've reviewed pout polishes before so I basically repeate the following words about it: SPF 15 and enriched with jojoba, avocado and almond oil. A nice treat for your lips in the summer basically! I like the product itself, but it's got a heavy scent and taste of a synthetic vanilla that overwhelms me completely. And I'm usually not the person who whine about such stuff. Too bad, because it's really sweet.
Blush (£4.29 / ca 45 SEK)
"Aruba"
Precis som i den senaste kollektionen så går rouget hand i hand med läppbalsamet. Jag har aldrig i mitt liv sett ett såhär orange rouge, är som bortblåst! En matt nästan-neonig högpigmenterad nyans. Har inte vågat testa det i ansiktet än. Haha!
Just like in the last collection the blush goes hand in hand with the lip balm. I've never in my life seen a blush this orange, I'm blown away! A matte almost neon shade. I haven't dared to use it on my face yet. Haha!

Swatches of the products, from the left:
Bonaire, Aruba
i-Divine palette (£6.49 / ca 70 SEK)
"Curaçao"
Och som alltid, de odödliga i-Divine-paletterna.. Dessa paletter är alldeles otroligt bra och man får väldigt mycket för den lilla summan pengar de kostar. Just den här paletten innehåller en hög fruktiga och glada färger perfekta för sommaren, inga neutrala skuggor så långt ögat kan nå!
And as always, the amazing i-Divine palettes.. These palettes are so damn good and it's money well spent. This specific one contains a bunch of fruity and happy colours perfect for summer, no neutral shades baby!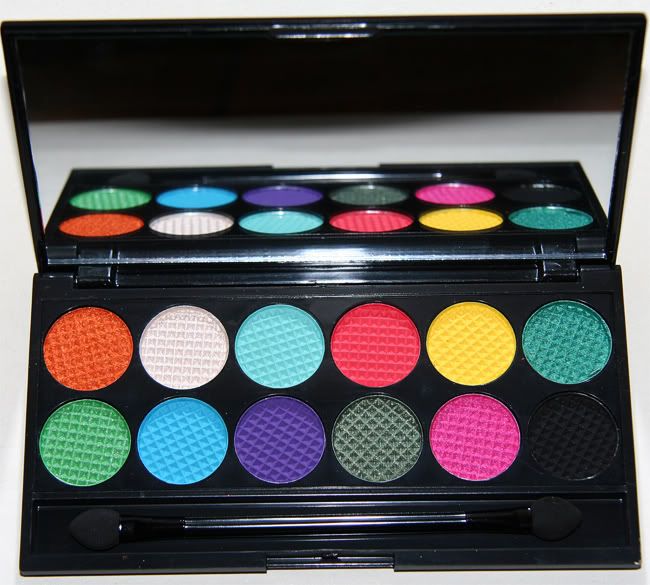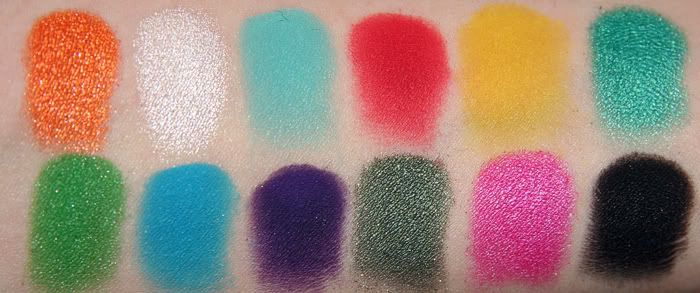 -------------------------------------------------------------------------------------------------------------------------------------------------------
Nu, dags att ta ett steg bort från Caribbean-kollektionen och titta på en av deras nya i-Divine-paletter som landat i standardsortimentet. Så den här är inte limiterad, du kan alltså köpa den vid ett senare tillfälle. Paletten heter Oh So Special och innehåller en blandning vackra neutrala skuggor. Perfekt för den som inte gillar galna färger som paletten ovan. Mest matta skuggor i denna vilket jag ser som en bra grej. Den här kostar också ca 70 SEK.
Now, let's take a step away from the Caribbean collection and look at a new i-Divine palette that just landed in their standard line. So this one won't be limited, you'll be able to get your hands on it later too. The palette is called Oh So Special and it contains a mix of beautiful neutral shades. It's perfect for those who don't like crazy shades like the palette above. Mostly mattes in this one, which is a good thing according to me. This palette is also £6.49.