1 november, 2011, 0:01 i About me, Accessoires, Answering your questions, Are you following.., Ask anything!, Black/grey, Bright lips, Brown/beige, Celebrities, Clothes, Contests/giveaways, Crazy stuff, Everyday, Everything and nothing, Hair care, Important info, Inspiration, Jewellery, Less important info, Make up looks, Make up products, Make up tools, Matte, Metallics, Nail art, Nail care, Nail polish, Neutral looks, Night time, Nude/white, Perfumes & scents, Purple/blue, Quick tips, Rainbow, Red/pink, Reviews, Shimmer, Skin care, Swatches, Tags, Turquoise/green, Tutorials, Video, What do you think?, Yellow/orange, YouTube tips
Som jag nämnde här så är det nu dags för mig att lämna SOLO. Tack och bock för denna tiden! Jag håller tummarna för att ni följer med mig vidare till nya bloggen, för det vill ni va? Ni som följer mig med Bloglovin kommer inte behöva göra någonting, ni kommer automatiskt börja följa nya bloggen. Ni hittar mig nu på..
As I mentioned here it's time for me to leave SOLO. Thank you so much for this time! I hope that you still want to follow me to the new blog, right? Those of you who follow me through Bloglovin won't need to do anything, you will automatically start following the new blog. You can now find me on the site linked above!
10 oktober, 2011, 16:09 i Everyday, Make up looks, Purple/blue, Reviews
Känner ni till Veggie Beauty? En söt veganbrud som bloggar och gör YouTube-videos om skönhet. Jag har följt hennes YT-kanal ett bra tag nu, och när hon för ett litet tag sedan drog igång sin egen linje mineralsmink vid namn Pumpkin & Poppy kändes det självklart att testa produkterna. Så här är en liten snabbgenomgång om två produkter ur hennes sortiment.
Först ut kan vi ju nämna looken i helhet. Foundation och ögonskugga är från P&P vilka jag går igenom längre ner i inlägget, medan läppglanset är Viola från Make Up Store (snyggt namn va?) och mascaran Lotus Organic. Basånivet.
Do you know about Veggie Beauty? A sweet vegan chick who blogs and makes YouTube videos about beauty. I've followed her YT channel for a while now, and when she recently started her own line of mineral makeup called Pumpkin & Poppy I didn't think twice before deciding to try her products out. So here's a quick breakdown of two of her products.
First off I can mention the look as a whole. Foundation and eyeshadow are from P&P and will be discussed later in this post, while the lipgloss is Viola from Make Up Store (nice name, huh?) and the mascara is Lotus Organic. Just so you know.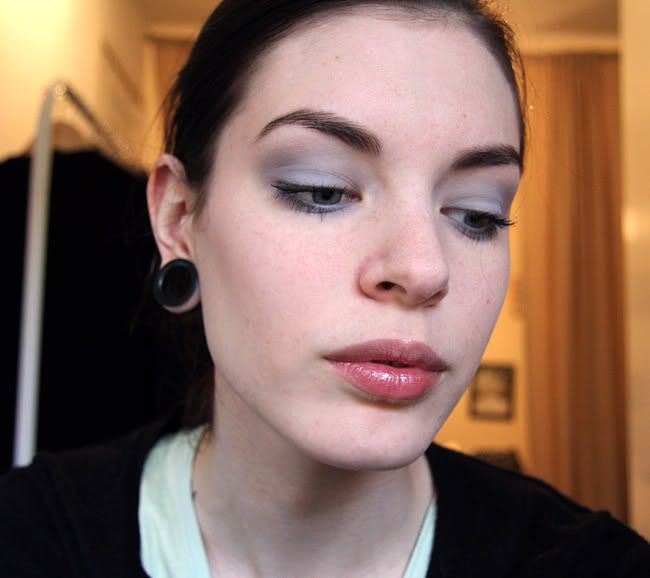 En skugga från årets halloweenkollektion vid namn Dastardly Deeds, inspirerad av skurkar ur diverse sagor och historier. Dorian Gray är en fantastisk blågrå skugga som gör sig jääättebra ensam på ögonlocket (se bild nedan), den drar väldigt mycket mer åt ljusblått än vad den ser ut att göra i burken, men det var bara till min glädje. Kolla vad fin den är! Du kan köpa den här för ca 30 kr.
A shadow from this years halloween collection called Dastardly Deeds, inspired by villains from different stories. Dorian Gray is a fantastic blue grey shadow that looks amaaaazing worn alone on the lid (look at the pic below), it pulls much more light blue on the skin than in the jar, but it was a happy surprise to me. Just look at it, soo pretty! You can buy it here for $4.75.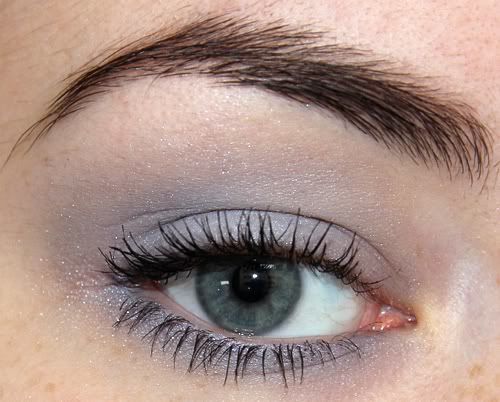 Och så förstås - hennes foundation som finns i en ljus neutral nyans. Självklart testar jag den! Jag hade däremot tyvärr inte så tur med den som jag hade hoppats. Den är nämnd som "full coverage" men vill ändå inte riktigt fästa på min torra hy utan går på lite ojämnt och blir lite för torr i vissa områden, trots att jag applicerade den över en fetare ansiktskräm än vanligt. Jag tror att den är betydligt bättre på fetare hy helt enkelt, där mer olja finns att absorbera. Jag ska nog ge mig på att använda den som puder ovanpå flytande foundations istället, då kommer de mattande egenskaperna mer till hands. Är din hy min motsats så kan denna däremot helt klart vara värd ett ögonkast! Den finns i sju olika nyanser. Köpes här för ca 75 kr.
And of course - her foundation that's available in a light neutral shade. Of course I'm testing it! I'm sorry to say that I didn't have as much luck with it as I had hoped. It's mentioned as a "full coverage" foundation but it still won't really attach to my try skin. It went on a bit uneven and got a bit too dry in some areas, even though I applied it over a richer moisturizer than usual. I think that this one suits oilier skin better, where there actually are more oils to absorb. I think I'm gonna give this a chance as a face powder on top of liquid foundations instead, that's where the mattifying effect would be useful for me. If your skin is the opposite to mine I guess this would be worth checking out though! It's available in seven different shades. You can buy it here for $11.25
Före och efter foundation, inga andra produkter applicerade. Den ville som sagt inte fästa riktigt i mitt ansikte, typ näsan var en kritisk punkt, det ville liksom bara inte se bra ut. Om jag bara hade applicerat en concealer innan (vilket jag i testsyfte förstås inte gjorde) så hade slutresultatet kanske sett lite cleanare ut och inte lika flammigt.
Before and after foundation, no other products applied. As I said earlier it didn't really want to stick to my face, my nose was a critical point for example, it just didn't want to look good. If I only had applied a concealer before (which I didn't do because of this test, of course) the end result might have looked a tad cleaner and less blotchy.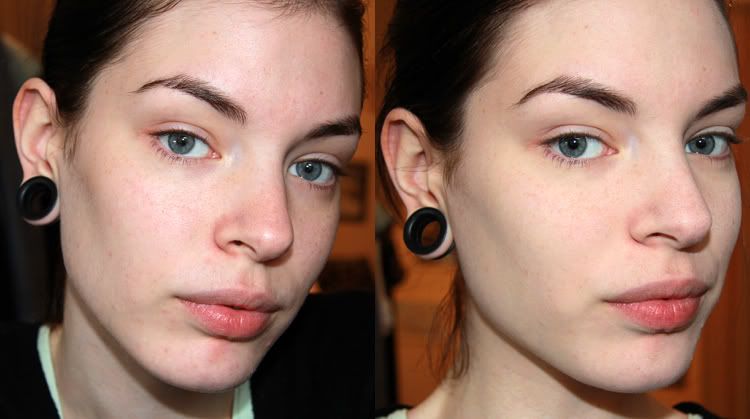 6 oktober, 2011, 14:37 i Bright lips, Make up looks, Purple/blue
MAC Violetta on my lips, again. Best colour ever.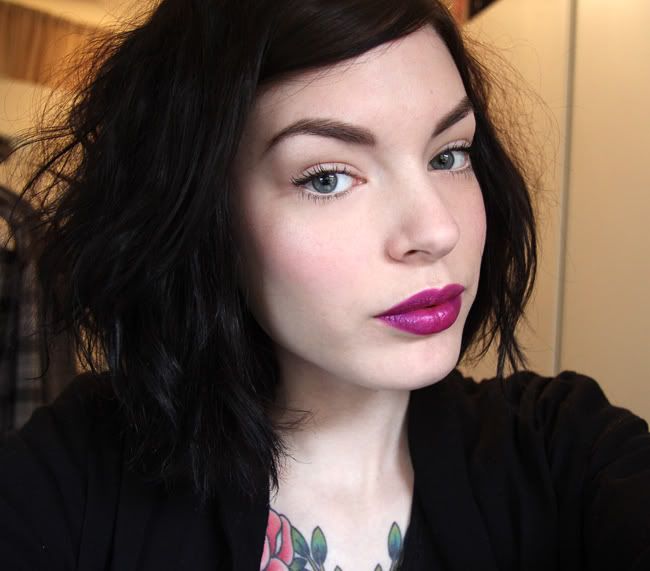 5 oktober, 2011, 22:54 i Nail polish, Purple/blue, Rainbow
Många av er ville se Snow Globe, det mjuka regnbågsglittret som återlanserades med julkollektionen Let it Snow från China Glaze. Så jag passade på att para ihop det med ljuslila Bangle Jangle från Essies julkollektion Cocktail Bling, de är nämligen som gjorda för varandra! Först ut får ni bilder på Bangle Jangle för sig självt, så himla lättlackat att det är inte klokt! Två tunna lager var nog för full täckning. Sedan kastade jag på ett lager glitter över.
Båda lacken är köpta på Transdesign.com för några dollar styck.
Many of you wanted to see Snow Globe, the soft rainbow glitter that was re-released with China Glazes holiday collection Let it Snow. So I paired it up with light purple Bangle Jangle from Essies holiday collection Cocktail Bling, it's like they're made for each other! First out you get a couple of pictures of Bangle Jangle alone, it's soo easy to apply! Two thin layers was enough for full opacity. Then I threw a coat of gliter on top.
Both polishes are from Transdesign.com and costs a couple of dollars each.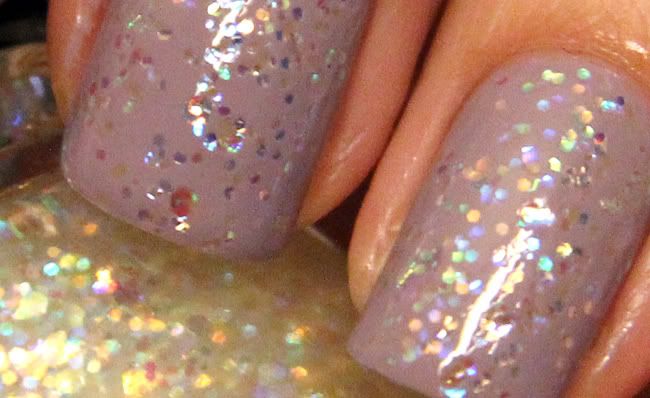 4 oktober, 2011, 17:40 i Black/grey, Make up looks, Night time, Purple/blue, Red/pink
Idag plockade jag fram Sugarpill-skuggorna jag visade er igår och testade vad de går för på ögonen. Tok-intensiva är vad de är! Det var helt klart för dålig ljus för att fota nu, men det låtsas vi inte om.
Today I got the Sugarpill shadows I showed you yesterday out and tried them on the eyes. Crazy intense is what they are! The light was definitely too bad to take pictures now, but let's not think about that.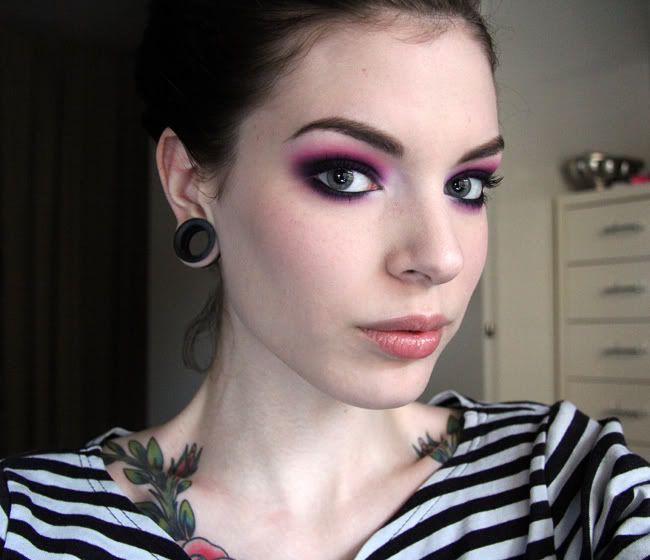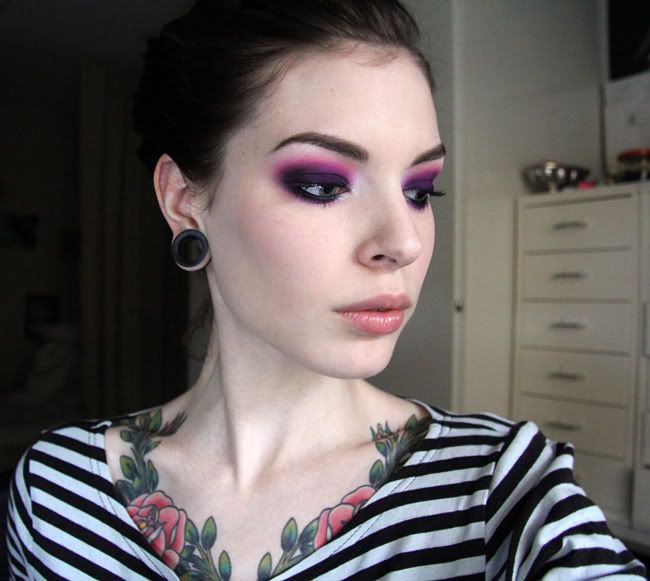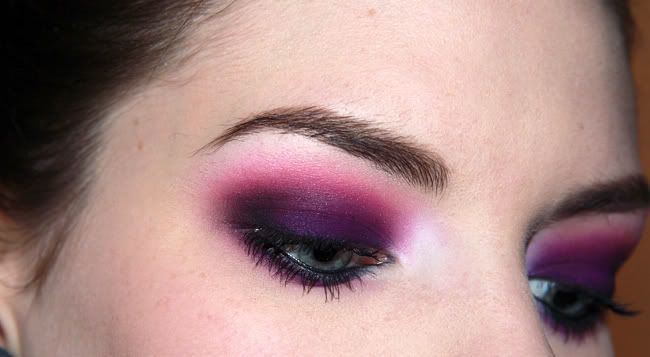 Face:
Elf Cosmetics Studio Under Eye Concealer & Highlighter - Glow/Fair
Too Faced Absolutely Flawless Concealer - Vanilla
GloMinerals GloProtective Liquid Foundation Satin II - Natural-fair
MAD Minerals Translucent Veil Mineral Finishing Powder
Illamasqua Powder Blusher - Katie

MAC Eyeshadow - Mystery (for eyebrows)
Eyes:
Too Faced Eye Shadow Insurance
NYX Slide On Pencil - Black
Sugarpill Pressed Eyeshadow - Poison Plum, Dollipop, Bulletproof, Tako
Dior Diorshow 360 mascara
Lips:
Apoliva Lipgloss - Pion (02)

3 oktober, 2011, 17:42 i Black/grey, Nail polish, Purple/blue, Turquoise/green
Här är ett lack jag styrt på att testa ett tag nu. I slutet av sommaren var jag ju i Riga med en hög skönhetsbloggare och ramlade då över GOSH på ett köpcentrum, och ryckte Purple Heart ur hyllan på en millisekund. GOSH kan vara rätt krångligt att få tag på här i Sverige såvida man inte har en langare, eller bor i Malmö för där finns det uppenbarligen något plejs som säljer dem. Men i huvudsak är det Danmark som gäller.
Purple Heart är en oljefläck i lackform! Den växlar mellan murkigt off-svart, skogsgrönt och mörklila beroende på ljus, ganska subtilt men himla himla vackert. Täcker utmärkt på två lager och torkar snabbt. Perfekt för hösten!
Here's a polish that I've had lying around a while. At the end of the summer I went to Riga with a bunch of beauty bloggers and there I found GOSH at a mall, so I snatched Purple Heart from the shelf in a millisecond. GOSH can be quite hard to find here in Sweden if you don't have a dealer, they're mainly sold in Denmark.
Purple Heart is an oil slick in polish form! It shifts between a murky off black, forest green and dark purple depending on light, quite subtle but very very beautiful. Opaque in two coats and dries quickly. Perfect for fall!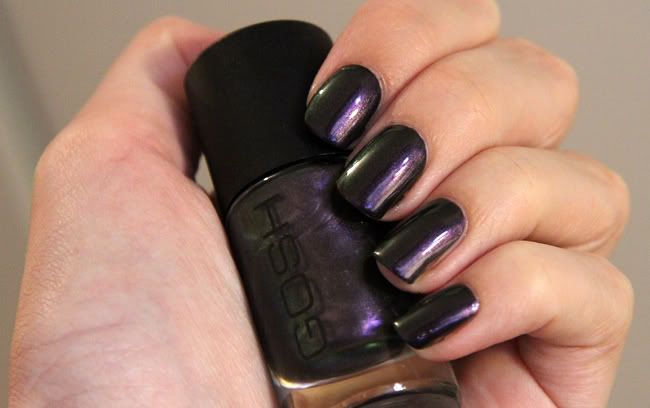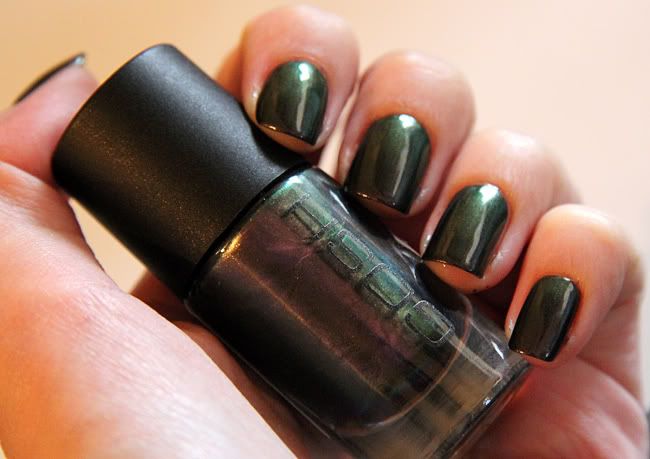 22 september, 2011, 17:59 i Make up products, Purple/blue, Red/pink, Swatches
Shimmer Cubes har vi sett i flera utföranden från The Body Shop, nu i höst lanseras några nya varianter, däribland denna vid namn Bunch of Violets. En lite meckig förpackning (varje liten kub har en egen ask med lock) som är klok på sitt sätt, men lite väl krånglig för min smak. Skuggorna är fina däremot! Går både att använda våta och torra. Har hört sägas att de behöver en ganska klistrig bas för att fästa på ögonen eftersom de är ganska pudriga, jag ska ge dem ett försök senare så får vi se hur jag känner.
295 kr på The Body Shop.
We've seen Shimmer Cubes from The Body Shop in a bunch of combinations, this fall a bunch of new ones are released, for example Bunch of Violets. The packaging is a bit tricky (every cube has its own little box with a lid) which is smart in its way, but a bit too complicated for my taste. The shadows are pretty though! They can be used both dry and wet. I've heard people say that these need a sticky base to look good on the eyes because they are a bit powdery, I'll give them a try later and let you know what I think.
Check your local The Body Shop to find an accurate price.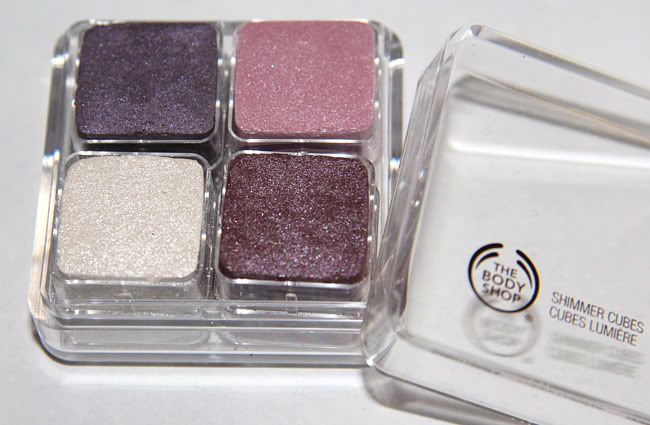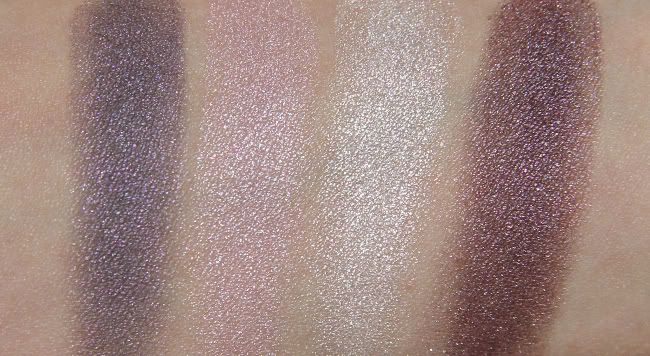 22 september, 2011, 8:14 i Nail polish, Purple/blue, Turquoise/green
De tidigare nämnda glittren var alltså två lack ur O.P.I.'s julkollektion 2011 vid namn The Muppets. På ringfingrarna har jag Fresh Frog of Bel Air och resten av naglarna är Gone Gonzo!, applicerade över nude-aprikosa Essie Mucho Dinero för att motverka eventuell genomskinlighet.
Flera av glittren i denna kollektion har samma "recept" men är i olika färger, så jag passade på att lacka med två olika när jag ändå var igång, de matchar ju så bra! Lacken är genomskinliga och sprängfyllda med smått enfärgat och stort hexagonalt silverglitter. Simpelt koncept som helt klart är vinnande, om man är sugen på lite galenskaper det vill säga. För jag lovar, ingen kommer undgå dina naglar. Tre lager krävs för full täckning.
Lacken kommer ut i svenska butiker i november för 150kr/st. Över nätet får du nog tag på dem för hälften av det svenska priset.
Here are the glitters I mentioned earlier, two polishes from the O.P.I. christmas 2011 collection called The Muppets. On my ring fingers I'm wearing Fresh Frog of Bel Air and the rest of the nails sare Gone Gonzo!, applied over the apricot nude Essie Mucho Dinero to neutralize if the polishes would apply sheer.
Many of the glitters in this collection have the same "recipe" but are in different colours, so I got all into it and applied two different polishes, they match so well! The polishes are clear, filled with tiny coloured and big hexagonal silver glitter. A simple concept that's definitely winning, well, if you want some craziness that is. I promise, everyone will react when they see these nails. Three coats was needed for full coverage.
The polishes are released in November here in Sweden, but probably earlier internationally.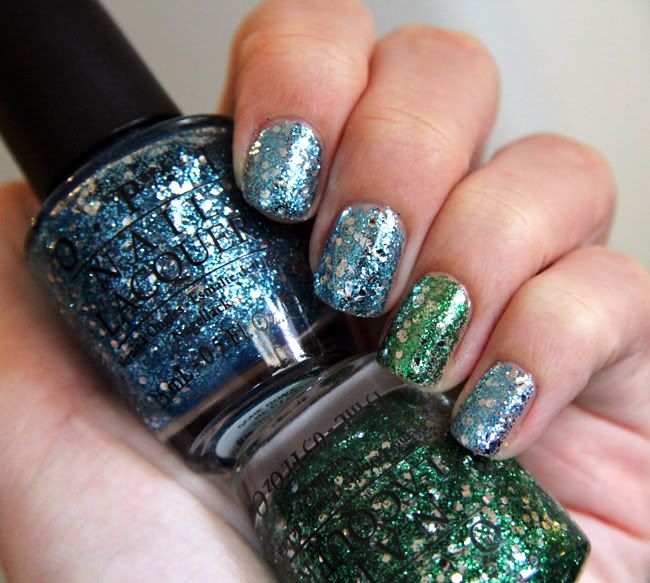 21 september, 2011, 17:56 i Bright lips, Crazy stuff, Make up looks, Make up products, Purple/blue, Swatches
Illamasquas höstkollektion Theatre of the Nameless har jag tjatat mer än nog om, men jag måste bara göra det en gång till.. Jag har redan visat er den oxblodsröda eyelinern Havoc (även om bilderna sög), men här är det absoluta guldkornet, läppstiftet Kontrol. Kostar £15.50 (ca 170 kr) på Illamasqua.com.
Det glider som smör på läpparna utan att vara kladdigt, och likt Illamasquas läppstift i övrigt är pigmenteringen top notch. Inget gnuggande fram och tillbaka eller bråk med flammigt resultat vilket ofta hör ihop med mörka stift. Nej, applicera med pensel så ser det alldeles perfekt ut. Jag själv applicerade direkt från stiftet, och även om jag uppenbarligen klarade mig såhär så hade det helt klart varit snyggare. Jag har inte heller burit det länge nog för att kunna avgöra om det blöder ut i läppkonturen eller inte, så för att vara helt safe skulle jag nog tipsa om att använda en läppenna under, även om jag själv inte lär orka. Illamasqua brukar vara bra på det där med läppstift, så jag är inte särskilt orolig.
Nyansen är åt det kallare hållet med en askig ton över det hela. "blå-violett" som Illamasqua själva säger. Nedtonat men en riktig attention whore, bästa mixen! Än fast den är helt knäpp så skulle jag inte ha något som helst problem med att gå ut såhär till vardags. Nyansen känns faktiskt förvånansvärt lättburen.
I've been talking loads about the Illamasqua fall collection called Theatre of the Nameless lately, but I just have to do it one more time.. I already showed you the oxblood-red eyeliner called Havoc (even though the pictures sucked), but here's the pearl of the collection, the lipstick called Kontrol. Costs £15.50 at Illamasqua.com.
It glides like butter in the lips without being greasy, and like Illamasquas lipsticks overall the pigmentation is top notch. No rubbing back and forth or uneven applications which dark lipsticks often go hand in hand with. No, apply it with a brush and it'll look awesome. I applied it directly from the tube, and even though I obviously made it through it definitely would have looked better that way. I haven't worn it long enough to tell if it bleeds into the fine lines around the lips during the day or not, so to be completely safe I would advice you to wear it with a lip liner. Even though I probably won't do it myself. Illamasqua are awesome at lipsticks, so I'm not too worried.
The shade leans toward a cool purple, with an ashy tone over it. "blue violet" as the Illamasqua site says. Toned down but a true attention whore, the best mix ever! Even though it looks nuts in a way I would have no problem at all going out with this on as an everyday look. A comfortable shade, believe it or not!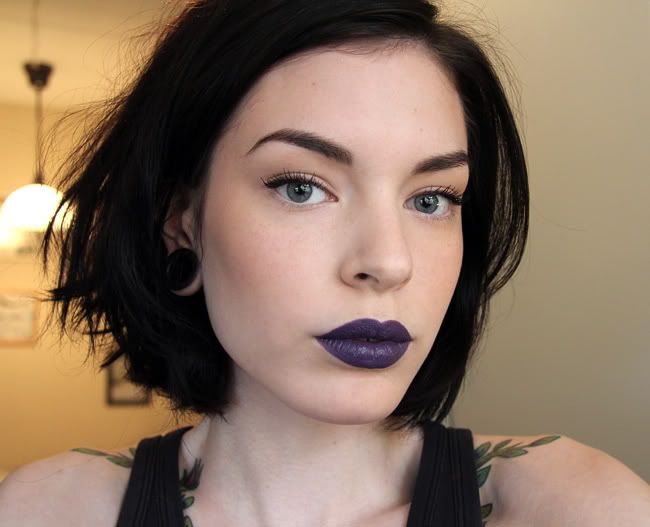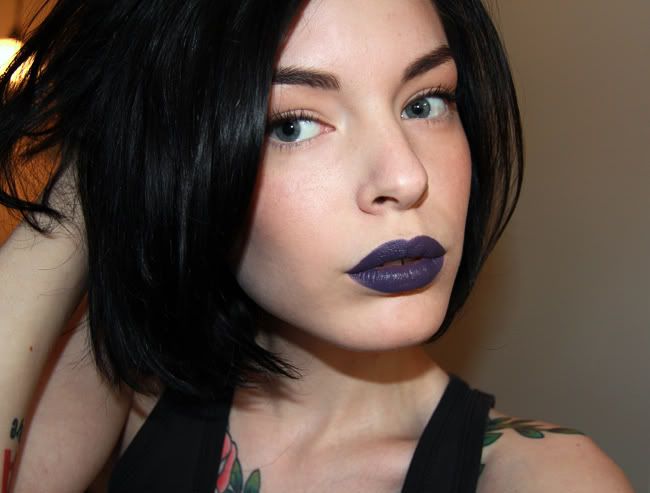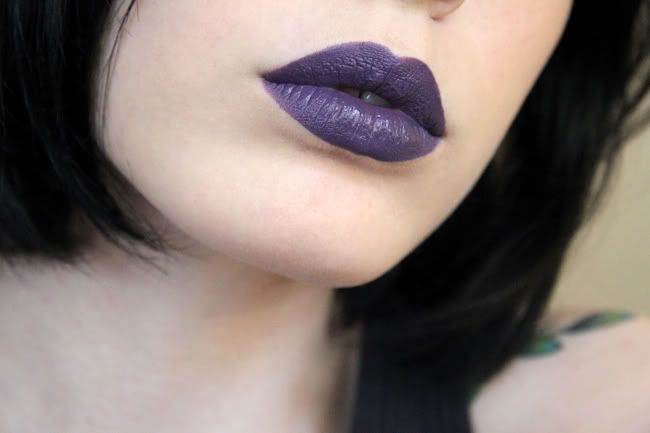 Face:
Elf Cosmetics Studio Under Eye Concealer & Highlighter - Glow/Fair
Too Faced Absolutely Flawless Concealer - Vanilla
GloMinerals GloProtective Liquid Foundation Satin II - Natural-fair
Idun Minerals Bronzer - Midsommar
MAC Eyeshadow - Nylon (for highlight)
MAC Eyeshadow - Mystery, Handwritten (for eyebrows)
Eyes:
MAC Eyeshadow - Handwritten (as eyeliner)
Illamasqua Medium Pencil - Vow
Lotus Organic Mascara - Black
Lips:
Illamasqua Lipstick - Kontrol
20 september, 2011, 10:58 i Nail polish, Purple/blue, Rainbow
Okej, här får ni lite lack-amazingness. Jag hade inte tänkt visa detta lack, därav den tre (?) dagar gamla manikyren. Men ålrajt, kunde inte hålla mig. Visst är lacket alldeles stört fint? Kolla på YouTubevideon jag filmade, den ger nog mer än vad bilderna gör. Lägg märke till den fina regnbågsflashen i flakesen.. Nfu.Oh i mitt hjärta!
Köpt via Nailmail tidigare i år.
Okay, here's some polish amazingness for you. I wasn't planning on showing you this polish, that's why you get a three (?) days old manicure. But allright, I couldn't keep myself from doing it. Isn't the polish too damn beautiful to be true? Look at the YouTube video I filmed, I guess it tells more than the pictures do. Can you see that beautiful rainbow flash in the flakies? Nfu.Oh in my heart!
I bought mine through Nailmail earlier this year.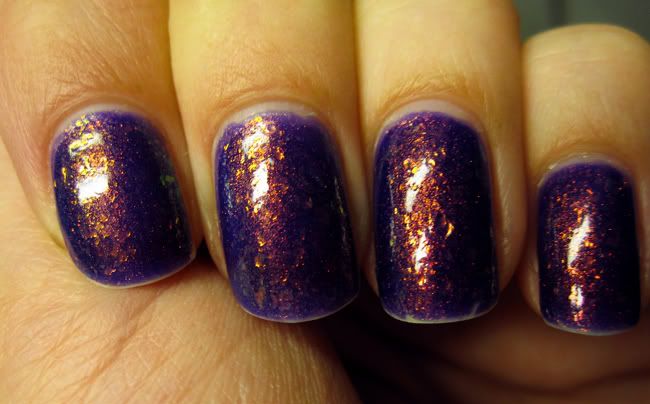 3 september, 2011, 2:36 i Make up looks, Purple/blue, Tutorials, Yellow/orange
Första tutorialen upp på jättelänge! Den här var med i SOLO 7, så för er som läser tidningen är detta kanske gammal skåpmat. Men för er andra - en enkel makeup i konstrasterande färger! Vågar du?
The first tutorial up in a long long time! This one was in SOLO 7, so those of you who read the magazine (probably not many non-Swedish people..) this might be old news. But for the rest of you - a simple makeup in contrasting colours! Do you dare?
-------------------------------------------------------------------------------------------------------------------------------------------------------------------------------------------------------
1. Lägg en matt och enkel bas, antingen en tunn flytande foundation, eller så späder du ut din heltäckande med ansiktskräm. Håll basen fräsch och "osminkad" men ändå korrigerad, det är en fin motvikt till den flådiga ögonmakeupen.
1. Apply a matte and simple base, either apply a thin liquid foundation or dilute your high coverage one with moisturizer. Keep the base fresh and with a "no makeup look" but still corrected, it makes a nice contrast to the overly done eyes.
2. Applicera en skuggprimer runt ögonen, packa sedan en korallorange skugga på det rörliga ögonlocket. Här har jag använt Heat Wave från MAD Minerals.
2. Apply an eyeshadow primer around the eyes, then pack a coral orange eyeshadow on the mobile lid. Here I used Heat Wave from MAD Minerals.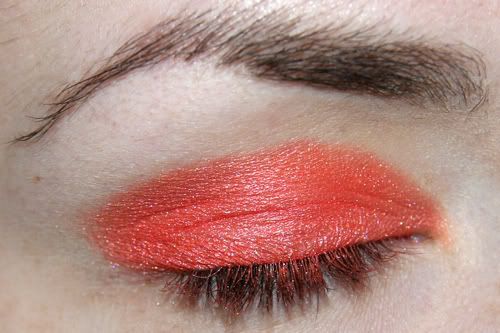 3. Plocka upp lite av samma samma skugga på en fluffig borste och jobba in den i globlinjen.
3. Pick a tiny bit of the same shadow up on a fluffy brush and work it into the crease of the lid.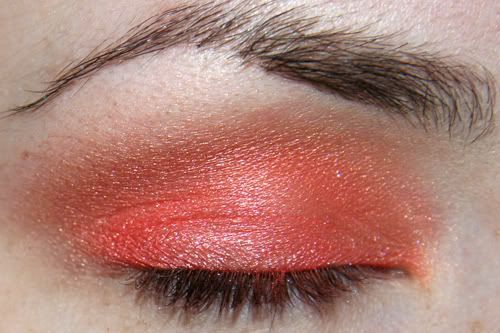 4. Lägg en klarblå skugga längs undre fransraden. Snåla inte med skuggan, vi vill ha två tydliga färgblock på ögat! Jag använde Speed från MAD Minerals.
4. Apply a bright blue shadow along the lower lashline. Apply a good amount of shadow, we want two obvious colour blocks on the eye! I used Speed from MAD Minerals.
5. Highlighta under ögonbrynet och i inre ögonvrån för att ge lite extra liv åt ögat. Jag tror att jag använde Shroom från MAC om jag inte misstar mig. Fast.. det ser inte riktigt ut som den. Whatever. Använd något ljust och fint.
5. Highlight under the brow and on the inner corner of the eye to give the eye some extra life. I think that I used Shroom from MAC if I'm not mistaken. But.. it doesn't look like it. Whatever. Use something light and pretty.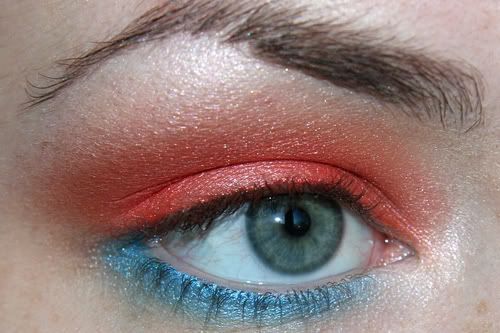 6. Pigga upp blicken med en vit penna innanför undre fransraden. Äggskalsfärgat fungerar också bra om du inte vill ha ett lika intensivt resultat.
6. Perk your eyes up an extra bit with a white pencil along the waterline. Eggshell colours works just as well if you don't want a result this intense.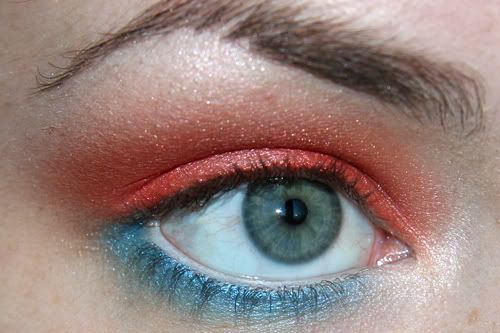 7. Dags för liner! Här kan du måla så intensivt du själv vill, vinga linern eller låt bli, helt upp till dig. Jag drog bara en smal liten linje utan vinge och lämnade det där, men en tjock vingad vintage-liner hade sett precis lika hot ut. Jag använde Peggy Sage Cake Eyeliner.
7. Time for liner! Apply as thick as you want it, wing it out or not, it's up to you. I just drew a thin line without a wing and left it like that, but a thick retro wing would look just as pretty. I used Peggy Sage Cake Eyeliner.
8. Fyll i brynen, och förstås - mascara! Nu är ögonmakeupen klar.
8. Fill in your brows, and of course - mascara! Now the eye make up is finished.
9. Lägg ett korallfärgat rouge för att skapa en harmoni med ögonen, så skippa rosa idag. På läpparna valde jag att bära nude när ögonen ändå är så intensiva. Kan det ha varit Circe från NYX kanske..?
9. Apply a coral blush to make it work with the eyes, so skip the pinks today. On my lips I decided to wear nude because of the already so intense eyes. Could it have been Circe from NYX maybe..?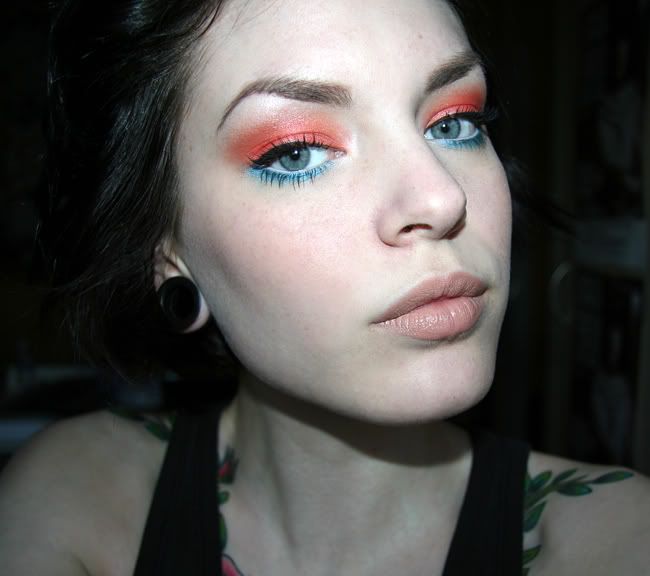 2 september, 2011, 17:08 i Nail polish, Purple/blue
En klassiker jag haft turen att ramla över är Royal Navy från Orly, en mörkblå jelly med microskimmer (vilket inte syns på bild) som är alldeles trollbindande vacker. Djupt kornblå som beroende på ljus ser olika mörk ut, men aldrig svart.
Svårfotad som attan, så jag bjuder på tre bilder varav alla är under all kritik.. Jag lyckades dessutom packa ner lackflaskan i en flyttkartong under tiden jag fotograferade, så två av bilderna är utan flaska. Ni får ha överseende! Haha.
A classic polish that I had the luck to stumble upon is Royal Navy from Orly, a dark blue jelly with micro shimmer (which doesn't show up in pictures) that is stunningly beautiful. A saturated royal blue that varies in darkness depending on light, but it never looks black.
Really really hard to capture in pictures, so I'm showing you three pictures which aren't okay by any standard.. I also managed to pack the bottle down in a moving carton while I took the pictures, so two of them are taken without a bottle. I'm sorry! hahah.
Natural light (The nail line is not that visible in real life)
Under a light bulb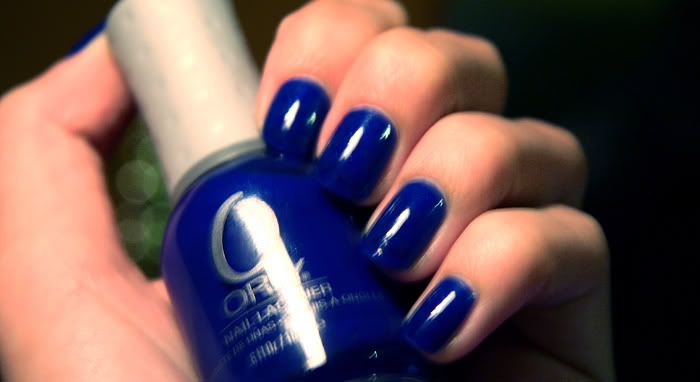 Indoors, when it is at its darkest.
14 augusti, 2011, 20:39 i Make up looks, Purple/blue, Turquoise/green
Idag bär jag tropiska färger runt ögonen, jag vet knappt vad det blev av den här makeupen.. Jammade in så mycket otestade produkter som möjligt, så i produktlistan kan ni nog spotta en hel del spännande grejer!
Today I'm wearing tropical colours in my eye make up, I don't even know where this went.. I just jammed as many untested products in as possible, so in the product list you'll probably be able to spot some interesting stuff!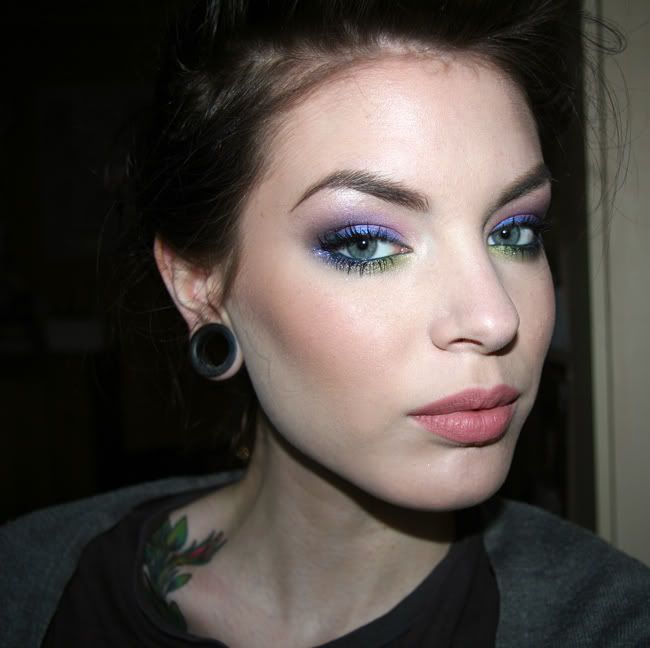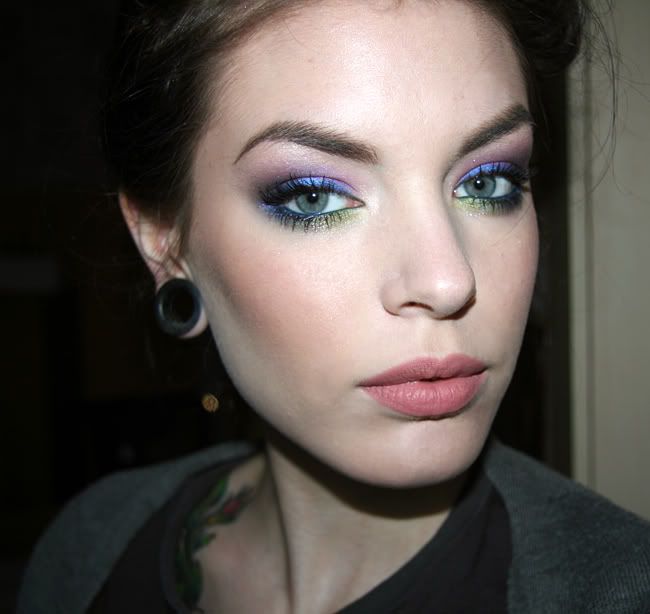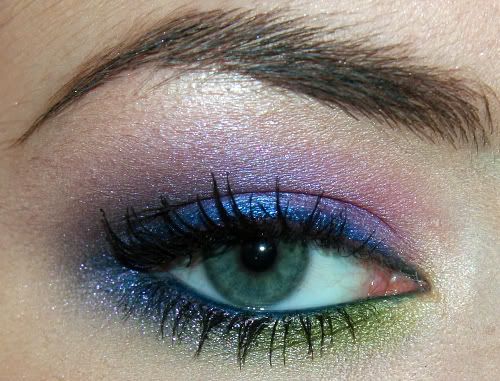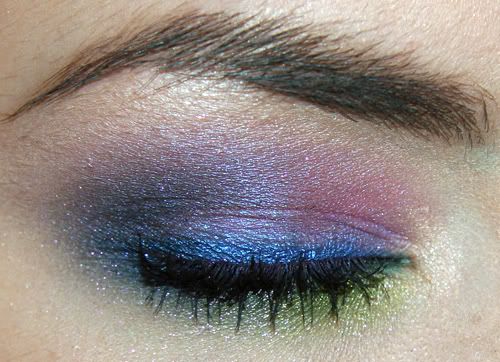 And because the purply shimmer totally vanished in the pictures..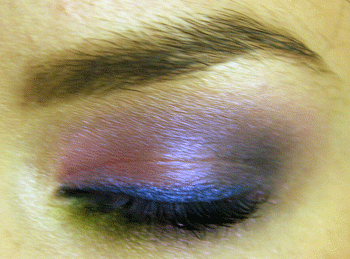 Face:
Illamasqua Under-eye Concealer - UC 115
Too Faced Absolutely Flawless Concealer - Vanilla
GloMinerals GloProtective Liquid Foundation Satin II - Natural-fair
Idun Minerals Foundation - Saga
Benefit - One Hot Minute Bronzer
GloMinerals Blush - Bellini
Elf Studio Eyebrow Kit - Ash
Eyes:
Urban Decay Primer Potion Original
MAC Eyeshadow - Stars n Rockets, Shroom
L8 Nyberg Pressed Shimmer Powder - Tropicana
Too Faced Exotic Color Intense Eye Shadow - Poison Orchid, Night Nymph
Too Faced Perfect Eyes Waterproof Eyeliner - Perfect Peacock
IsaDora Big Bold Volume Mascara
Lips:
Elf Cosmetics Matte Lip Colour - Natural
10 augusti, 2011, 21:56 i Bright lips, Make up looks, Purple/blue
Mauni önskade på Facebook att få se det illrosa rouget Santorini från Sleek MakeUP på kinderna, och här är det! Jag kom också igång med att blanda en klarlila läppfärg med Pout Paints, använde rött, blått och vitt. Diskret va?
Mauni asked on Facebook to see the hot pink blush called Santorini from Sleek MakeUP on the cheeks, and here it is! I also got into mixing a bright purple lippie with the Pout Paints, using red, blue and white. Discrete, huh?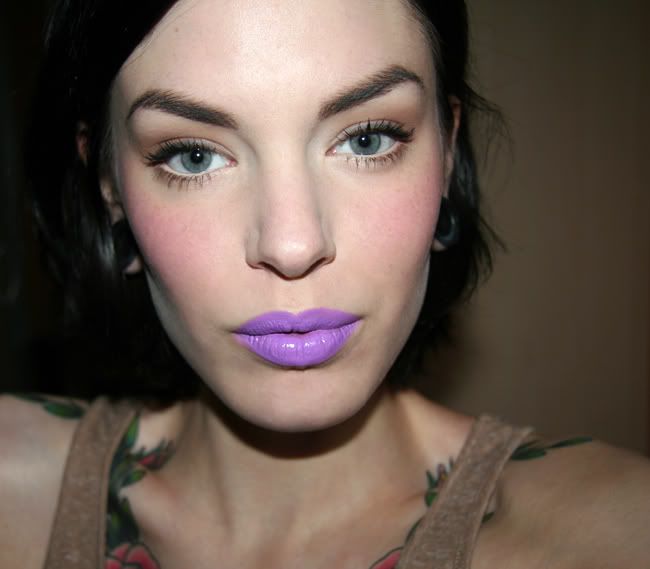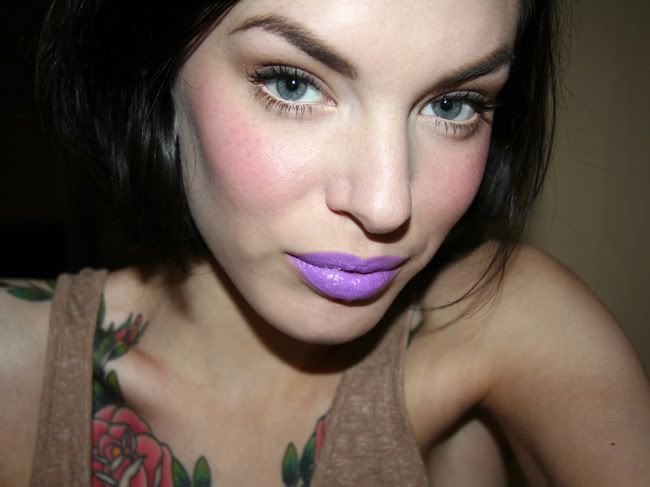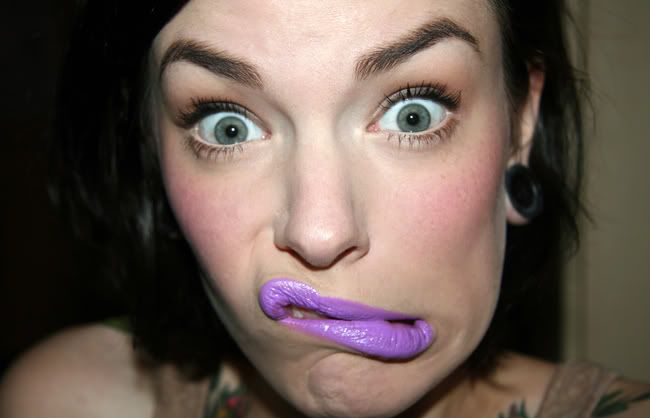 Face:
Illamasqua Under-eye Concealer - UC 115
Too Faced Absolutely Flawless Concealer - Vanilla
GloMinerals GloProtective Liquid Foundation Satin II - Natural-fair
Idun Minerals Foundation - Saga
Sleek MakeUP Blush - Santorini

Elf Studio Eyebrow Kit - Ash
Eyes:
Urban Decay Naked Palette - Naked, Buck
Peggy Sage Waterproof Pencil - Noir
Illamasqua Medium Pencil - Vow
IsaDora Big Bold Volume Mascara
Lips:
Sleek MakeUP Pout Paint - Cloud 9 + Pin Up + Peek a-Bloo
7 augusti, 2011, 18:05 i Nail polish, Purple/blue
Ni känner till uttrycket "frankenlack" va? Det är helt enkelt en teknik där du gör dina egna unika nagellack genom att blanda nagellack du äger. Skitenkelt och jättekul!
Likväl känner ni väl till Space Cadet? Ett av de nagellack från Orlys kollektion Cosmic FX som (med all rätt) sprängde många nördars hjärnor förra hösten. Ett komplext lack med grönaktig skir bas och skimmer i koppar och allt vad det nu är. Ja, ni ser bilden nedan, otroligt coolt är det. Jag började fundera på vad som skulle hända om man blandade ut det med en större mängd vitt, så jag var tvungen att testa. Det var ett tag sedan jag blandade detta så jag minns inte helt hundra, men jag tror att det är en femtedel Space Cadet ungefär. Resultatet blev SJUKT förvånande.
You've heard about "franken polishes", huh? It's a technique where you create your own personal nail polishes by mixing nail polishes you own. So simple and a lot of fun!
Also I guess you've heard about Space Cadet? One of the Orly Cosmic FX polishes that (justified as heck) blew many nerdy minds last fall. A complex polish with a greenish sheer base and shimmer in copper and whatever it is. Well, you can see in the picture below, it's so cool. I started to wonder what would happen if you mixed it with a large amount of white, so I just had to try it. I think it was about a fifth of Space Cadet. The result was REALLY surprising.
White Tips and Space Cadet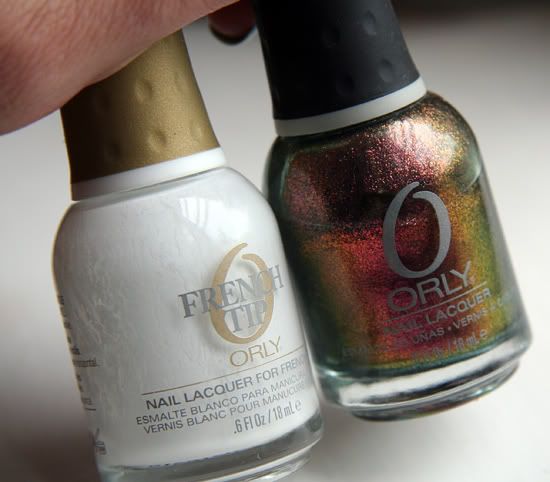 Och såhär blev resultatet. VEM hade trott att det skulle bli himmelsblått med kopparrött skimmer? Så stört. SÅ SNYGGT!
And here's the result. WHO whould have thought that it turned sky blue with coppery red shimmer? So strange. SO BEAUTIFUL!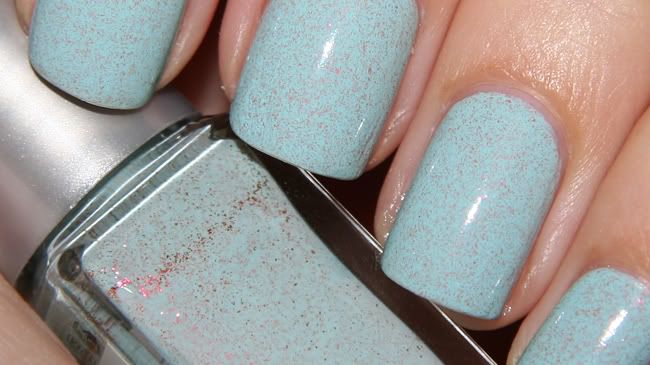 6 augusti, 2011, 16:41 i Make up looks, Night time, Purple/blue
Jag frågade lite kort på Facebook igår vad ni ville se för makeup framöver, och ovan har ni de nyckelord jag plockade ihop från det ni önskat! Jag utbrast att avgrundsbröl till "neeeeeeeeej" inombords när ni önskat en cut crease, det ser både ganska kasst ut på mina ögon och så gillar jag inte att göra dem. Just därför tog jag mig an idén, så ni får ta det med en nypa salt! Glittret skickade söta MarinaMake mig för ganska länge sedan, äntligen har jag kommit mig för att använda det! Givetvis blev typ alla bilder skitdåliga idag, men ja, ni förstår ju poängen i alla fall.
Och läpparna, hallå! Alsfbffdbkjjbkdfl vad snygg den här kombinationen är. Glosset och stiftet är från IsaDoras höstkollektion Forest Groove (en awesome kollektion i helhet, SPANA IN), applicerat över en penna som drar lite mer mot lila. Den andra bilden ger läpparna mest rättvisa. Visst ser de ut som björnbär?
I asked on Facebook yesterday what makeup you wanted to see today, and in the title you see the keywords I picked up from your wishes! My whole brain went "noooooooo" when you wished for a cut crease, it honestly looks quite bad on my eyeshape and also I don't really like doing them. That's why I got into it, so you'll have to take it with a pinch of salt! Sweet MarinaMake sent me the glitter quite long ago, finally I've come around to using it! Of course most pictures looked crappy today, but well, you get my point atleast.
And the lips, ey! AKfsdflgvkfdbkdfbfk this combination is so nice. The gloss and lipstick are from the IsaDora fall collection Forest Groove (an awesome collection in all!), applied on top of a pencil that pulls a bit more towards purple. The second picture gives the lips most justice. Don't they look like blackberries?
Face:
Illamasqua Under-eye Concealer - UC 115
Too Faced Absolutely Flawless Concealer - Vanilla
GloMinerals GloProtective Liquid Foundation Satin II - Natural-fair
Idun Minerals Foundation - Saga
Illamasqua Powder Blusher - Katie

MAD Minerals Multi Use Pigment - Whisper Gold (for highlight)
Elf Studio Eyebrow Kit - Ash
Eyes:
Too Faced Shadow Insurance
MAC Eyeshadow - Parfait Amour
Illamasqua Sealing Gel
Coastal Scents Glitter Powder - Purple Punch
Urban Decay Naked Palette - Darkhorse
Viva la Diva Domed Eyeshadow - 610
MAD Minerals Multi Use Pigment - Whisper Gold
Youngblood Eyeliner Pencil - Black
IsaDora Big Bold Volume Mascara
Red Cherry Lashes - 747M
Lips:
NYX Lipliner Pencil - Purple Rain
IsaDora Perfect Moisture Lipstick - Zinfandel
IsaDora Moisturizing Lip Gloss - Zinfandel
5 augusti, 2011, 17:02 i Black/grey, Nail art, Nail polish, Purple/blue, Red/pink
Idag ser mina naglar ut som ett meteorregn! Ett lager Matte Vinyl som bas och sedan Disco Ball fokuserat mot nagelbanden för en kul effekt. Toppade sedan alltihop med överlack från Poshe. Visst är glittret fint? Rosa och blått i en genomskinlig bas. Andra bilden här nedan är mest korrekt i färg. Jag ska testa glitterlacket över nude någon gång också, lär se alldeles toppen ut!
Orly-lacket köpte jag över Ebay, Kleancolor från Beautyjoint.com.
Today my nails look like a meteor shower! A coat of Matte Vinyl as a base and then Disco Ball focused towards the cuticles for a fun effect. Then I topped everything off with a topcoat from Poshe. Isn't this glitter pretty? Pink and blue in a clear base. The second picture below is the most colour accurate. I'll try the glitter polish over nude later, I bet it will look just as good!
I bought the Orly polish over Ebay and Kleancolor from Beautyjoint.com.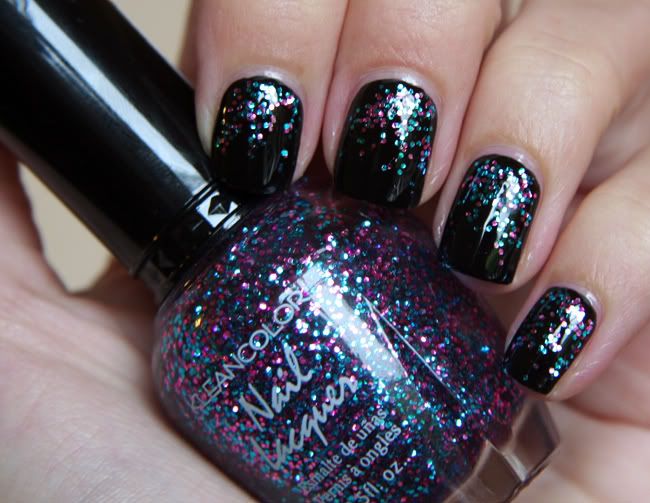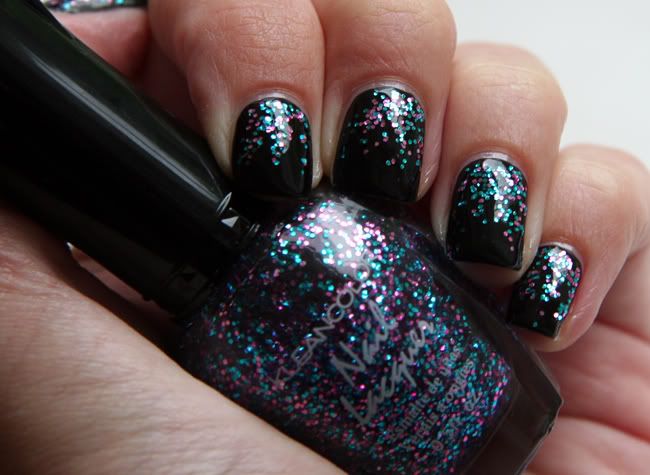 18 juli, 2011, 14:33 i Nail polish, Purple/blue
Här har vi supersnyggt marinblått från SnowCrystals kommande höst/vinterkollektion -11! Precis på gränsen mellan creme och jelly, täcker jättebra (två lager på bilden) och färgen är i mina ögon en alldeles perfekt mörkblå. Kommer kunna köpas här för 69 SEK till hösten!
Here's a wonderful navy blue polish from the upcoming SnowCrystal fall/winter -11 collection! It's right between a creme and a jelly finish, great coverage (two coats in this picture) and the shade is the perfect dark blue for my taste. I guess you can order them here outside of Sweden too. Will be available this fall.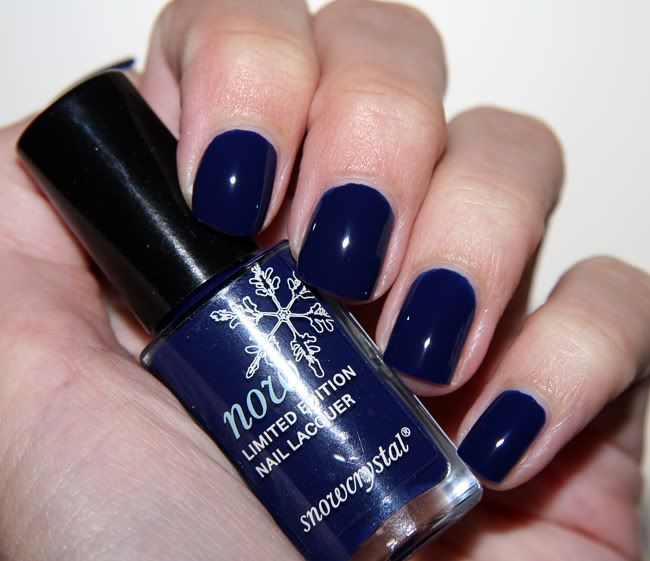 12 juli, 2011, 18:59 i Black/grey, Bright lips, Brown/beige, Make up looks, Purple/blue
Idag fick det bli lite sotade ögon. Mattsvart och mörkgråbrunt med lite bronsigt skimmer till, fint att piffa upp svärtan med något skimrigt sådär. Jag tog mig äntligen orken att testa senaste paletten från Too Faced vid namn Eye Love, det är en samlingspalett som innehåller två skuggor från varje tidigare palett (Natural Eye, Smoky Eye, Naked Eye, Romantic Eye). Bra basfärger! Bild på paletten finns längre ner.
Den här ögonmakeupen valde jag att visa med två olika läppmakeuper, först ut den klassiska "sotade ögon och nudeläppar", får mig direkt att tänka på Posh Spice. En snygg look men inte riktigt för mig, för lite färg liksom. Sååå, i den andra bilden smällde jag på ett par klarlila läppar, och plötsligt kände jag mig mer bekväm. Mer bekväm i lila läppar än nude.. Ja, det är ju onekligen en smakfråga. Haha. Vilken läppmakeup skulle du föredra?
Today I wore a smokey eye. Matte black and dark greyish brown with some bronze shimmer, it's nice to add something shimmery to all of the black. I finally got myself together and tried the latest Too Faced palette called Eye Love, a collection of two shadows from each earlier palette (Natural Eye, Smoky Eye, Naked Eye, Romantic Eye). Great basic shades! There's a picture of the palette further down.
I decided to show you this eye make up with two different lip looks, first one is a classic "smokey eyes and nude lips", makes me think of Posh Spice. A hot look but not really what I would wear, I miss some colour. Sooo, in the second picture I smacked a pair of bright purple lips on and felt much more comfortable. More comfortable in purple than nude.. Well, it's definitely a question of personal taste. Haha. What lip look would you prefer?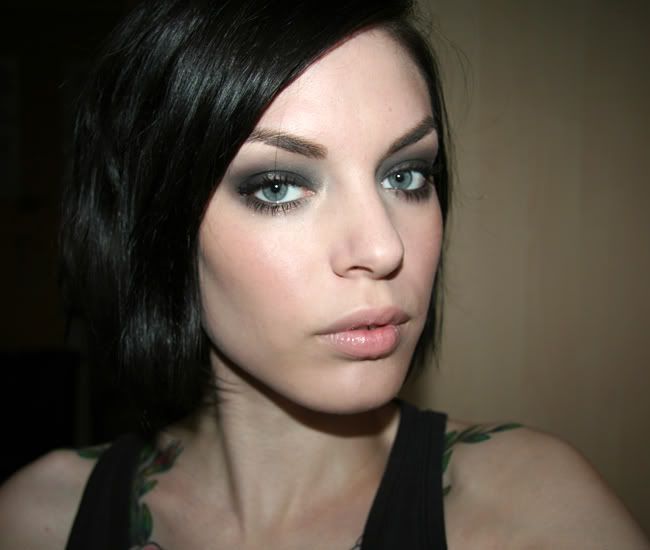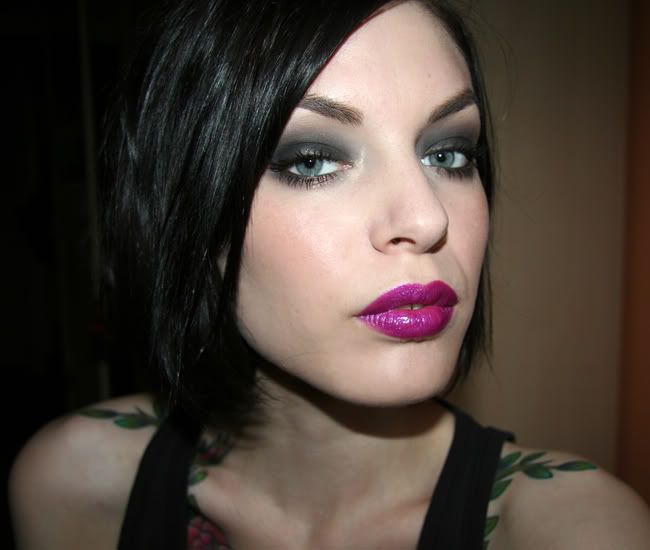 Face:
Illamasqua Under-eye Concealer - UC 115
GloMinerals GloProtective Liquid Foundation Satin II - Natural-fair
Idun Minerals Foundation - Saga
Deborah Natural Blush - Chocolate (1)

Elf Studio Eyebrow Kit - Ash
Eyes:
Too Faced Eye Love Eye Shadow Collection - Smolder, Like A Virgin, Push Up, Satin Sheets
Make Up Store Eye Pencil - Seduced by the dark
The Body Shop Big & Curvy Mascara
Lips (first picture):
MAC Lipstick - Naturally Eccentric
NYX Round Lipgloss - Whipped
Lips (second picture):
11 juli, 2011, 19:09 i Make up looks, Purple/blue, Red/pink, Turquoise/green
Ni som följer mig på Facebook kanske såg mitt gnäll igår om ett minneskort som begick seppuku och därav blev jag av med bilderna på en kul makeup jag gjort. Det kändes så himla surt att jag ikväll helt enkelt gjorde om makeupen, och som tur är blev den snäppet bättre idag. Jippi!
Ögonmakeupen går i turkost, lila och rosa och är helt gjord med Curaçao-paletten från Sleek MakeUp jag visade er härom dagen. Fasen vad ni borde tröttna på mig som säger det än en gång, men ÅH vad bra dessa paletter är! Den här tycker jag verkligen att ni ska passa på att köpa om ni gillar glada färger, den finns som sagt bara i limiterad upplaga. Kul uttänkt är den också, ville man så skulle man kunna bygga en regnbåge av nyanserna eftersom paletten innehåller relativt rena nyanser av alla primär- och sekundärfärger. Nå ja, nog med praise nu.
Eller nä, skämtar bara. Lite mer praise blir det. I övrigt består makeupen av mitt favoritrouge alla kategorier, och så det guava-rosa läppstiftet från Armani som jag likväl flera av er tyckte var så snyggt. Så vad kallar vi det hela, en "best of"-makeup?
Those of you who follow me on Facebook might have read my whine about a memory card that went seppuku on me last night, and I lost the pictures of a bright make up look I did. I got really irritated and tonight I just decided to redo the whole look, lucky enough it looked even better today. Weee!
The eye make up is turquoise, purple and pink and completely done with the Curaçao palette from Sleek MakeUp I showed you a couple of days ago. Hell, you must be tired of hearing me say this, but OH LORD, these palettes are great! I really think you should get this one if you like bright colours, because this one is limited edition. There's been some thought put into it too, if you wanted to you could build a rainbow with it because the palette contains relatively pure shades of all primary and secondary colours. Oh well, enough with the praise for now.
Or no, I'm just joking. Some more praise. Apart from the eyes the make up consists of my favourite blush all categories, and the guava pink lipstick from Armani that I just like many of you really liked. So what should we call this, a "best of" make up look?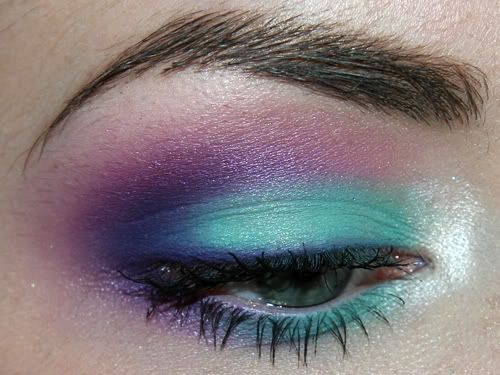 Face:
Illamasqua Under-eye Concealer - UC 115
GloMinerals GloProtective Liquid Foundation Satin II - Natural-fair
Idun Minerals Foundation - Saga
Illamasqua Powder Blusher - Katie
Elf Studio Eyebrow Kit - Ash
Eyes:
Sleek MakeUP Curaçao i-Divine Palette
IsaDora Inliner Kajal - Satin White
The Body Shop Big & Curvy Mascara
Lips:
Rouge d'Armani lipstick - 524
11 juli, 2011, 16:29 i Make up products, Purple/blue, Swatches
Idag gjorde jag en spännande upptäckt! Jag köpte för ett tag sedan läppstiftet Violetta från MAC, ett PRO-läppstift som därför är ganska svårt att få tag i här. Än en gång har jag Ebay att tacka. Hur som haver så började jag fundera, jag har ju faktiskt ett stift som är snarlikt! Ett jag faktiskt använde väldigt nyss också, för visst minns ni detta? Stiften är inte identiska, men NYX Orchid är lätt att få tag på och betydligt billigare (dryga 50 kronor motför Violetta som går upp mot 200), så det kanske kan stilla suget för någon i alla fall.
Tittar man på stiften i hylsan så ser man tydligt den stora skillnaden - Orchid har en betydligt rödare basfärg. I stora drag skulle jag säga att Orchid passar en varmare hudton bättre och Violetta en kallare. Jag personligen föredrar Violetta för min neutrala hudton.
Today I discovered something interesting! I bought Violetta lipstick from MAC a while ago, a PRO product that's quite hard to get your hands on here in Sweden. Once again I'm thankful for Ebay. However, I started thinking.. I've got a lipstick that's similar to this! A lipstick that I used just a while ago, you remember this, don't you? The lipsticks are not really dupes, but NYX Orchid is easier to find and it's a lot cheaper, so I guess it can be an alternative for some people.
If you're looking at the lipsticks in the tube you directly see the big difference, Orchid has got a much more reddish base colour. Overall I would say that Orchid best suits a warmer skin tone while Violetta suits a cooler. I personally prefer Violetta for my neutral skin.
NYX Orchid, MAC Violetta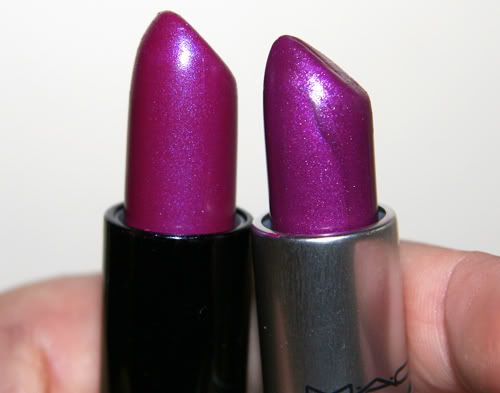 Väl på huden jämnar de ut sig lite. Violetta blir varmare, men man ser fortfarande att Orchid är rödare. Samma skimmer däremot, fast lite skirare i Orchid.
On the skin they even out a bit. Violetta gets warmer, but you still see that Orchid is more reddish. Same shimmer though, but a bit more sheer in Orchid.
With flash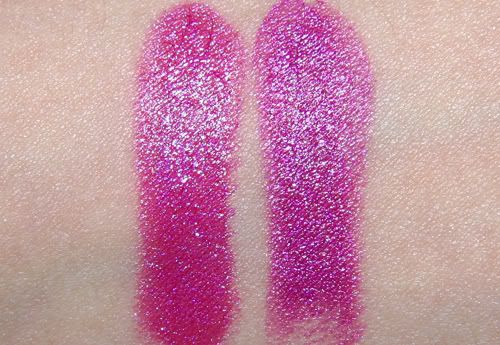 Natural light
NYX Orchid, MAC Violetta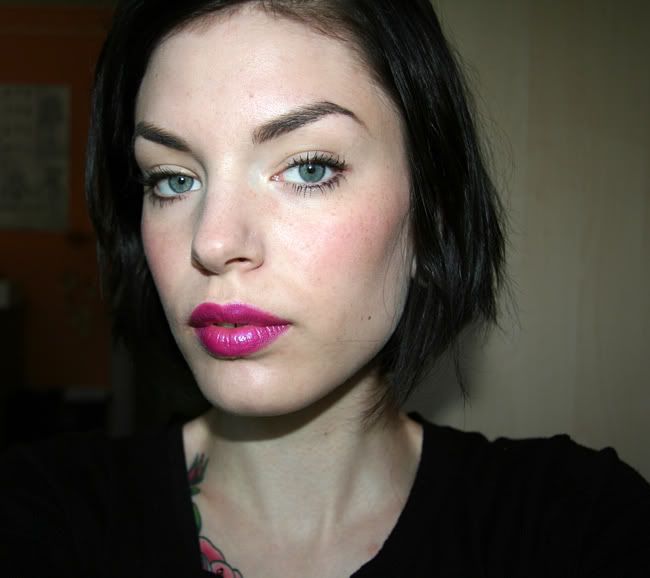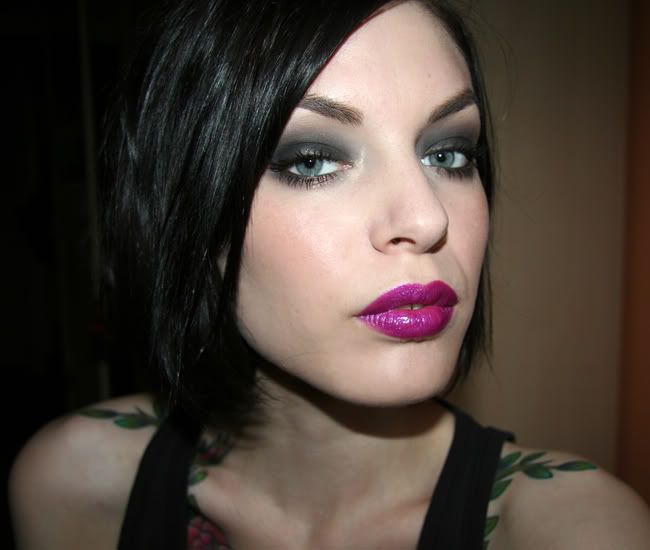 8 juli, 2011, 17:47 i Bright lips, Make up looks, Purple/blue
Idag är det vaaaaaaaaarmt.. Makeupen fick gå snabbt när den ändå troligen bara skulle rinna bort i värmen. Min riktlinje: så färgglada läppar att resten inte spelar någon roll. Ett säkert förhållningssätt i min värld! Läppfärgen ges mest rättvisa i den andra bilden även om resten av makeupen ser lite urfuckad ut där. Här har jag skrivit ett längre inlägg om läppstiftet.
Today it's hoooot outside. The makeup was done quickly because it probably would just slide off in the warm weather. My guideline: Lips so bright nothing else really matters. A safe way to go in my world! The lip colour is most accurate in the second picture even though the rest of the make up looks a bit f-ed up in it. Here's a longer blog post about the lipstick.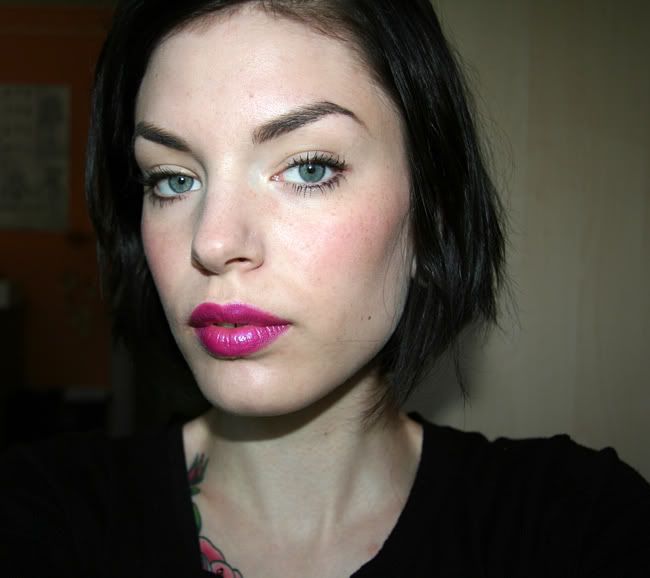 Face:
Illamasqua Under-eye Concealer - UC 115
Too Faced Absolutely Flawless Concealer - Vanilla
GloMinerals GloProtective Liquid Foundation Satin II - Natural-fair
Illamasqua Cream Blusher - Devour
Elf Studio Eyebrow Kit - Ash
Eyes:
Make Up Store Eye Pencil - Seduced by the dark
The Body Shop Big & Curvy Mascara
Lips:
NYX Black Label Lipstick - Orchid

14 juni, 2011, 20:49 i Nail polish, Purple/blue
Här är ett riktigt fint lack ur IsaDoras Trend Nails-kollektion för vår/sommar 2011. Ett ljusblått lack med en lätt lila underton, känns som China Glaze Secret Peri-wink-le's ljusare syster om du är bekant med det lacket sedan tidigare. Hur som helst är detta en riktigt behaglig blåfärg som är uppseendeväckande men inte stickig i ögonen. Så fräsch!
På bilderna har jag bara målat ett lager lack, jag ville hålla nere på torktiden den här gången så jag nöjde mig såhär, men kände samtidigt inte att jag kunde låta bli att blogga om det. Haha. Så ja, ni får tänka er hur det skulle se ut med ett lager till bara. Toppenbra täckförmåga i varje fall.
Here's a really nice polish from the IsaDora Trend Nails collection for spring/summer 2011. A light blue polish with a hint of purple in it, it feels a bit like China Glaze Secret Peri-wink-le's lighter sister, if you know how that polish looks. However, this is a comfortable blue shade that doesn't pass by unseen, but it doesn't sting peoples eyes. So fresh!
In these pictures I've only done one coat of polish. I wanted to keep the drying time as short as possible today so I let it look a tad imperfect, but I still wanted to do a blog post about it. So yeah, you'll just have to imagine how it looks with two coats instead. It's nice and opaque as you can see.
With flash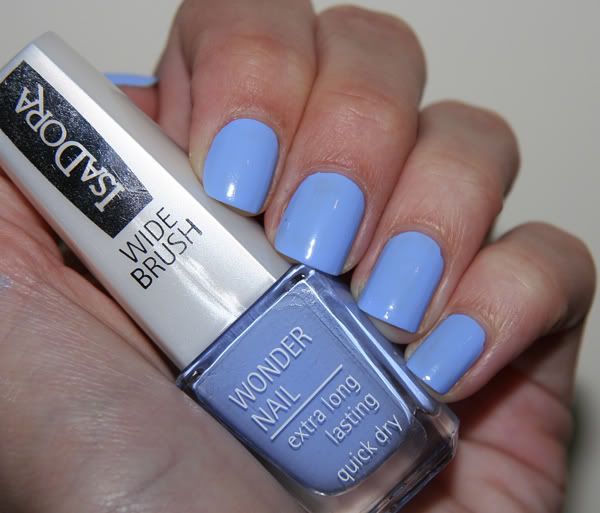 Indirect sunlight
24 maj, 2011, 19:49 i Nail polish, Purple/blue
Plötsligt blir naglarna sköra och ledsna och bokstavligen ber om att filas ner. Sagt och gjort! Då blir jag plötsligt sugen på mörka lack igen. Här är ett toppenfint mörkblått med klarblå flash från Depend, ett sådant där som nästan är svart men ändå uppenbart blått. Det ser verkligen ut som bläck. Ett toppenlack! Torkar snabbt och täcker perfekt på två lager. Synd bara att jag ogillar de pyttiga Dependflaskorna något så otroligt..
At some times the nails get weak and sad and just beg to be filed down. Said and done! That made me super hungry for dark polishes again. Here's a great dark blue with bright blue flash from Depend, one of those almost black polishes that still have an obvious blue tone. It really looks like ink. A great polish! Dries fast and is completely opaque in two layers. Too bad I really dislike the tiny Depend bottles..
With flash
Sunlight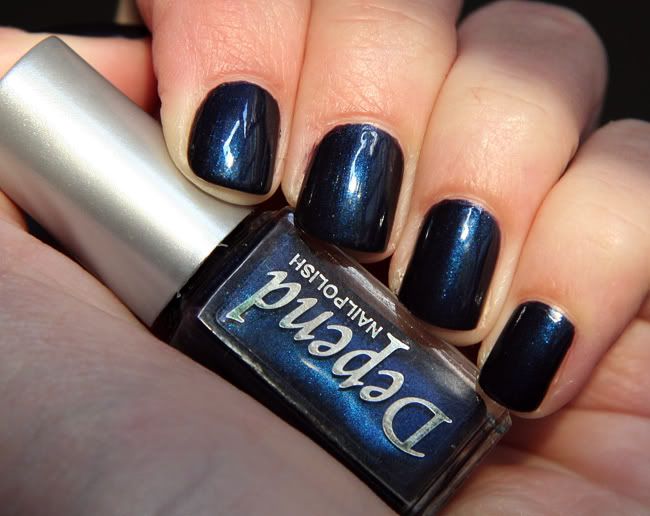 21 maj, 2011, 16:54 i Make up looks, Night time, Purple/blue, Turquoise/green
No time for product list, will update later. Have a great saturday night!
Edit: Now it's up!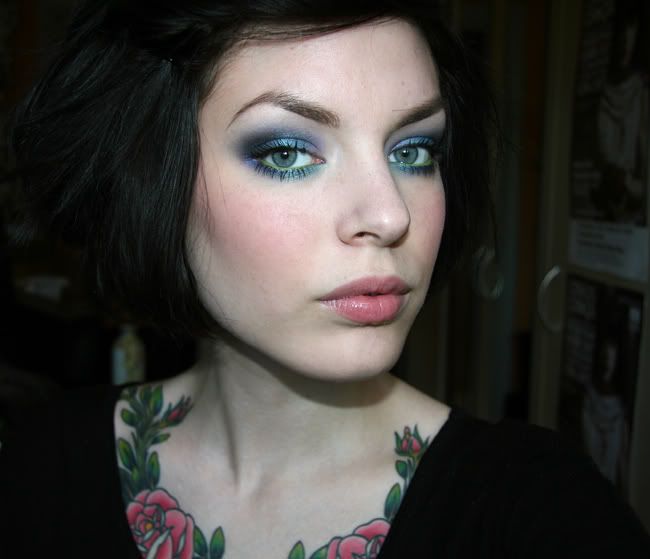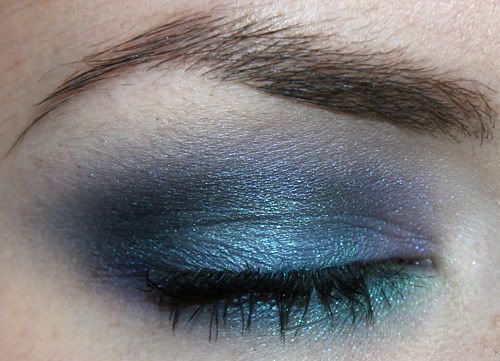 Face:
Too Faced Absolutely Flawless Concealer - Vanilla
MAD Minerals Loose Mineral Foundation - Fairly Light
Lily Lolo Foundation - Porcelain (these two foundations mixed)
Too Faced Chocolate Soleil Bronzer

Illamasqua Powder Blush - Katie
Eyes:
Too Faced Shadow Insurance
Wet n Wild Color Icon Palette - Blue Had Me At Hello (turquoise + the dark blues)
Make Up Store Cybershadow - Sapphire

Make Up Store Eye Pencil - Tropical

Too Faced Size Queen Mascara
Deborah Eyebrow Pencil with brush - 01
Lips:
NYX Round Lip Gloss - Real Nude