31 mars, 2011, 18:40 i Perfumes & scents, Reviews
Kolla, bästa grejen! Den här lilla prylen heter Travalo och är en fiffig minisprayflaska för parfym. Jag ramlade över den här för ett par veckor sedan och blev skitglad, hur ofta är man inte ute och reser eller bara har en parfymflaska i handväskan man är orolig för? Då kan man pumpa över en liten mängd parfym i den här smarta flaskan på 4ml och plocka med sig den istället.
Travalo är helt tillåten att flyga med i handbagaget eftersom den varken innehåller glas eller nåt annat otillåtet. Att flaskan är i plast gör att parfymen inte håller lika länge som om den var i glas, men whatever liksom, fyller man den bara lite åt gången eller använder den ofta är det inget man behöver bry sig i. Den finns i en massa olika färger, men jag föredrar förstås den rosa!
Dessa kostar 115 SEK via Kicks.se. Vill du köpa en i butik så kan du klicka här och kolla om något ställe nära dig säljer den. Vet att exempelvis NK gör.
Check this out, the best thing ever! This little thingy is called Travalo and it's a mini spray bottle for perfume. I found out about this a couple of weeks ago and freaked out, how often aren't you travelling or just carrying a big bottle of perfume around in your purse that you're worrying for? With this thing you can just pump a small amount of perfume out of the bottle and just carry around this 4ml bottle.
Travalo is aircraft approved because it doesn't contain glass or anything else you can't carry with you. Because the bottle is in plastic it doesn't stay fresh as long as if it would be made out of glass, but whatever, if you just fill it a little at the time or use it often you don't need to care about that. It comes in a lot of colours, but of course I prefer the pink one!
To find out where you can buy it in your country you can click here and find out!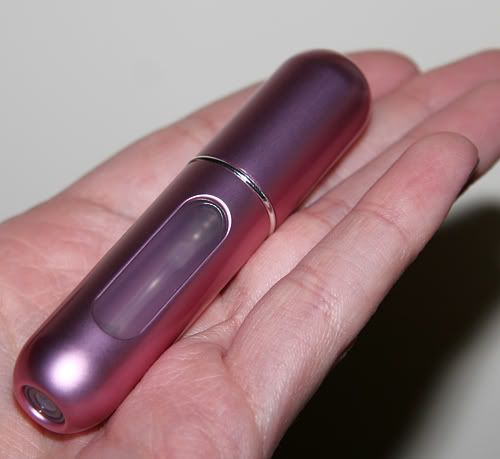 Såhär gör man för att fylla på den. Ploppa loss det lilla sprayhuvudet på din parfymflaska genom att dra rakt uppåt.
This is how you refill it. Pop the spray cap off your perfume bottle by pulling it straight up.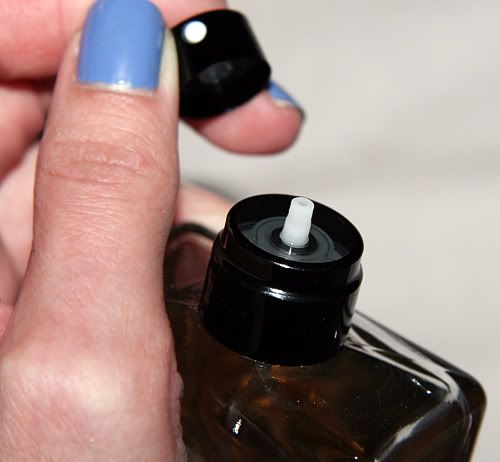 Sätt nu fast botten på din Travalo i det lilla röret på flaskan.
Now attach the bottom of your Travalo to your perfume bottle.
Pumpa upprepade gånger!
Pump it repeatedly!
Titta på det lilla fönstret så du inte överfyller flaskan. Där kan du förstås då också se hur mycket du har kvar i flaskan vid ett senare tillfälle.
Take a look at the bottle so that you don't overfill it. Because of the bottle design you can just take a look at it to see how much there's left in the bottle.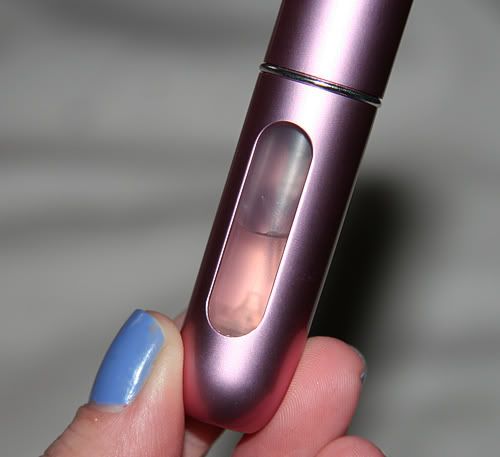 Oooch ner i necessären!
Aaand pop it in your make up bag!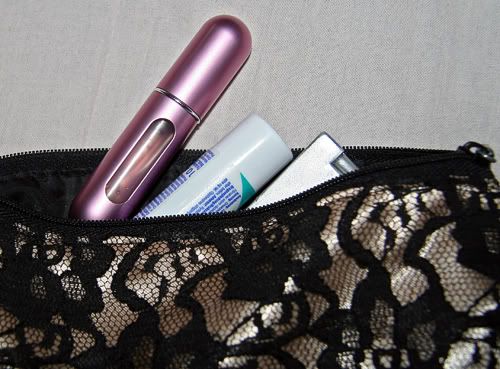 30 mars, 2011, 17:15 i YouTube tips
29 mars, 2011, 17:31 i Perfumes & scents, Reviews
En ny kärlek i min parfymhylla har just landat, nämligen La Lune från D&G. En ruskigt efterlängtad pusselbit som länge saknats.
Denna är en av sex parfymer i serien D&G Fragrance Anthology, varje doft döpt efter ett tarotkort och frontad av en världsberömd fotomodell, i detta fall Claudia Schiffer. Dessa dofter kommer endast i edt på 100ml, en helt befogad mängd då de är ganska lätta och inte håller så jättelänge på huden. La Lune är en drömsk, ren vardagsdoft som väger mot unisex med doftnoterna lilja, natthyacint, sandelträ, mysk, iris och vitt läder. Inte en frukt så långt ögat kan nå, fräscht tycker jag! Är så less på att allt som går under kategorin "fräscht" ska innehålla citrus. Hur som helst passar denna doft nog även super på killar som föredrar blommiga dofter, värt att kolla in!
Jag har länge velat fylla ett hålrum i parfymhyllan med något åt rent-och-nyduschat-hållet och har bara tyckt att de flesta kandidater luktar tvättmaskin. Visst, jag älskar att känna rena tvättdofter på andra (Marlene, jag tänker på dig!) men de passar inte mig över huvud taget. La Lune bryter då igenom schampo-fräschören med något djupare, det som tydligen ska vara lädret. Läder vill jag inte påstå att jag känner, men något är det ju iallafall. Detta splittrar hela Clean-känslan och ger lite mystik utan att skapa drama. Full pott, bra drag D&G!
Jag köpte min flaska på Parfym.se där den går för 329 SEK istället för runt 500 som i butik. Men gör som jag och rusa in på Kicks eller Åhléns och sniffa innan du beställer något, då slipper man chansa!
A new love just moved in! Also known as La Lune by D&G. A piece that's been missing in my puzzle for a long time.
This is one of six perfumes in the D&G Fragrance Anthology line, each fragrance named after a tarot card and fronted by a super model, in this case Claudia Schiffer. These fragrances only come in a 100ml edt, which is completely justified because of the lightness and not-too-grea staying power. La Lune is a dreamy, clean everyday scent that leans towards unisex with notes of lily, tuberose, sandalwood, musk, iris and leather. So no fruits! I think that's really fresh. I'm tired of the fact that anything that falls under the "fresh" category has to include citrus. However, this scent might be the perfect one for guys who like florals too, worth checking out!
I've wanted to fill an empty space on my pefume shelf with something clean-and-just-showered-y and I just find most candidates smelling like a washing machine. Sure, I like laundry scents on other people but they seriously don't suit me. La lune breaks the shampoo freshness with something deeper, what might be the leather. I cant say I agree with it smelling like leather, but there sure is something. The Clean-like style of the scent is broken and some mystery is created, without evolving into drama. Good job, D&G!
I bought my bottle at Parfym.se, I don't know where to get it outside of Sweden though.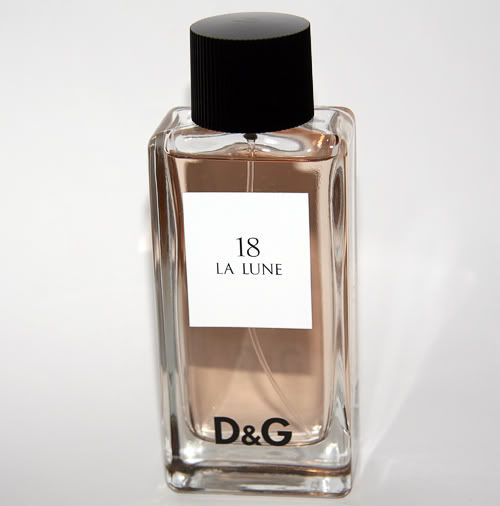 29 mars, 2011, 11:08 i Are you following..
Första bloggen ut i min nya "are you following"-kategori! June är en av mina läsare sedan länge och därigenom hittade jag henne. Hon tar superfina bilder och är inspirerande med sina kreativa outfits och makeuper. Sen är hon ju vacker som attan också!
The first blog out in my new "are you following" category! June is a reader of mine since I don't know how long, and that's the way I found her. Her photos are wonderful and she's so inspiring with her creative outfits and make up looks. And of course, she's beautiful as hell too!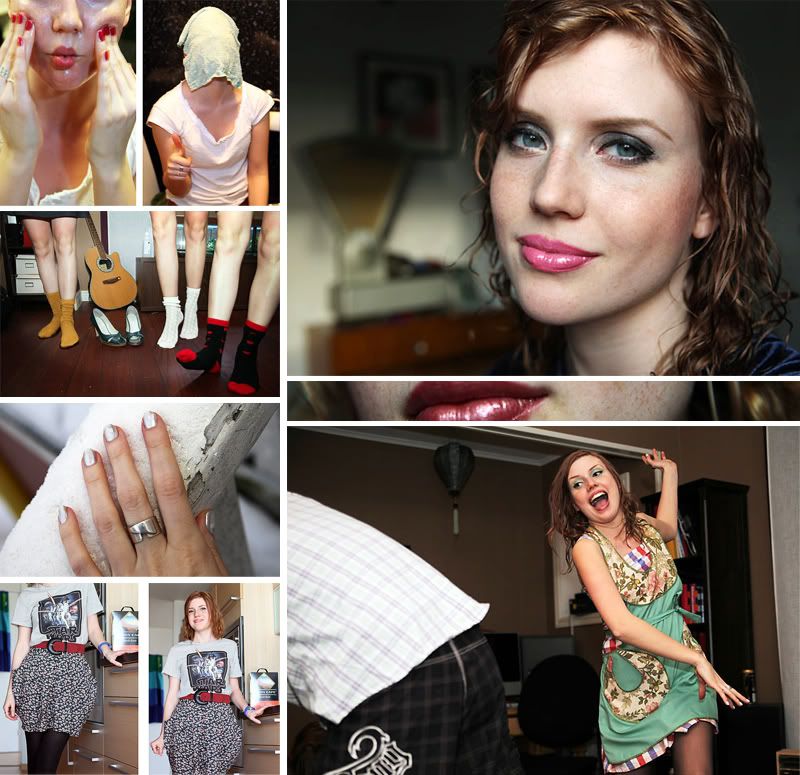 29 mars, 2011, 8:10 i Bright lips, Everyday, Make up looks
När det går snabbt på morgonen är det skönt att bara kasta på ett läppstift och låta det spela huvudrollen. Här är ett av IsaDoras nya Jelly Kiss-stift, perfekt vardagsrött!
When you're stressed in the morning it's nice to just throw a lipstick on and let it play the main role. Here's one of IsaDoras new Jelly Kiss lipsticks, a perfect everyday red!
Face:
Everyday Minerals Intense Base - Fair
Everyday Minerals Blush - Bollywood

Eyes:
MAC Eyeshadow - Coquette (for brows)
Lips:
IsaDora Jelly Kiss Lipstick - Merry Berry (59)
28 mars, 2011, 22:40 i What do you think?
Jag har funderat lite på att skapa en ny kategori här i bloggen som cirkulerar kring bloggtips. Att jag alltså lite nu och då lyfter fram en bra/spännande/ny blogg åt er att ta del av. Hur låter det? Yes, no?
I've been thinking of creating a new category in my blog that will be focused on blog tips. Meaning that I would highlight a good/interesting/new blog now and then for you. How does that sound? Yes, no?
28 mars, 2011, 20:56 i Nail polish, Purple/blue
Här är en ljuvlig vårfärg från China Glaze, en mjuk blå med lavendellila undertoner. En höjdare för den som inte vågar sig på/tycker om riktigt intensivt blått! Två lager gav mig full täckning. Detta lack är köpt på Transdesign.
Here's a lovely spring colour from China Glaze, a soft blue with lavender undertones. A great shade for those who don't dare/like to wear bright blue! Two layers gave me full coverage. I bought this polish at Transdesign.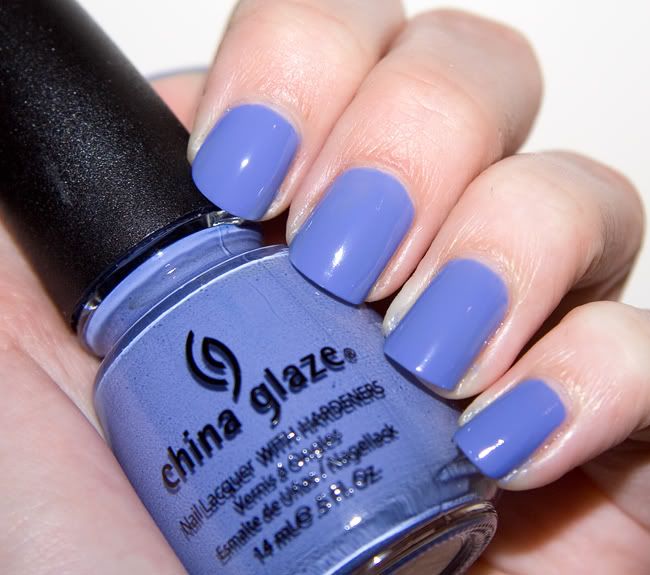 28 mars, 2011, 18:54 i Answering your questions
Jag fick alldeles nyss en fråga om foundations från Cilla, och tänkte att mitt svar kanske var till hjälp för flera. Så här kommer den i ett enskilt inlägg!
Åh, jag skulle bli väldigt glad om du hjälpte mig med en liten sminkfundering. Jag har problemfri och fin hy (oftast), men vill ändå ha foundation ibland för att få en snygg och jämn yta, med lyster och allt det där. Saken är dock den att jag har ganska mycket ljusa fjun i ansiktet, framförallt på kinder och haka, och när jag tar på foundation känns det som att fjunen accentueras. Vilket naturligtvis inte är meningen...
Är det någon typ av foundation som passar bättre/sämre? Just nu provar jag den nya från Clarins som inte ska vara så täckande, men jag är inte helt nöjd ändå. Är det bättre med mineralfoundation? Färgad dagkräm? Gör det någon skillnad om jag applicerar med pensel, svamp eller fingrar?
Tack för en bra blogg, du får verkligen det här med smink att verka lättare och roligare än det är (för mig)!
C
Hej Cilla! Om du tycker att du ser fjunig ut så är nog inte puderfoundations förstahandsvalet, om du inte vill använda någon typ av setting spray efteråt. Det fungerar förstås också bra om man föredrar det! Jag har en recension på en fin face mist på G framöver, så stanna kvar ett tag så får du produkttips på det planet!
Det är svårt att säga exakt vilken typ av foundation som passar dig bäst, men det låter ju onekligen som att du är ute efter en färgad dagkräm med tanke på önskad täckning.
Fråga efter tester på produkter innan du köper dem i butik, det ska exempelvis Kicks kunna tillhandahålla! Det blir billigare i längden om man slipper köpa produkter och bara hoppas på det bästa.
Angående appliceringen så kan jag på rak arm säga "kasta svampen!" De är ohygieniska som attan om man använder dem fler än en dag på raken och de blir därför även dyra i längden.  Fast är det inget man har något emot att lägga pengar på så visst, då fungerar väl de också! Jag personligen föredrar att antingen använda händerna eller en flat top kabuki, alltså en borste med tätt packade strån som har en rakt avskuren topp som man masserar in sin foundation med i cirkelrörelser. De är bra om man vill ha lite mer täckande resultat medan händerna ger lättare och mjukare finish. Prio 1 är i min mening att jobba in foundationen ordentligt oavsett vad man använder för metod, då ser den mest naturlig ut!
Hoppas att detta var till någon hjälp för dig Cilla eller någon annan som går i samma funderingar!
Here's a question from a Swedish reader. Press the flag below to translate this post.
27 mars, 2011, 16:05 i Important info
Nu har jag tagit mig i kragen och ska på allvar styra upp kommunikationen i mina kommentarsfält. Jag säger det här i bloggen bara för att kunna falla tillbaka på att jag faktiskt lovat er om jag börjar sega ihop igen. Jag har alltid läst alla era kommentarer och har emellanåt svarat på frågor i den andres blogg, men helt utan någon vettig struktur.
Från och med nu svarar jag på kommentarer i samma inlägg som frågorna ställs, så håll koll på kommentarsfälten framöver! Och se till att ge mig stryk om jag inte håller det jag lovat.

I've pulled myself together and will from now on get better at answering your comments.. I'm saying this here just to be able to fall back on the fact that I've promised you, in case that I get worse at it again. I've always read your comments and have answered some question in the other persons blog, but never had any structure in it.
From now on I'll answer your comments in the same post that the questions were asked, so keep an eye on the comments from now on! And make sure to beat me up if I'm not keeping this up.
27 mars, 2011, 13:25 i Nail polish, Turquoise/green
Tidigare i veckan fick ni en liten glimt av ett himla fint lack, och jo, det var Zoya Charla som så många gissade! Ett alldeles underbart sjöjungfrugrönt skimmerlack. Trots det massiva skimret är den turkosa basen ganska skir, så för att helt slippa genomskinliga tippar krävdes fyra lager lack. Resultatet då? Du är så ursäktad, Charla!
Earlier this week I gave you a sneak peak at a very pretty polish, and of course, it was Zoya Charla as many of you guessed! A lovely mermaid green shimmer polish. Even though the shimmer is so massive the turquoise base is quite sheer. To completely get rid of the transparent tips I needed four coats of polish. And the result? You're so excused, Charla!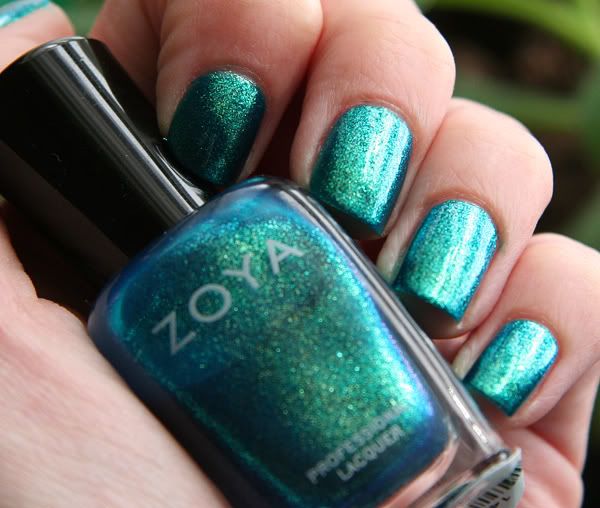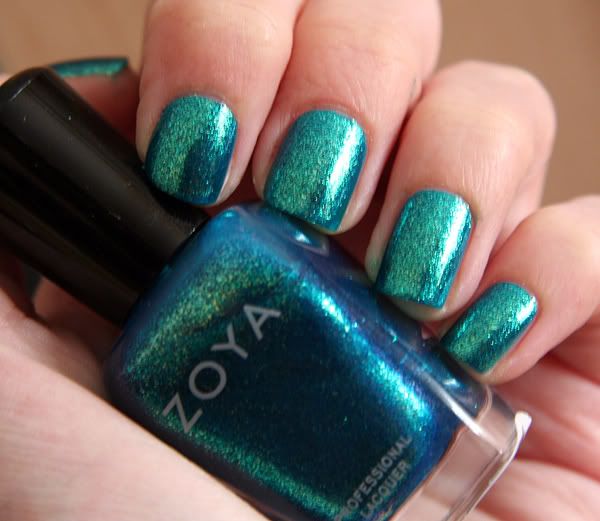 26 mars, 2011, 17:10 i YouTube tips
26 mars, 2011, 14:24 i Nail polish, Red/pink
Brandbilsrött från H&M! Så klar att ögonen nästan värker. Jag som är så dålig på rött tog mig i kragen och köpte detta i förra veckan, och det gjorde jag helt rätt i! Nu ser jag mina naglar i ögonvrån hela tiden vad jag än gör. Haha!
Fire truck red from H&M! So bright my eyes are popping out. I'm not really good at wearing reds, so I pulled myself together and bought this last week. A good choice I must say! Now I can see my nails in the corner of my eye whatever I'm doing. Haha!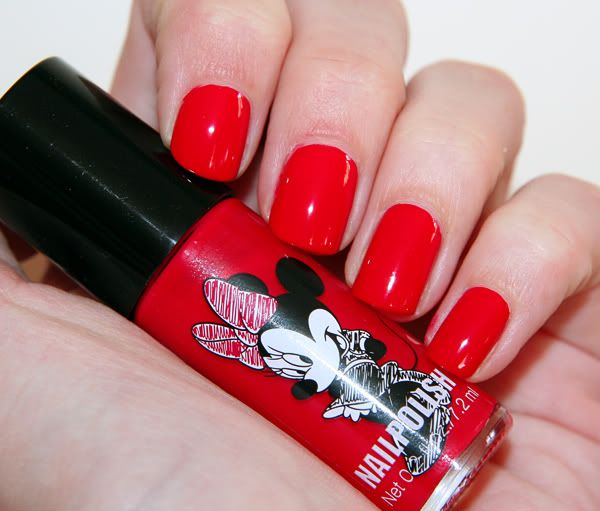 25 mars, 2011, 22:35 i Bright lips, Make up products, Purple/blue, Red/pink, Swatches
Är det möjligt att hitta bra läppstift för bara ett par tior? Ja, lätt! Här är två stift från Wet n Wild jag klickade hem från Ebay för ett tag sedan. Där kostade inget av stiften över en tjuga, men i svenska butiker (City Gross, ICA Maxi, Pashion och Nelly) går de på ungefärliga femtiolappen. Fortfarande snorbilligt!
Is it possible to find good lipsticks for almost no money at all? Oh yes! Here's two lipsticks from Wet n Wild that I bought on Ebay a while ago. There they cost me about $2 each, but I know you can get them even cheaper in american stores. Cheap as hell!
Mega Last Lip Color - Mauve Outta Here (907C)
Silky finish lipstick - Hot Paris Pink (520E)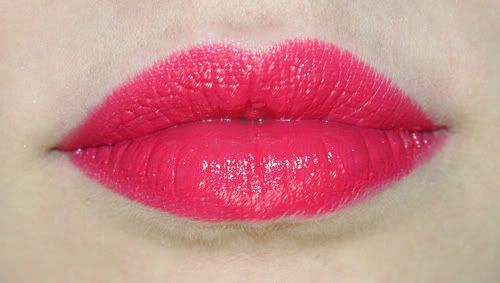 25 mars, 2011, 20:49 i Make up products, Reviews
Jag fick tidigare idag en fråga om hur bra 24/7-pennorna från Urban Decay sitter, och jag kom då på att jag ju faktiskt för tillfället är ett exempel på ben. Såhär ser min ögonmakeup ut nu, åtta timmar sedan senaste touch upen med 24/7-pennan innanför fransraden. Visst, den är sliten, men betydligt bättre än kajal brukar se ut efter en massa ögongnuggande och flera timmars bärande.
Här kan du köpa dessa pennor om du blev sugen!
Earlier today I got a question about how well the 24/7 pencils from Urban Decay wears, which made me realise that I'm a perfect example of that at this very moment. So, here's how my make up looks at the moment, eight hours since my last touch up with the 24/7 pencil on the waterline. Sure, it's a bit worn off but still, it looks a million times better than kohl pencils tend to do after several hour os wear plus a lot of eye rubbing.
You can order these pencils here if you want one!

25 mars, 2011, 18:03 i Everything and nothing
Brukar ni spara pappkartongerna skönhetsprodukterna kommer i?
Jag smashar ner de allra finaste kartongerna i en (SPRÄNGFYLLD) skrivbordslåda. De där som är roliga eller fina nog att bara ta fram och titta på ibland.
Do you save the paper cartons that the beauty products come in?
I smash the pretties cartons into one of my (STUFFED) desk drawers. Those ones that are nice to take out and just look at sometimes.
25 mars, 2011, 12:08 i Black/grey, Everyday, Make up looks
Idag testade jag The Vegan Palette jag fick hem igår! Suddade bara den mörkgrå skuggan Gunmetal över hela ögat och målade lite svart kajal. Dagens produktlista blev superkort!
Today I tried The Vegan Palette out! I just washed the dark grey shadow called Gunmetal all over the eye and applied some black kohl. Todays product list is super short!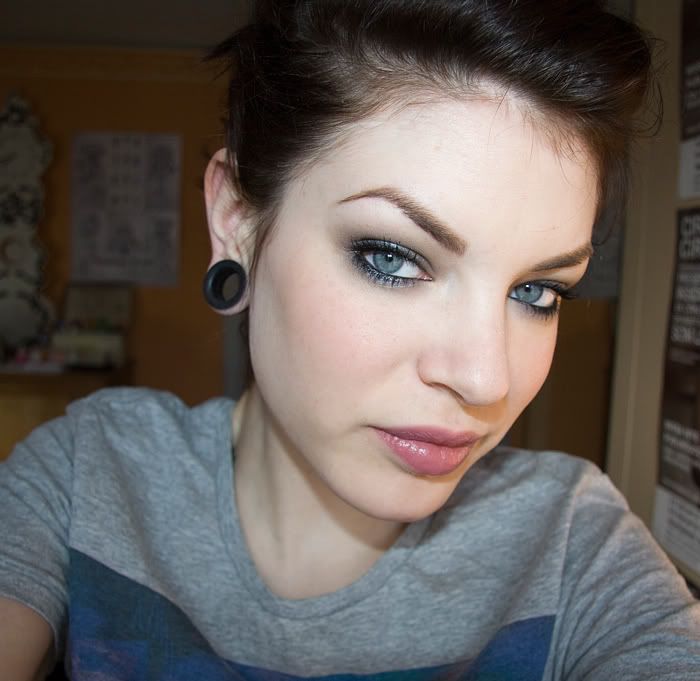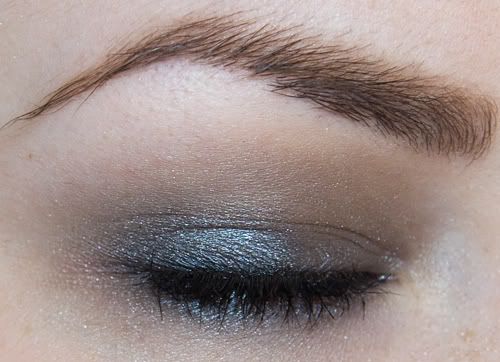 Face:
Idun Minerals Foundation - Saga
Make Up Store Blush - Complex
Eyes:
Urban Decay The Vegan Palette - Gunmetal

Urban Decay 24/7 Glide-On Eye Pencil - Zero
Deborah Extra Volume Sprint Mascara
MAC Eyeshadow - Omega (for brows)
Lips:
Rimmel London Moisture Renew Lipstick - Vintage Pink (180)
25 mars, 2011, 10:03 i Make up products, Reviews
Idag testkörde jag den foundation jag nämnde här igår. På första bilden har jag ingenting, och på andra bilden bara foundation (i nyansen Saga). Sjukt fint resultat! Älskar denna foundation. Helt perfekt satinfinish och väldigt täckande utan att bli som en kaka i ansiktet.
Today I tested the foundation I mentioned here yesterday. In the first picture I'm wearing nothing at all and in the second picture just foundation (in the shade called Saga.). Such a nice result! I love this foundation. A perfect satin finish and very opaque without looking cakey.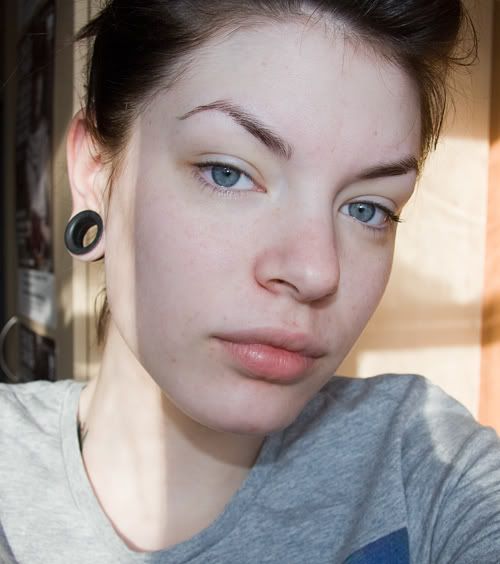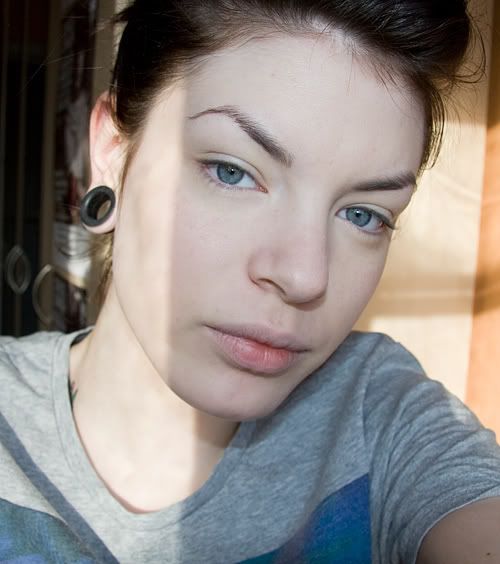 24 mars, 2011, 20:45 i Make up products, Swatches, Turquoise/green
Det namnet var en munfull va? Ibland tycker jag ju att det hade varit lite fräscht med produkter som heter typ "lila kajal" och "rosa rouge" bara för att bryta av mot alla dessa stört långa namn. Haha.
Hur som helst är detta en rätt ny produkt från Urban Decay, tjocka, döpigmenterade pennor i glada färger som både kan agera ögonskugga för sig själva, eller användas under en ögonskugga för en riktig färgpop. Kolla här och här för att se alla färger som finns ute. Eftersom de inte är sådär hutlöst billiga köpte jag bara en, men jag kan ju lova att jag är sugen på fler nu, särskilt Morphine i blekt lavendellila.
24/7 Glide-On Shadow Pencil finns att köpa på Lookfantastic.com för £11.20 (ca 115 SEK)
That name was a mouthful, wasn't it? Sometimes I think it would be fresh to see products named like "purple eye liner" or "pink blush" just to skip these crazy names. Haha.
However, here's a quite new product from Urban Decay, thick, super pigmented pencils in bright colours which both acts as eyeshadow on their own or could be used under an eyeshadow to get an awesome colour pop. Click here and here for pictures of all shades availavle. Because they weren't that damn cheap I just got one, but now I can promise you that I feel like getting some more. Especially the pale lavender shade called Morphine.
24/7 Glide-On Shadow Pencil are available at Lookfantastic.com for £11.20.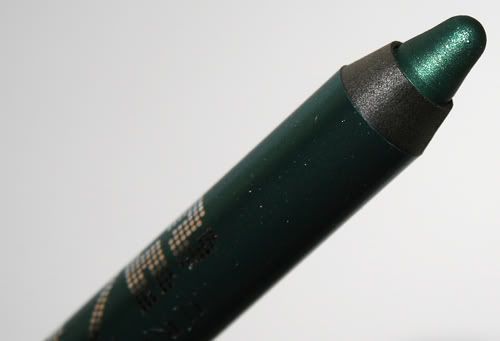 24 mars, 2011, 20:16 i Make up products, Make up tools
Här kommer ännu mer fina förpackningar! Idun Minerals är ett nytt mineralsminkmärke som kommer ut på 100 utvalda Apoteketbutiker den 4/4. Serien produkter består av foundation, concealer, puder, rouge och bronzer samt tillhörande borstar av syntetisk taklon. De vackra förpackningarna är designade av Patrizia Gucci, dotter till Paolo Gucci som står bakom dagens Guccimönster.  Produkterna kommer ligga på runt 300 SEK, så det blir minsann en lyxig liten pärla! Kolla in idunminerals.com och/eller videon nedan för mer info.
Här på bilderna ser ni foundation i nyansen Saga och tillhörande kabukiborste för applicering.
Here's some more prettiness! Idun Minerals is a new mineral make up brand that will be out in a hundred Swedish pharmacies the fourth of April. The products included are foundations, concealers, powders, blushes and bronzers plus synthetic taklon brushes for application. The beautiful packaging is designed by Patrizia Gucci, daughter of Paolo Gucci who designed todays Gucci print. These products will cost about 300 SEK (ca $47) so this will be a luxurious pearl!  Visit idunminerals.com for more info.
In these pictures you can see foundation in the shade Saga with the kabuki brush for application.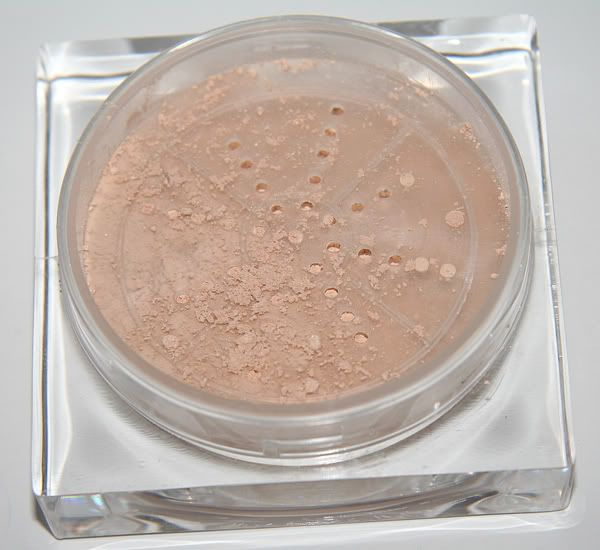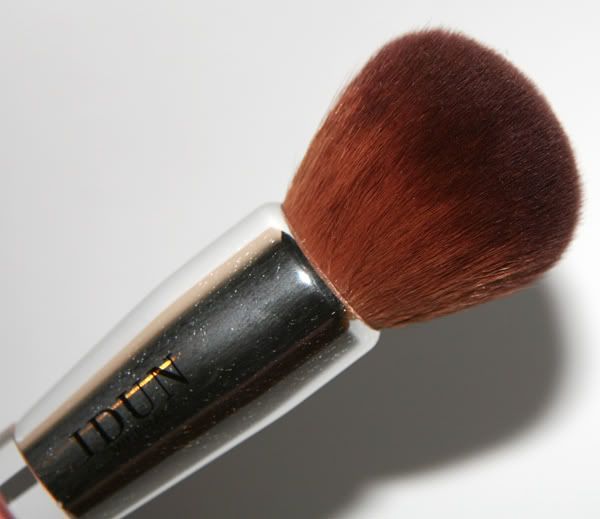 24 mars, 2011, 19:28 i YouTube tips
24 mars, 2011, 18:45 i Make up products, Swatches
Idag kom ett efterlängtat paket med posten innehållandes The Vegan Palette från Urban Decay. Jag har aldrig i mitt liv sett en sminkpalett finare än denna, utan överdrift. Titta på de underbara detaljerna, man blir ju helt lycklig! Klicka på bilderna för att göra dem större. Med paletten följer en miniversion av den klassiska skuggprimern Primer Potion fast här i sitt skimriga utförande och då vid namn Sin. Med följer också en svart 24/7-kajalpenna vid namn Zero som även den är en klassisk toppenprodukt. Verkligen en vinnarkombination!
The Vegan Palette kan du köpa på Lookfantastic.com för £20.00 (ca 215 SEK)
Today something I've longed for arrived in the mail, it was The Vegan Palette from Urban Decay. I've never seen a palette this pretty in my life, and I'm not even overreacting. Just look at the beautiful details, it makes me so happy! Click the pictures to enlarge them. With the palette comes the classic eyeshadow primer called Primer Potion in a mini version, but here in the shimmery version called Sin. You also get the black 24/7 pencil called Zero which also is a classic great product. An awesome combination!
The Vegan Palette is available at Lookfantastic.com for £20.00.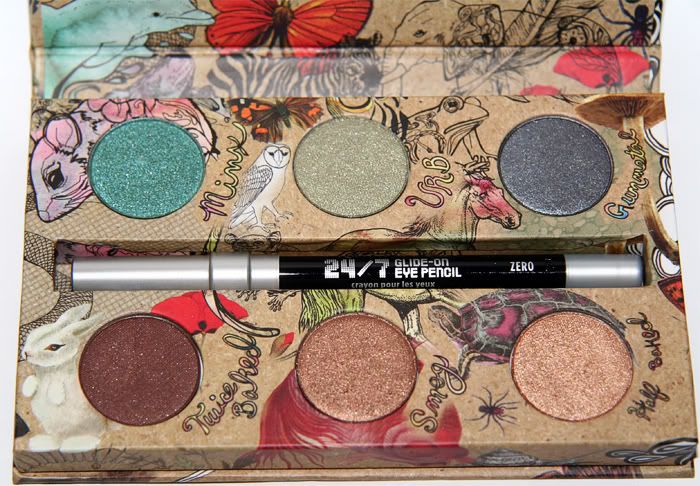 Minx, Urb, Gunmetal
Twice baked, Smog, Half Baked
23 mars, 2011, 23:41 i Nail polish, Red/pink, Yellow/orange
Såhär våriga naglar talar nästan för sig själva. Jag älskar den fruktiga nyansen! Så himla perfekt till guldsmycken, tänk stora ringar och/eller armband.. Mums! På bilden har jag två lager lack och inget överlack. Lack från Ebay, som så många gånger förr.
Nails this perfect for spring almost speak for themselves. I love this fruity shade! Soo perfect for gold jewellery, imagine big rings/bangles or such.. Yum! In this picture I'm wearing two coats of polish and no top coat, Polish from Ebay, as a million times before.
23 mars, 2011, 19:29 i Accessoires
Jag vägrar gå med på att det är vinter fortfarande. Ja, jag har snö en halvmeter under köksfönstret men skit samma, snart är det april och då är det vår. För att fira den lilla varma solen som ibland smyger sig fram på dagarna är det dags att slita fram solglasögonen! Jag växlar mellan retro (skitvassa med färgglada läppar) och stekar-elektronik supersonik-futurism (skitvassa oavsett läppar) i solglasögonväg. Vad kör ni på?
Even though I've still got snow almost all the way up to my kitchen window I won't agree with winter anymore. It's soon April, which means spring! To clebrate the shy sunlight that shows up now and then it's time to rip those sunglasses out! I shift between retro (awesome with bright coloured lips) and elektronik supersonik-futuristic (awesome enough on their own) glasses, what kind of glasses are you wearing?
Left: H&M, 59 SEK
Right: MQ, bought last spring for about 200 SEK I think.
22 mars, 2011, 14:44 i Nail polish, Turquoise/green
Vad kan det tänkas vara?
What could it be?
22 mars, 2011, 13:10 i Nail polish, Nude/white
Jag har haft ett ofantligt sug efter bleka naglar på sistone, och slog därför till på en flaska Body Language från Essie, köpt på Ebay. Ett helt perfekt lack för det där nästan-vita resultatet. En blek, grånad nudefärg som är heltäckande på tre lager. Den gör sig säkert underbart bra matt, ska ge mig på det lite senare.
I've been loving pale nails lately, and finally bought myself a bottle of Essie Body Language from Ebay. The perfect almost-white polish. A pale, grayed out nude shade that's opaque in three layers. This would look lovely with a matte top coat, I'll try that later.